STORY UPDATED: check for updates below.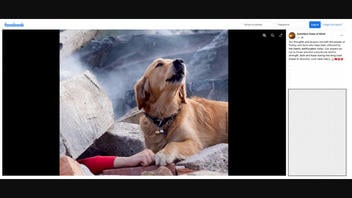 Does a viral picture of a dog finding people under the rubble of destroyed buildings show the aftermath of the February 6, 2023, earthquake in Turkey? No, that's not true: The photo was taken three years before this natural disaster.
The claim appeared in a post on Facebook on February 6, 2023. It said:
Our thoughts and prayers are with the people of Turkey and Syria who have been affected by the deadly earthquakes today. Our prayers go out to those who lost a loved one and for strength, faith and hope during this long road ahead to recovery. Lord have mercy
The caption was accompanied by the image of a dog.
This is what it looked like on Facebook at the time of writing: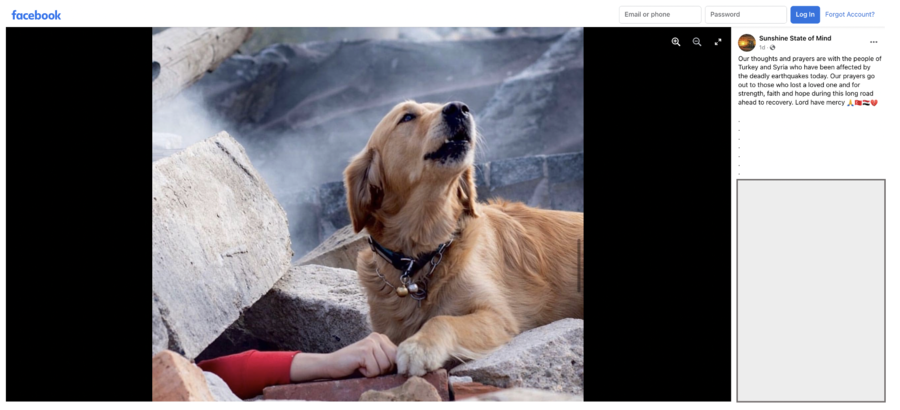 (Source: Facebook screenshot taken on Wed Feb 8 15:39:48 2023 UTC)
The same picture appeared on social media as part of a composite image attached to a Spanish-language post claiming that the dog helped save its owners in the aftermath of the February 2023 earthquake: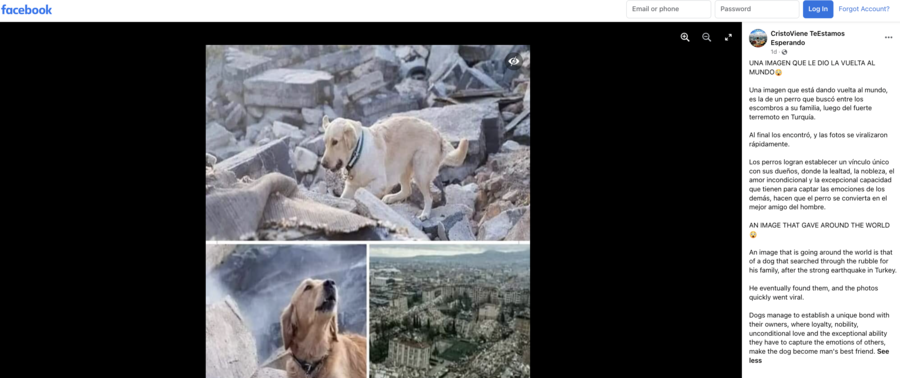 (Source: Facebook screenshot taken on Wed Feb 8 15:46:35 2023 UTC)
However, this picture was taken long before this natural disaster and can be easily found on stock picture marketplaces. As one description specified, the scene was captured by Czech photographer Jaroslav Noska in 2019 in an unknown location: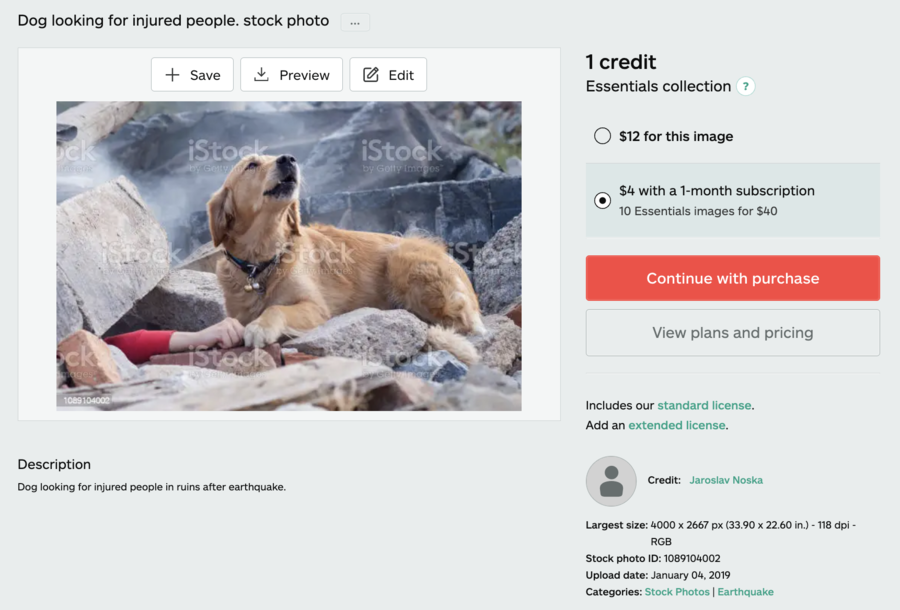 (Source: Istockphoto screenshot taken on Web Feb 8 16:01:10 2023 UTC)
Reverse image search service TinEye also shows results from 2019: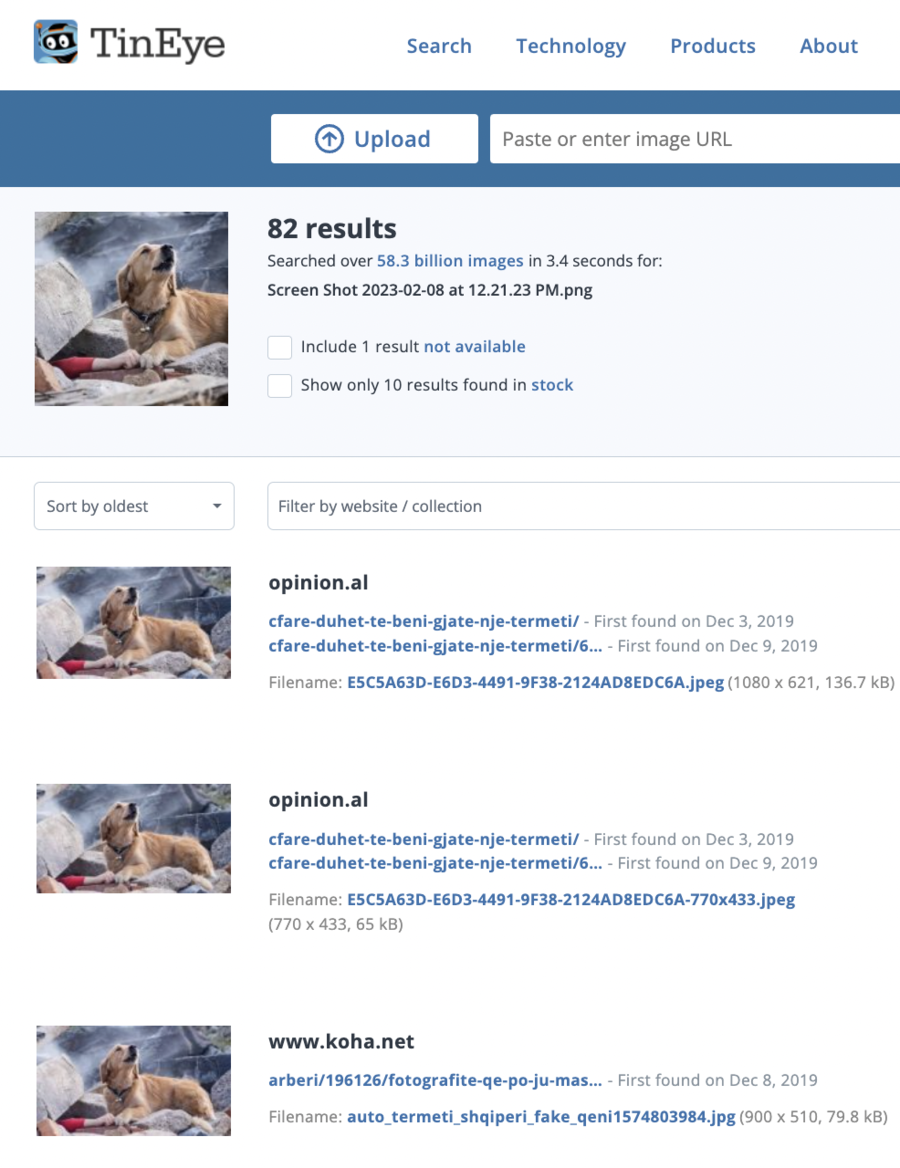 (Source: TinEye screenshot taken on Wed Feb 8 17:22:41 2023 UTC)
One of the first instances of the picture's use in connection with the 2023 earthquake in Turkey and Syria was a tweet by a Turkish-educated Yale professor who asked people to donate to humanitarian relief efforts via verified organizations he listed in the same thread: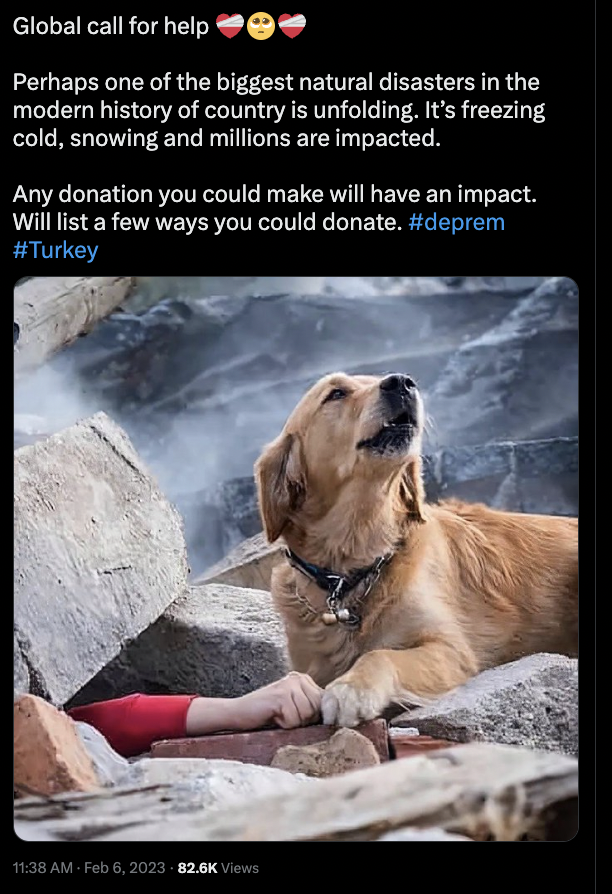 (Source: Twitter screenshot taken on Wed 16:25:55 2023 UTC)
That was not a single example of an old picture circulating on social media in the aftermath of the 2023 earthquake. On February 13, 2023, another image of a dog described as a "hero" resurfaced on Facebook: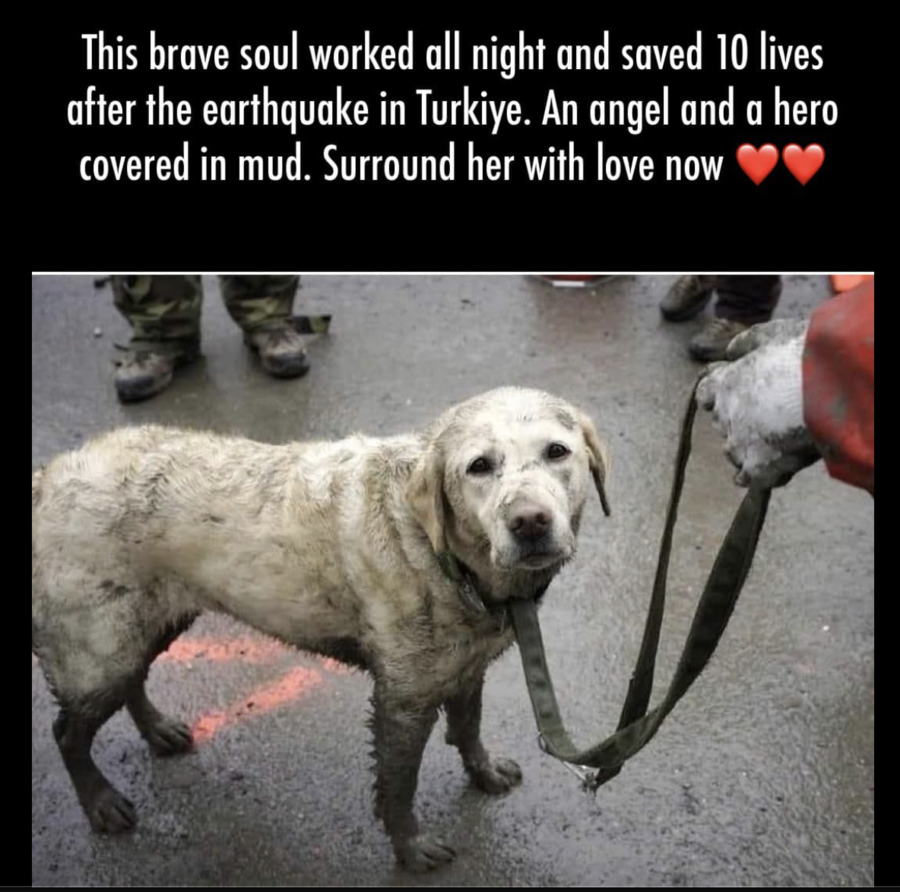 (Source: Facebook screenshot taken on Tue Feb 14 16:53:00 2023 UTC)
Yet, the second photo wasn't taken in 2023 either. Moreover, it did not show Turkey at all. It was shot nearly a decade before the earthquake, capturing a scene after a mudslide in the United States. The original image can be found on the Reuters website. Its caption says:
Tryon the rescue dog waits to go through the decontamination area at the mudslide after searching for victims in Oso, Washington March 30, 2014.
Other Lead Stories fact checks about the February 6, 2023, earthquake can be found here.
2023-02-14T16:50:08Z

2023-02-14T16:50:08Z

Updated to include another example