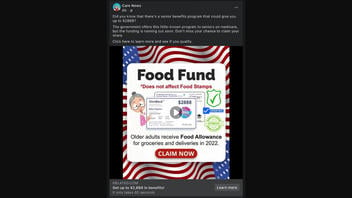 Are seniors on Medicare eligible for a benefits card that provides $2,888 in food assistance? No, that's not true: Medicare, the federal health insurance program for senior Americans, does not offer food benefit cards. The claim is a ruse designed to gather sales leads for companies hawking insurance plans, experts in Medicare and fraud told Lead Stories.
The claim appeared on Facebook on January 30, 2023. The caption opened:
Did you know there's a senior benefits program that could give you up to $2888?
Here's how the post appeared on the day of writing: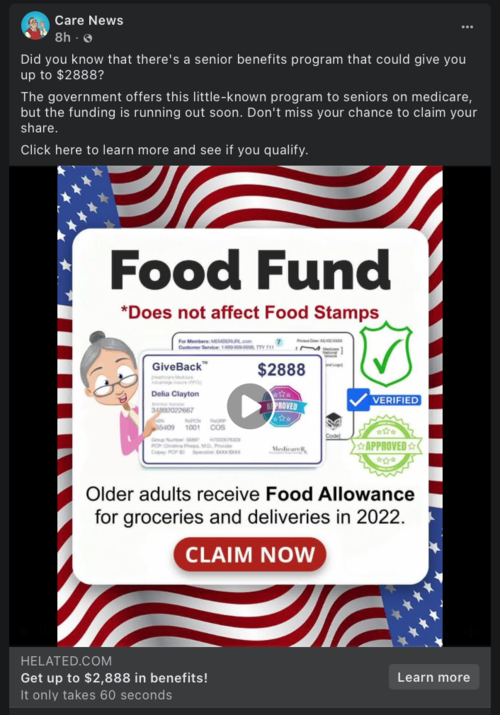 (Source: Facebook screenshot taken Mon Jan 30 20:20:37 2023 UTC)
The post claims the "little-known program" rewards enrollees with free money for groceries and food delivery in 2022, with no impact on food stamp recipients, and claims that the program's funding will soon run out.
Aside from the fact that a benefit for 2022 would no longer be helpful or applicable in 2023, the claim is false and lacks important context about the real benefits offered to enrollees in Medicare, the federal health insurance for those 65 or older and qualifying persons living with disabilities, experts say.
"These types of posts make it appear as if Medicare is offering free money to beneficiaries to pay for food, but that is not the case. Medicare will not provide this type of benefit," Amy Nofziger, director of fraud and victims support for the American Association of Retired Persons (AARP), said in an email to Lead Stories sent on January 31, 2023.
It also misleads readers by sending them on a webpage goose chase that doesn't lead to a benefits card or any real assistance offers. Clicking the post's "Learn more" icon, ultimately leads people to the site "MedicareOpenenRoll," which gathers personal data that could be used by solicitors hawking insurance. The page carries a lengthy disclaimer that states it has no affiliation with government health programs.
Here's how that site appeared on the day of this writing: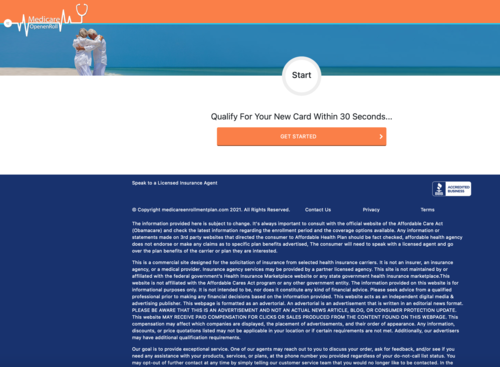 (Source: MedicareOpenenRoll screenshot taken Wed Feb 1 at 17:57:44 2023 UTC)
There are other posts promising food assistance and other versions of supplemental benefits for seniors (here, here and here), often promoted as "flex cards". The phrase "Medicare food card" has also been frequently searched for online, a Google Trends search for the 90 days between Nov. 1, 2022, to January 28, 2023 shows.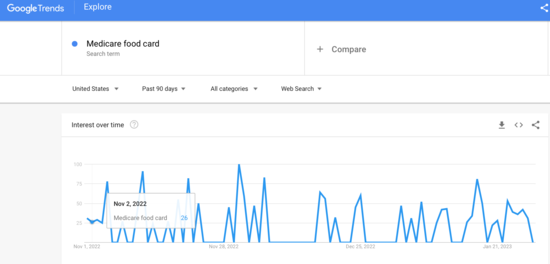 (Source: Google Trends screenshot taken Wed Feb 1 at 19:23:17 2023 UTC)
Google searches for the terms "Medicare flex card" and "Medicare $2888 food card" show numerous sites that allegedly offer the benefits, and at first glance it's difficult to tell whether they are real or a ruse. The "MedicareOpenenRoll" site, for example, includes a logo awarded to Better Business Bureau (BBB)-approved companies. In most cases, that would lend legitimacy to a business, but a Lead Stories search of the BBB site could not locate "MedicareOpenenRoll."

(Source: Better Business Bureau screenshot taken Tues Jan 31 at 17:59:20 2023 UTC)
Some seniors may be eligible for limited food assistance or other supplemental benefits through Medicare Advantage plans, which are sold by private insurance companies and may charge enrollees additional premiums. But those plans are not available to everyone or in all areas of the country, so seniors should do their homework, AARP's Nofziger said.
"It is important to research the company and offers that sound too good to be true," she said. "Always do your research."
In an email to Lead Stories on January 31, 2023, the Centers for Medicare & Medicaid Services (CMS) said that beginning in 2020, Medicare Advantage plans, which must be approved by Medicare, were granted permission to offer supplemental benefits for the chronically ill.
A guidance memo for the plans states the benefits can include food and produce when they are provided and only if they are found to have a reasonable expectation of improving or maintaining the health of the chronically ill enrollee, the CMS email said.
Medicare Advantage plans, which cover benefits like vision, dental and prescription medications, may use a debit-type of card, or flex card, as a tool for administering supplement s benefits, the agency's rules say.
Original Medicare consists of Part A, which is hospital coverage, and Part B, which is medical coverage. Beneficiaries with questions about benefits or the legitimacy of any coverage clams should call 1-800-MEDICARE, the CMS email said.