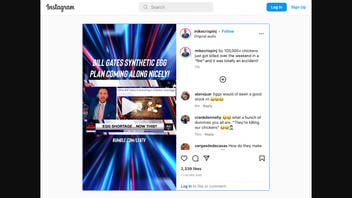 Did Microsoft co-founder Bill Gates or any of the business entities affiliated with him cause an egg shortage in the U.S.? No, that's not true: There is no evidence to support this theory.
The claim appeared in a video on Instagram on January 31, 2023, under the title:
BILL GATES SYNTHETIC EGG

PLAN COMING ALONG NICELY!

EGG SHORTAGE...NOW THIS?
The caption said:
So 100,000+ chickens just got killed over the weekend in a 'fire' and it was totally an accident!
Here is what it looked like: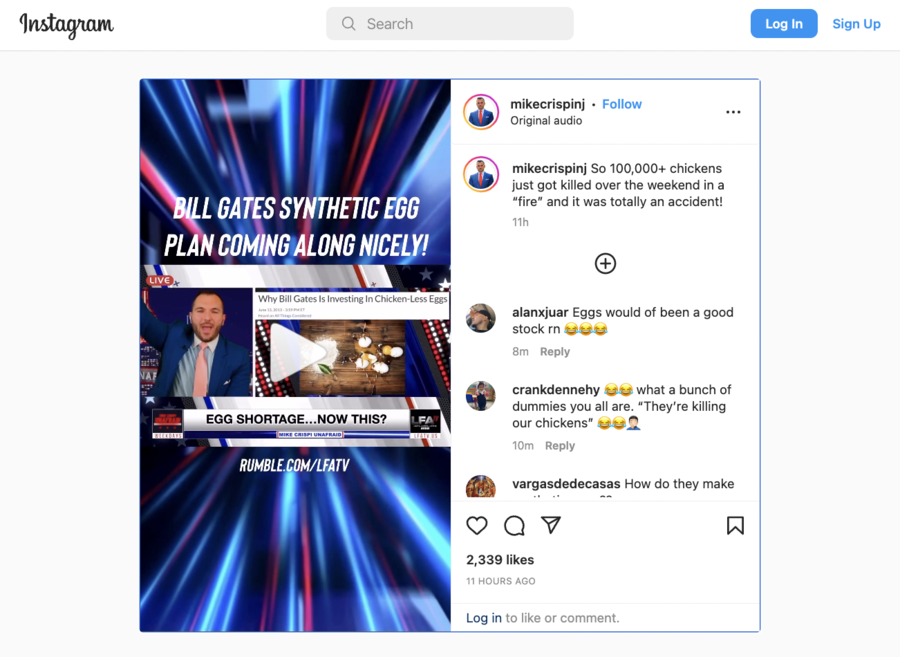 (Source: Instagram screenshot taken on Wed Feb 1 15:47:31 2023 UTC)
The man who hosted the video implied that the current egg shortage in the U.S. was planned a decade ago:
... but now it's starting to reach the fever pitch. In 2013, Bill Gates invested into the chickenless eggs business, which all of the sudden right now -- again it didn't in 2013 -- but right now; again, you could think it's a coincidence if you want, you can think that, you're entitled to it, ignorance is bliss, I guess.

But as the price of eggs, a main diet staple for Americans, shoots up exponentially with already a market where we have probably 20, 25 percent inflation, the eggs are outpacing that. The meat supply too. Bill Gates did this in 2013. Now all of a sudden in 2023 as the price is going up, his synthetic egg company is reaching breakthroughs and is ready to be rolled out to the world.

The chickens that are getting fed their feed can't lay eggs at the same rate and then 100,000 chickens get killed in one fell swoop in a giant fire all at once. I bet, you know, it's just a coincidence, just coincidence, people, it's just a coincidence.
However, there is no evidence that Gates or any of the business entities affiliated with him are responsible for the current situation.
The U.S. Department of Agriculture explained that the deficit of eggs was caused by a fast-spreading disease -- avian influenza, also known as bird flu, not market manipulations:
Highly pathogenic avian influenza (HPAI)--a disease infecting birds and poultry--struck egg-laying hens throughout 2022. As a result of recurrent outbreaks, U.S. egg inventories were 29 percent lower in the final week of December 2022 than at the beginning of the year. By the end of December, more than 43 million egg-laying hens were lost to the disease itself or to depopulation since the outbreak began in February 2022.
As of mid-January 2023, the disease spread across 47 states, the agency reported.

Gates has invested in the companies producing meat alternatives more than once. For example, he backed up Beyond Meet and Nature's Fynd, which makes meet-like products from fungus.
However, Gates is not a proponent of eliminating meat from the human diet worldwide, as he wrote on his personal blog, reflecting on the increasing demand for it as the population continues to grow. On a different occasion, he described chickens as "a good investment."
The fire the video refers to, a Hillandale Farms egg-producing facility in Connecticut, caught fire on January 28, 2023. Although about 100,000 hens died, this number represents a small percentage of the company's resources: According to its website, Hillandale "raises over 20 million chickens for eggs."

While it is still unclear what caused the fire, the Connecticut Department of Agriculture said the effect of the fire on egg prices will be "minimal to none."
One of the resources that promoted a conspiracy theory connecting Gates to egg shortages was promoted by Gateway Pundit, a website whose bogus claims have been debunked by Lead Stories multiple times.
The video that circulated on Instagram was a fragment of "Unafraid," a video blog hosted by conservative Mike Crispi. While he describes himself as an "experienced Television reporter," he has a political agenda, too: Crispi ran for a New Jersey seat in the U.S. House in 2022 but failed to secure a nomination in the Republican primary.
Other Lead Stories fact checks about Bill Gates can be found here.