STORY UPDATED: check for updates below.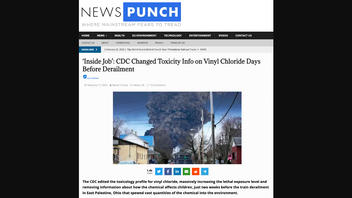 Did the Centers for Disease Control change the level of exposure considered lethal for vinyl chloride from 100 parts per million to 100,000 parts per million shortly before the February 3, 2023 train derailment and vinyl chloride spill near East Palestine, Ohio? Was this change the first such revision "since 1987"? No, that's not true: Vinyl chloride's toxicity profile on the CDC website does not include such a dramatic change. The current profile is not a final document, but a draft available for public comment until mid-May 2023. The CDC told Lead Stories that the revision was a "usual process" that takes many months and had nothing to do with the train derailment in East Palestine.
The claim about the change in the CDC's classification for a lethal vinyl chlorine exposure appeared in an article (archived here) published by News Punch on February 17, 2023, under the title:
'Inside Job': CDC Changed Toxicity Info on Vinyl Chloride Days Before Derailment
Here is what it looked like at the time of the writing of this fact check: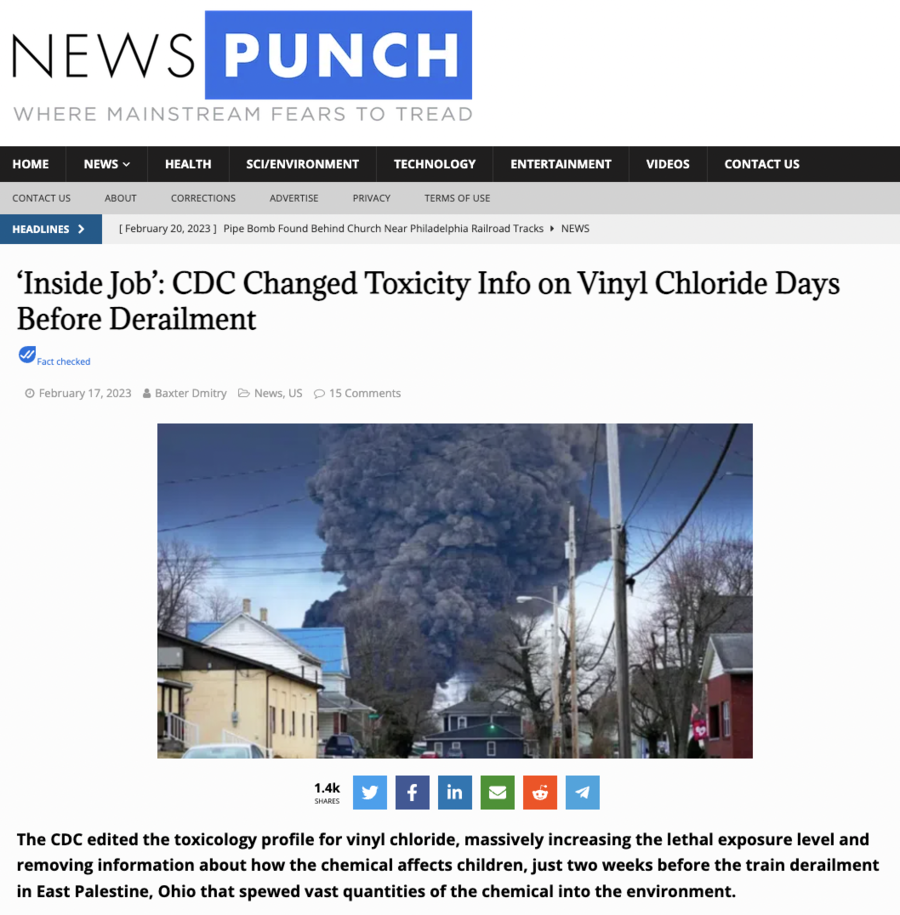 (Source: News Punch screenshot taken on Mon Feb 20 23:11:09 2023 UTC)
The News Punch article cited an unbylined article published by Evie Magazine, a health and beauty website for young women, about the supposed change in the CDC's profile for vinyl chloride. The Evie Magazine article stated that the profile had been changed in January 2023, for the first time since 1987, but also implied that the profile was changed in 2006:
In January 2023, the toxicological profile for vinyl chloride was revised from the original guidelines published in the Federal Register nearly four decades ago - on April 17, 1987, to be exact. While toxicological profiles are updated occasionally, users are alarmed by the odd timing. The last profile for vinyl chloride was released in 2006, 17 years ago. It's strange that they drafted it again in January 2023, just weeks prior to the catastrophe in East Palestine.
Evie Magazine does not disclose the names of the editorial team on its website and explicitly states in its Terms of Service section that it publishes -- and takes no responsibility for -- user-generated content:
...we do not undertake to review all material before it is posted on the Website, and cannot ensure prompt removal of objectionable material after it has been posted. Accordingly, we assume no liability for any action or inaction regarding transmissions, communications, or content provided by any user or third party. We have no liability or responsibility to anyone for performance or nonperformance of the activities described in this section.
The disclaimer continues:
We do not warrant the accuracy, completeness, or usefulness of this information. Any reliance you place on such information is strictly at your own risk. We disclaim all liability and responsibility arising from any reliance placed on such materials by you or any other visitor to the Website, or by anyone who may be informed of any of its contents.
The government document to which Evie Magazine links in its vinyl chloride article contains a timeline of revisions showing that the U.S. Department of Health and Human Services' Agency for Toxic Substances and Disease Registry has revisted toxicity information on vinyl chloride at least five times since 1987.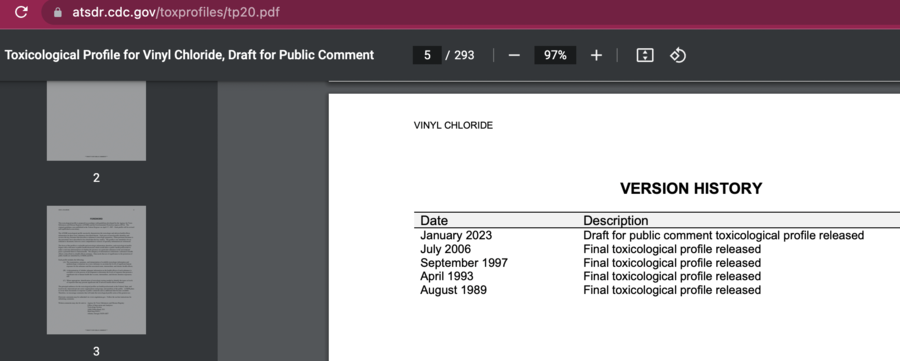 (Source: Cdc.gov screenshot taken on Mon Fen 20 18:30:04 2023 UTC)
As both the document and its description clearly indicate, the toxicity profile published in January 2023 was not the final version of anything but a draft available for public comment until May 10, 2023:

(Source: Cdc.gov screenshot taken on Mon Feb 20 19:38:22 2023 UTC)
More importantly, the draft does not propose to increase vinyl chlorine's acute exposure level a thousand-fold, from 100 parts per million (ppm) to 100,000 ppm. The document only summarizes known adverse health effects at a variety of concentrations: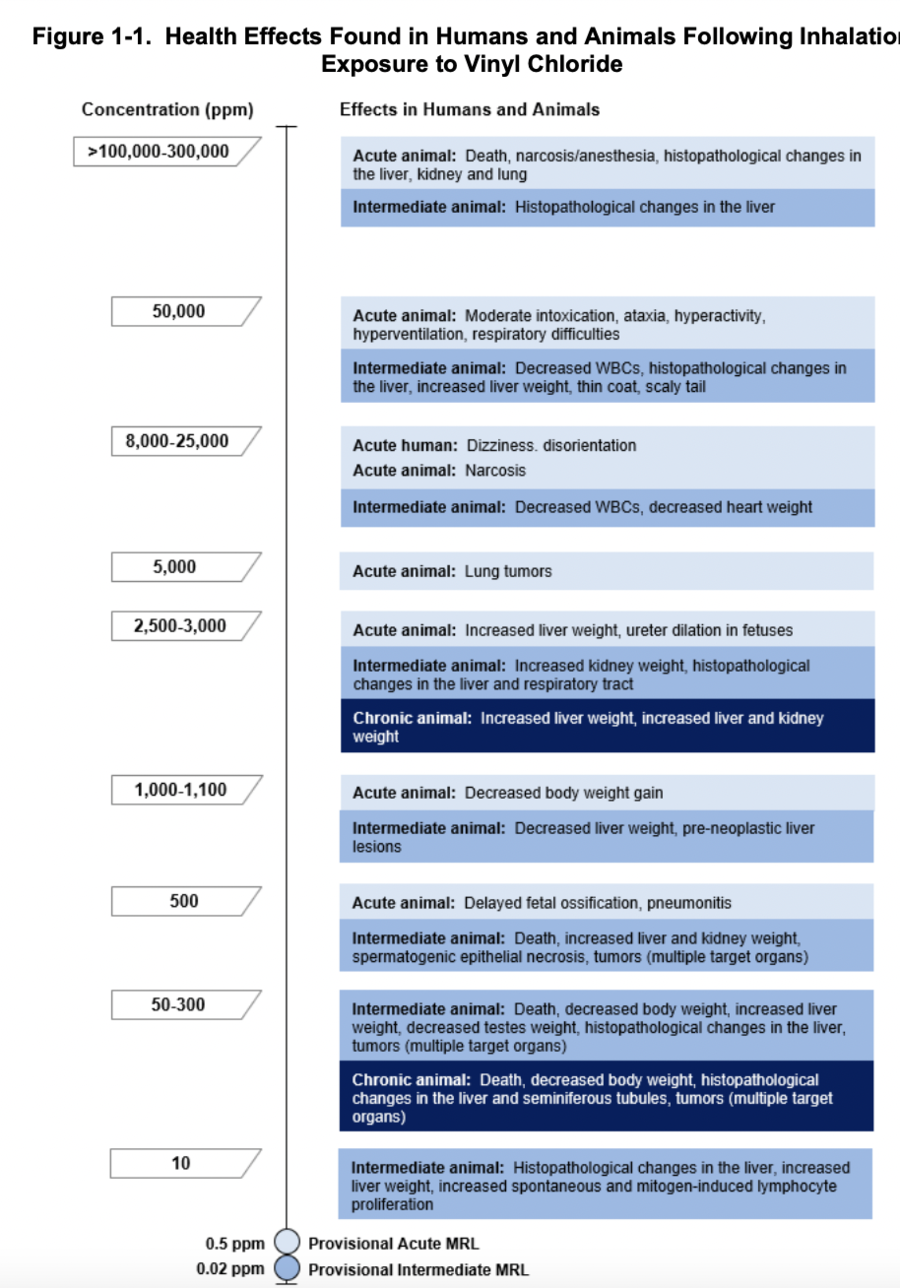 (Source Cdc.gov screenshot taken on Mon Feb 20 18:39:22 2023 UTC)
The previous version of the vinyl chloride toxicity profile, a July 2006 report that could be found on the CDC website in March 2021, said the same thing about acute exposure:
Brief exposures to concentrations of vinyl chloride ranging from 100,000 to 400,000 ppm have been shown to be fatal in experimental animals such as rats (Lester et al. 1963; Mastromatteo et al. 1960; Prodan et al. 1975), guinea pigs (Mastromatteo et al. 1960; Patty et al. 1930; Prodan et al. 1975), mice (Mastromatteo et al. 1960; Prodan et al. 1975), and rabbits (Prodan et al. 1975). At these concentrations, deaths occurred within 30-60 minutes...
The older version of the report did not say that a one-time exposure to 100 ppm of vinyl chloride would cause immediate death. Instead, it highlighted the risks of cancer at that level of lengthy, chronic exposure, which, in turn, increases chances of premature death:
Results from several studies have suggested that breathing air or drinking water containing moderate levels (100 ppm) of vinyl chloride might increase their risk for cancer. However, the levels used in these studies were much higher than levels found in the ambient air and/or most drinking water supplies. Studies of workers who have breathed vinyl chloride over many years showed an increased risk for cancer of the liver. Brain cancer, lung cancer, and some cancers of the blood also may be connected with breathing vinyl chloride over long periods.
In response to our request for an expert assessment of the claims made by News Punch and Evie Magazine, the American Chemical Society directed Lead Stories to Paul R. Frail, an industrial water senior researcher with a doctorate in inorganic chemistry and over 10 years of experience in the chemical industry. In a February 21, 2023, email to Lead Stories, Frail wrote:
My initial read into this inquiry is that people may not understand the difference between an acute (<14 days) versus chronic (>365 days) exposure. There is limited data regarding human acute exposure (understandable since death is the likely outcome). Therefore, one needs to rely on the animal studies which show death occurring with exposure between 100,000 and 400,000 ppm and the lower limit is taken to be conservative. Chronic exposure (over months) shows death occurring readily in animal studies around 100 ppm (exposed regularly at that level). The toxicology data listed in both versions [of the toxicity profile - LS] does not appear to have been updated or changed as the same references and studies are used to date.
Frail additionally addressed the purpose of the draft version of the CDC's toxicity profile on vinyl chloride:
When they open up these chemical inquiries to the public they are requesting anyone/everyone with new data to submit it for review. This has been seen routinely with pesticides and herbicides in addition to chemicals of concern.
The body that is responsible for maintaining toxicity profiles is the Agency for Toxic Substances (ATSDR), operating under the U.S. Department of Health and Human Services. The agency explains in detail how those profiles are made, and emphasizes that they have to be peer-reviewed.
The ATSDR's Substance Priority List, published every two years, sets the schedule for updates to the toxicity profiles of chemicals. While chemicals are typically included on the list based on their toxicity, risks of exposure for the general public and availability of new scientific research, anyone can nominate a chemical.
Vinyl Chloride was on the 2022 Substance Priority List, so the changes were part of the planned review of the data on various toxic substances.
The CDC's division of media relations confirmed that to Lead Stories vie email on February 22, 2023:
ATSDR has been working on an update to the Vinyl Chloride Tox Profile over the past year, and made it available for public comment on 2/9/2023 as part of its usual process and not related to the emergent situation in East Palestine.
Additionally, the CDC clarified that the first profile for vinyl chloride was developed in 1989, not 1987, as the article in Evie Magazine claimed.
News Punch, which repeated Evie Magazine's claim, has published numerous fake news articles in the past. Its Facebook page, "The People's Voice", lost the Facebook verification checkmark, according to a 2018 report from Media Matters For America.
Other Lead Stories fact checks of claims about the train derailment in Ohio can be found here.
2023-02-22T23:50:56Z

2023-02-22T23:50:56Z

Updated to include CDC comments