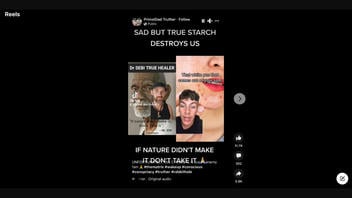 Is "Dr." Sebi correct that eating starch causes a buildup of calcium carbonate in the body? No, that's not true: Two registered dietician nutritionists told Lead Stories that starch does not have this effect. Calcium carbonate is a natural compound found in rocks, eggshells and snails, among other sources. McGill University has described Dr. Sebi's claims in general as "complete nonsense."
The claim about starch appeared on a Facebook Reel (archived here) published on January 29, 2023. The on-screen text read, "SAD BUT TRUE STARCH DESTROYS US IF NATURE DIDN'T MAKE IT DON'T TAKE IT🙏." It opened:
Dr. Sebi taught me that that white pus that comes out of your spot is called calcium carbonate.
This is what the post looked like on Facebook at the time of the writing of this fact check: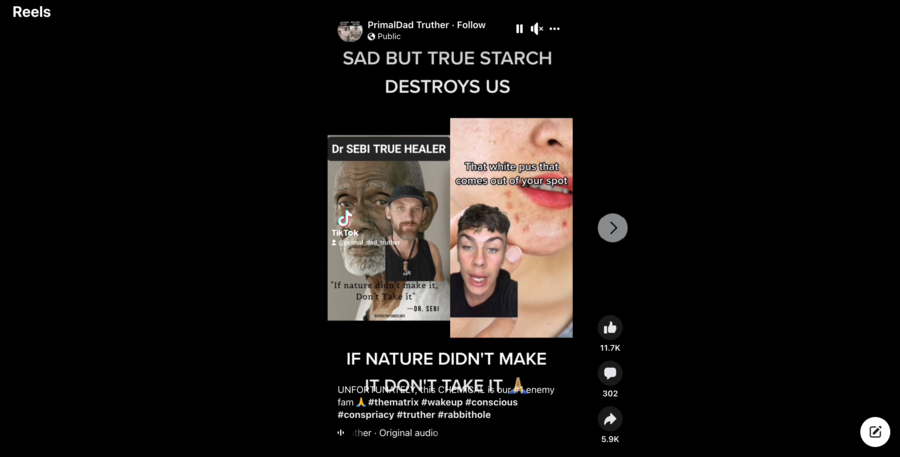 (Source: Facebook screenshot taken on Wed Feb 1 16:50:38 2023 UTC)
The video claims that pus in pimples, plaque on teeth or a lump found in a breast are examples of calcium carbonate showing up in the body after eating "man-made" products. No real evidence is provided to back up these claims. In July 2022, Lead Stories debunked the claim that starch is man-made.
Bonnie Taub-Dix, a registered dietician nutritionist, told Lead Stories in a February 1, 2023, email that this claim is "not true." She also described the benefits of calcium and calcium carbonate:
Calcium is an essential nutrient needed by the body that plays an important role in building healthy bones, muscles and nerves. Calcium helps your muscles contract, it helps your heart pump, it helps your bones stay strong. Some people don't get enough calcium in their diets and they may need a supplement, like calcium carbonate, to help meet their requirements. Supplementation may be particularly important for those who are elderly and for pregnant women.
A second registered dietician nutritionist, Isabel Maples, a spokesperson for the Academy of Nutrition and Dietetics, an association of certified nutritionists and dieticians, said in a February 1, 2023, email:
Calcium carbonate is not derived from starch. Calcium carbonate is a naturally occurring mineral.
In a February 2, 2023, email, Maples added that calcium carbonate does not cause lumps in the breast, plaque on teeth or pus in pimples.

The National Library of Medicine specifies that calcium carbonate can be found
... in rocks in all parts of the world (most notably as limestone), and is the main component of shells of marine organisms, snails, coal balls, pearls, and eggshells.
According to MedlinePlus, a service of the National Library of Medicine, side effects of taking calcium carbonate may include: stomach pain, dry mouth and increased urination. Whiteheads, plaque on teeth or a lump in a breast, as the Facebook video claims, are not listed as a side effects of taking calcium carbonate.
Lead Stories has debunked multiple claims that involve "Dr." Sebi, a man who was not a board-certified doctor and made many incorrect claims about human health. McGill University's Office of Science and Society labeled his claims as "complete nonsense" that have "no good evidence." More Lead Stories fact checks about Dr. Sebi can be found here.
More Lead Stories fact checks of claims about food can be found here, here and here.