STORY UPDATED: check for updates below.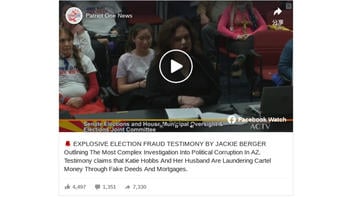 Are lawmakers, judges and other public officials in Arizona taking bribes from the Sinaloa cartel and fixing elections? No, there's no reliable evidence that's true: Jacqueline Breger, an insurance agent who made the allegations during a joint meeting of the Arizona House and Senate elections committees on February 23, 2023, did not provide credible proof to back up her explosive claims.
Arizona House Speaker Ben Toma described Breger's allegations as "unsubstantiated and defamatory," while state Sen. Wendy Rogers, chairman of the Senate Committee on Elections, said the claims should never have been aired in front of lawmakers. Rogers noted: "To our knowledge, none of the people named had charges filed, have prosecutions pending, nor had any convictions made against them."
The claim appeared in a post on Facebook (archived here) on February 24, 2023. The post included a roughly 40-minute video of Breger's presentation and a caption that read:
EXPLOSIVE ELECTION FRAUD TESTIMONY BY JACKIE BERGER Outlining The Most Complex Investigation Into Political Corruption In AZ. Testimony claims that Katie Hobbs And Her Husband Are Laundering Cartel Money Through Fake Deeds And Mortgages.
This is what the post looked like on Facebook at the time of writing:
(Source: Facebook screenshot taken on Tue Feb 28 14:21:29 2023 UTC)
In the clip, Breger said she's an insurance agent, a longtime resident of Scottsdale, Arizona, and a "principal investigator with the Harris Thaler law firm." She identified John Harris Thaler as the senior attorney in charge of an investigation, which alleges -- among other things -- that two women working for the Sinaloa cartel used falsified mortgage documents to launder money and bribe elected and appointed officials in Arizona.
Breger did not mention that the two women she accused are Thaler's ex-wife and former mother-in-law. She also did not mention that, according to social media, she and Thaler are in a relationship.
Shortly before the 31:40 mark, Breger alleged:
The cartel invests substantially to ensure that the right people are in key positions so as to further their objectives. The fix for 2020 and for 2022 started in 2017, with appointment to election positions of individuals being bribed through the mortgage scheme and through monies being laundered by the appointment of phantom individuals.
At the 34:50 mark, she claimed:
In Arizona, public officials accepting bribes include members of the legislature, the executive branches of the state government, more than two dozen judges on the Maricopa County Superior Court, at least two judges in the City of Mesa court, at least one judge in the town of Gilbert, the mayor of Mesa, five members of Mesa City Council, several police officers.
Rogers' full statement after the meeting can be read below: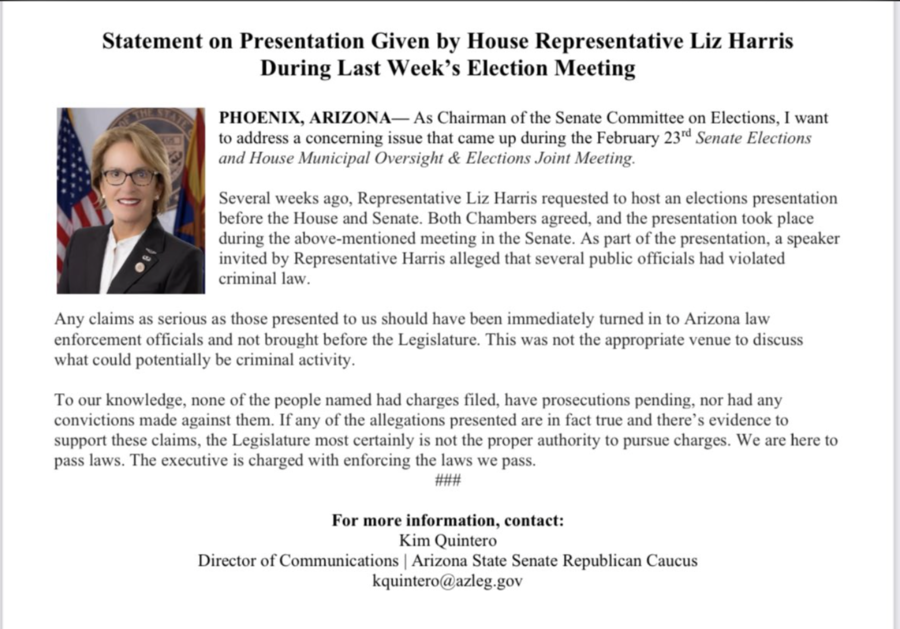 (Source: Twitter screenshot taken on Tues Feb 28 20:25:52 2023 UTC)
Toma similarly sought to distance himself from Breger's presentation. In a statement sent to Lead Stories on February 28, 2023, he said:
What should have been a joint hearing to examine commonsense election reforms devolved into disgraceful fringe theater. I'm not alone in believing that it was irresponsible and bad judgment for Ms. Harris to invite a person to present unsubstantiated and defamatory allegations in a legislative forum.
Toma was referring to state Rep. Liz Harris, who invited Breger to address the joint meeting. Lead Stories reached out to Harris to ask about Breger's claims. She did not respond but in a statement posted on Telegram, Harris said:
What was presented at Thursday's hearing was not sufficient to substantiate these extraordinary claims. Our committee's job is to listen to a number of experts and members of the public and the mere fact that we listen to a presentation does not mean that we endorse or agree with it.
We also reached out to Breger to ask about the evidence supporting her claims and her reaction to Rogers' statement.
She said she had in excess of 120,000 documents and sent a link to the report she provided to members of the elections committees. That report listed 47 allegations and included deeds of trust allegedly tied to Arizona Gov. Katie Hobbs. Nothing in the report proved Breger's claim that lawmakers, judges and public officials in Arizona are on the take.
In an email to Lead Stories, dated February 28, 2023, Breger acknowledged limitations of the investigation, but stood by its results. She wrote:
We encourage the Senate and the Legislature to embark on their own investigation of our discovery and we are willing to work with them when they do. We fully support the need for a full-scale investigation by an enforcement agency. To date, we have been limited in our authority to pursue such, as was also stated in my report. However, there is no denying the evidence we have and there is no denying the fact that we have enough evidence to warrant such an investigation.
Many of Breger's allegations echoed claims contained in an earlier lawsuit filed by Thaler against his ex-wife, his former mother-in-law, the cities of Mesa and Phoenix, Maricopa County and others. U.S. District Judge Douglas Rayes dismissed the suit with prejudice (which means the suit can never be refiled) in June 2022, describing the case as frivolous. In his order, Rayes wrote:
Mr. Thaler's prolix complaint alleges that Ms. Thaler, motivated by a fear a poverty, has engaged in an array of criminal enterprises across multiple states, including money laundering and tax evasion, allegedly accomplished via real estate transactions and non-profit organizations; insurance fraud, allegedly accomplished via phony personal injury claims made on behalf of non-existent persons; skimming money from state-run aid programs; narcotics trafficking; hacking into state databases and fabricating public records; bribing public officials, including judges, police officers, judicial assistants, inspectors, assessors, and accountants; bribing private professionals, such as real estate agents and brokers; bankruptcy fraud; election fraud, allegedly accomplished by creating fake ballots and manipulating others in order to influence, among other races, the 2020 election for Maricopa County Recorder; extortion via 'crypto-viruses'; the creation of fake employees on payroll systems in order to collect paychecks and benefits; and murder. What's more, Mr. Thaler alleges that high-ranking government and judicial officials in Maricopa County and the City of Mesa are in on the racketeering enterprise. Mr. Thaler's complaint weaves a delusional and fantastical narrative that does not comport with federal pleading standards.
Breger was asked before the committees whether she'd shared the information she'd presented with anyone else. She said former Arizona Gov. Doug Ducey received a copy of the allegations in May 2022, and claimed that Ducey had shared the information with the Arizona Attorney General's Office at that time.
Jen Wright, the attorney who headed the elections integrity unit under former Arizona Attorney General Mark Brnovich, responded to Breger's allegations on Twitter. She wrote:
Last week there was incredible testimony revealed at a legislative hearing. I have refrained from making a statement, but after hearing an interview where Mr. Thaler claims to have been in contact with me, I want to dispel any misinformation. I have never spoken to or been in contact with Mr. Thaler -- nor do I recall any of his claims being presented to the Attorney General's Office.
Wright added:
It is critical that we have transparency and accountability in election administration -- and that we restore voter confidence. People who make outrageous claims that they can't support are as bad or worse than the people who deny any problems exist. There are very real issues that need to be addressed with election administration, let's not get distracted with salacious, outrageous, and specious claims.
Brnovich, the former attorney general, devoted more than 60 staffers and more than 10,000 hours looking into claims of alleged voter fraud in the 2020 election and found no support for such allegations. He did not release the results of the investigation, but his successor -- Kris Mayes -- did.
Lead Stories reached out to the Attorney General's Office to ask about Breger's claims. We also reached out to Hobbs for comment. We will update this story, as appropriate, if we receive responses.
Other Lead Stories fact checks involving the Arizona elections can be found here.
2023-03-01T18:15:07Z

2023-03-01T18:15:07Z

Adds statement from Arizona Rep. Liz Harris.