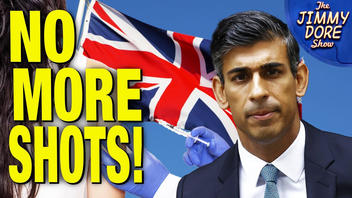 Does the United Kingdom forbid COVID boosters for healthy people? No, that's not true: A representative of the U.K. Health Security Agency (HSA) called the notion "nonsense." February 12, 2023, marked the end in the U.K. of the autumn booster campaign, which was the first time boosters were offered to everyone under 50 regardless of their health status. A separate spring booster campaign will be announced soon, the HSA said at the time.
The claim appeared in a video on YouTube (archived here) published by comedian/political commentator Jimmy Dore on February 3, 2023, under the title "U.K FORBIDS Covid Boosters For Healthy People!" The video's description said:
The U.K. is making dramatic changes to COVID policy, recently announcing that no one under 50 who is not part of an at-risk group will be eligible to receive a COVID booster. This is quite the turnaround from a policy of firmly advocating EVERYONE get boosted, and represents a possible tipping point moment about COVID and vaccines in the U.K. But will the U.S. and other countries follow suit?
This is what the post looked like on YouTube at the time of writing: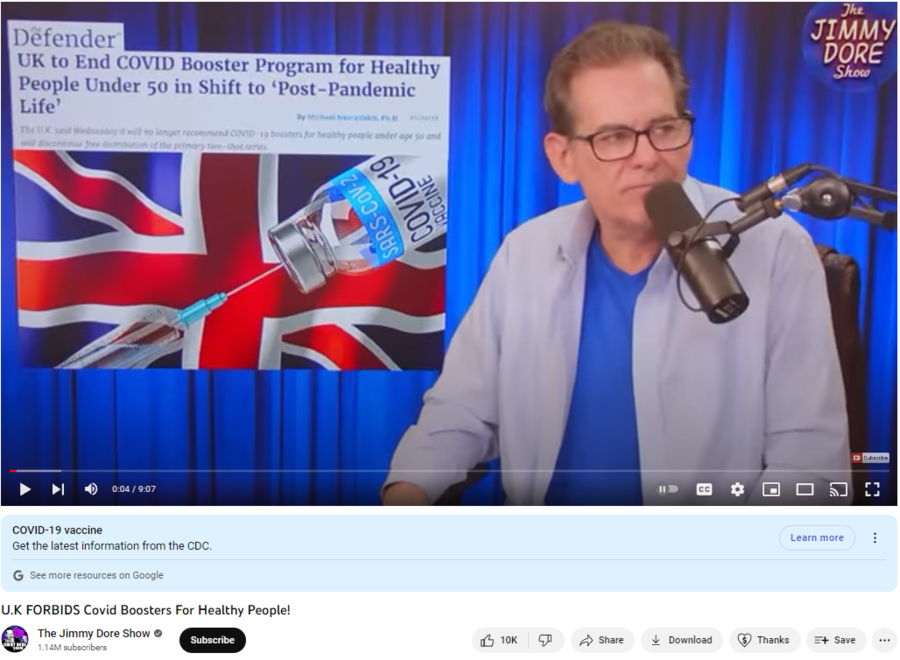 (Source: YouTube screenshot taken on Mon Feb 13 17:01:44 2023 UTC)
In a December 13, 2023, email to Lead Stories, Shaun Whelan, senior communications manager for the U.K. Health Security Agency, said COVID boosters haven't been "banned" or "forbidden" for healthy people under 50 (or "U50"). He said:
Of course it is all nonsense. The Autumn booster programme for this winter was always time limited - so came to an end yesterday (February 12, 2023); and the first booster offer to all U50s has now also come to an end. ... if there is a clinical need for people, previously not getting a booster, then they will be able to receive it (eg: if someone who didn't get boosted develops cancer or another health condition which causes them to be immunosuppressed then they will be offered a booster). ...

We will shortly announce details of the Spring booster campaign.
The fall booster campaign ran for more than five months, beginning in early September 2022 and giving those in that age group an extended period of time to get their shots. Toward the end of the program, booster vaccinations dropped to a very low level -- less than 0.1 percent per week in "all eligible people under 50 years of age," the Joint Committee on Vaccination and Immunisation (JCVI) said.
In a January 25, 2023, news release, the JCVI publicly announced its early recommendations to the U.K. government for COVID-19 vaccination during the year. The press release included the following:
In its interim advice to government on the coronavirus (COVID-19) vaccination programme for 2023, the Joint Committee on Vaccination and Immunisation (JCVI) has advised that plans should be made for those at higher risk of severe COVID-19 to be offered a booster vaccination this autumn (2023).

The JCVI also advised that for a smaller group of people, such as those who are older and those who are immunosuppressed, an extra booster vaccine dose in the spring should also be planned for. Advice regarding the spring 2023 COVID-19 programme will be provided shortly.
The JCVI also said that emergency vaccine responses may be required should a new variant with clinically significant biological differences emerge. The January press release continued:
[T]he JCVI is advising that the primary course COVID-19 vaccination should move, over the course of 2023, towards a more targeted offer during vaccination campaigns to protect those persons at higher risk of severe COVID-19. ...

The JCVI keeps all advice under constant review and will revise it according to the latest data and evidence.
Vaccination rates are already high in the United Kingdom. This chart from the U.K. government coronavirus website through February 9, 2023, shows more than 90 percent of the population has had at least one shot: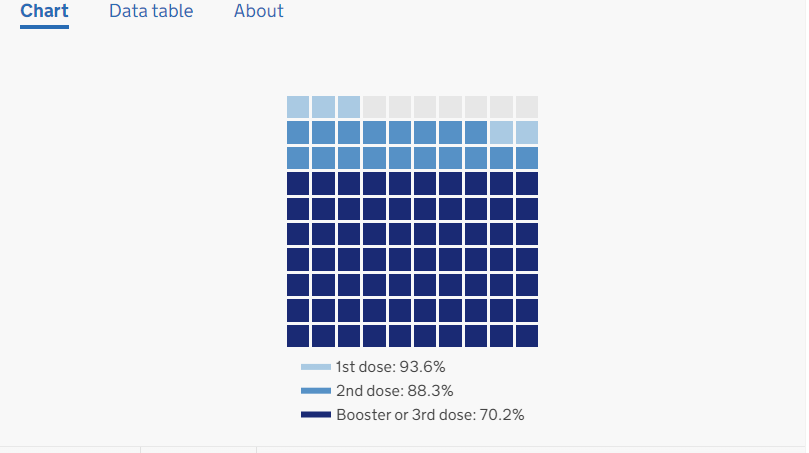 (Source: GOV.UK screenshot taken on Mon Feb 13 19:33:17 2023 UTC)
Additional Lead Stories fact checks of claims related to COVID vaccines can be found here.