STORY UPDATED: check for updates below.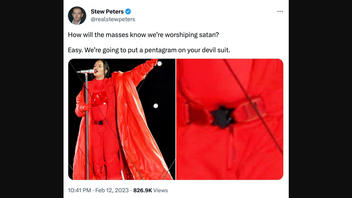 Did Grammy award-winning singer Rihanna wear a pentagram-shaped symbol on her belt during the 2023 Super Bowl halftime show? No, that's not true: The shape seen in the post, on her aerial safety belt, is hexagonal, but in clearer photos is neither a hexagon nor a pentagon . A pentagram, associated with satanism, has five points.
The claim appeared as a post (archived here), where it was published on Twitter on February 12, 2023. Above the image of Rihanna performing in all-red attire, the caption opened:
How will the masses know we're worshiping satan?

Easy. We're going to put a pentagram on your devil suit.
This is what the post looked like on Twitter at the time of writing: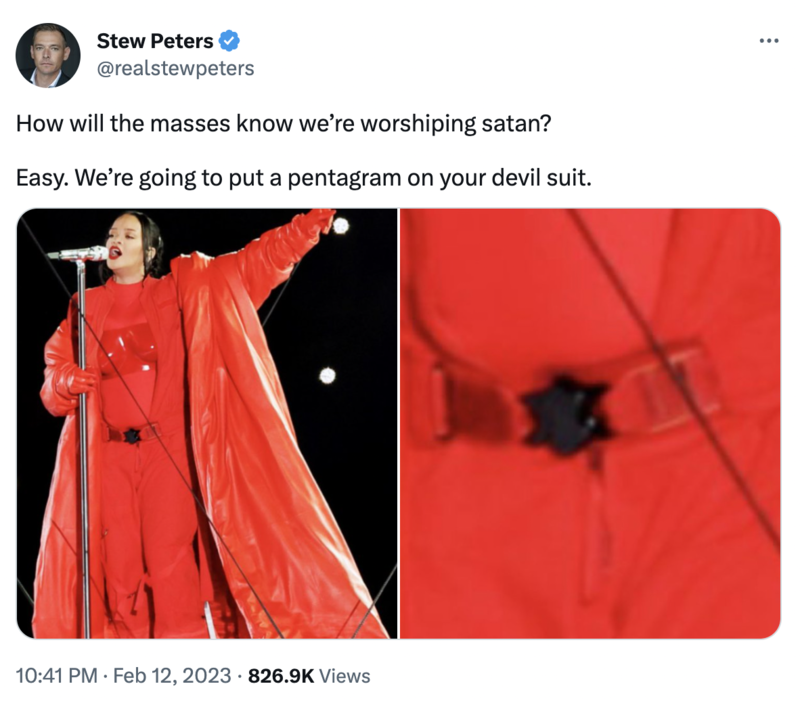 (Source: Twitter screenshot taken on Mon Feb 13 18:06:26 2023 UTC)
A February 12, 2023, People article titled, "All About Rihanna's Fiery Pregnancy Reveal Outfit During the 2023 Super Bowl Halftime Show," described her wardrobe during the performance in detail:
Rihanna wore a custom Loewe flight-inspired look "designed to build volume in step with the dynamic scenography of the show," according to the brand.

Loewe Creative director Jonathan Anderson crafted a jersey catsuit which formed the foundation in of her look, worn under a sculpted leather corset and completed with a layered flight suit made of cotton canvas.
...
And because she's Rihanna, her outfit had many layers. She also wore two custom Alaïa coats designed by the label's Creative Director Pieter Mullier for the career-defining performance. She opened in a red leather puffer scarf with integrated gloves, followed by a red leather maxi puffer coat with integrated gloves.
No "pentagram" symbolism was mentioned.
The motivation behind her all-red performance wear was to pay homage to her late friend Andre Leon Talley, a fashion journalist famously photographed in a giant red puffer coat.
The blurry photo seen in the post was taken by Mike Coppola during the halftime show on February 12, 2023, and taken from this Getty Images web page.
A photo taken at a different angle, by photographer Ezra Shaw, with a closer view, shows the purported symbol as a belt buckle clasp with no specific shape or symbolism.
This post claims that the belt buckle displays a "pentagram," which depicts a star with five points and is a symbol that has notoriously been associated with the "occult." However, the shape shown in the post is a hexagon, with six points.
Other tweets pointed out that the buckle is neither a hexagon nor a pentagram:
I might have to log back off @Twitter for a while. Here is the actual Rihanna belt buckle. #NotSatanic 🙄 https://t.co/wcB1ro4cZv pic.twitter.com/CIEY6qWYTG

-- Stanley Roberts (@StanleyRoberts) February 13, 2023
Closeups show it's a heavy duty buckle on a safety harness worn by Rhianna for the aerial segment of her show.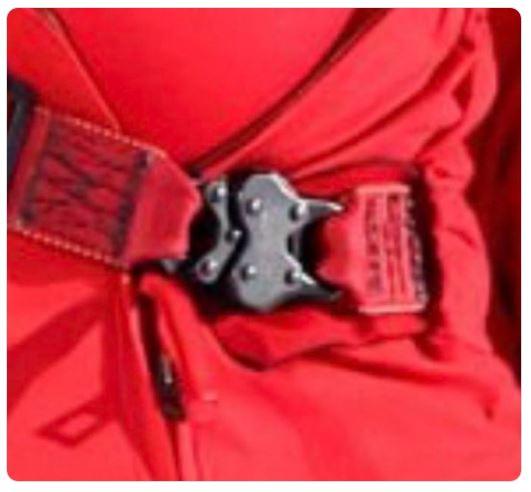 (Source: Twitter.com screenshot taken on Tue Feb 14 17:56:26 2023 UTC)
Previous Lead Stories fact checks mentioning the Superbowl halftime show can be found here.
2023-02-14T17:53:57Z

2023-02-14T17:53:57Z

Updated to add close-ups of Rhianna's safety harness buckle.