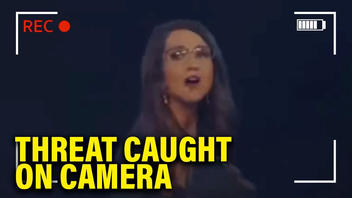 Did Lauren Boebert threaten President Joe Biden's life live on stage? No, that's missing context: She did not threaten his life directly, and was speaking in the context of impeachment -- but the Bible verse she quoted in her speech is controversial in how it can be interpreted.
The claim appeared in a video (archived here) where it was published on YouTube on February 12, 2023 under the title "Lauren Boebert THREATENS Biden's Life LIVE on Stage". It opened:
Hey everybody it's Troy. Hey listen check out this cringe-worthy video of Lauren Boebert speaking at a church -- the Storehouse Dallas church in Dallas, Texas -- where for some reason she was invited to give a sermon wherein she appeared to call for Joe Biden's death -- check this out.
Click below to watch the video on YouTube:

At 17 seconds into the video Boebert says:
God said that he was the provider I know that Jesus said that we would be blessed but I just don't know about this month. And Jesus is right there at the table with you saying what kind of conversation is this? Why are you talking like this and why are you sad? Jesus? Don't you know we're out of money! COVID's hit! They shut everything down. Joe Biden's President, we don't know what to do Lord. That's all right we pray for our presidents. You know, it says 'let his days be few and another take his office,' that's why I filed articles of impeachment for Joe Biden. Unfortunately he does have a really great insurance policy named Kamala Harris.
At 1:47 the person in the video claims Boebert is "just seeming to very directly threaten the life of President Biden." At 2:02 in the video the person says Boebert is quoting Psalm 109, verse 8, from the Bible. That passage says, "Let his days be few; and let another take his office." Boebert quotes the passage and then immediately says that she introduced articles of impeachment for Biden in 2021, which her congressional website notes.
While Boebert spoke of impeachment after quoting the Bible, Psalm 109 verses 9-12 can in some contexts be interpreted as calling for violence or death of one's enemy:
8. Let his days be few; and let another take his office.
9. Let his children be fatherless, and his wife a widow.
10. Let his children be continually vagabonds, and beg: let them seek their bread also out of their desolate places.
11. Let the extortioner catch all that he hath; and let the strangers spoil his labour.
12. Let there be none to extend mercy unto him: neither let there be any to favour his fatherless children.
13. Let his posterity be cut off; and in the generation following let their name be blotted out.
Boebert quoted the same Bible verse in June 2022 as she spoke before another group, but made no mention of the articles of impeachment she claimed she introduced in 2021. Video posted on social media shows Boebert smiling and laughing as she says:
I do want you to know that I pray for our President. Psalm 109:8 says, 'May his days be few and another take his office.' Hallelujah! Glory to God.
Lauren Boebert's prayer for President Joe Biden: "May his days be few." pic.twitter.com/1ft1LoYqnK

-- PatriotTakes 🇺🇸 (@patriottakes) June 11, 2022