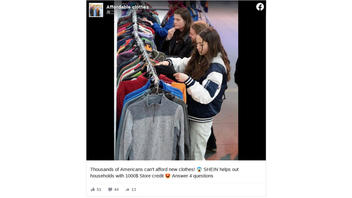 Is the fast-fashion clothing brand SHEIN offering $1,000 in store credit to Facebook users for simply answering four questions? No, that's not true: SHEIN is a real clothing brand but this is not their promotion. The empty promise of store credit is a ruse to get people to enter personal information on a malicious website under the guise of taking a survey.
The post was published on Facebook by the page "Affordable clothes" on March 14, 2023. The post was captioned:
Thousands of Americans can't afford new clothes! 😱 SHEIN helps out households with 1000$ Store credit 😍 Answer 4 questions
This is what the post looked like on Facebook at the time of writing: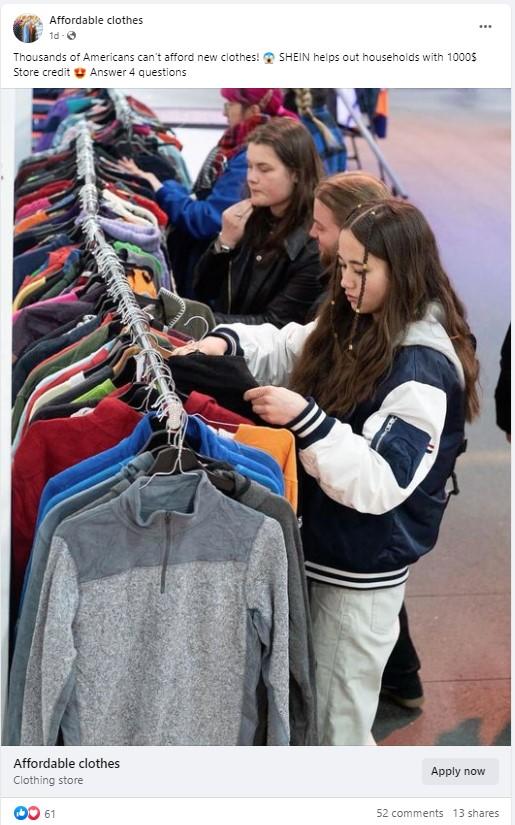 (Source: Facebook screenshot taken on Thu Mar 16 13:21:56 2023 UTC)
The post contains a button to "Apply now." This directs to a link with a suspicious subdirectory -- something to do with stove-top garlic naan.
https://cc0lord55.info/2021/02/02/garlic-naan-recipe-restaurant-style-garlic-naan-stove-top-garlic-naan/
This malicious website is employing a device called cloaking. When a user clicks the button from the Facebook post, the associated tracking information signals the website to load the phishing survey (pictured below left) but if a search engine or an archive service tries to view that webpage it will hide the malicious content and load a substitute page -- in this case (below right) a hijacked recipe blog.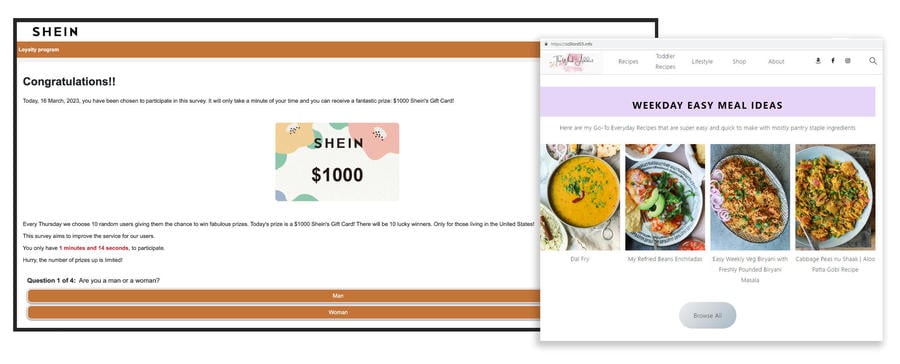 (Image source: Lead Stories composite image with screenshots from cc0lord55.info taken on Thu Mar 16 15:01:19 2023 UTC)
The Facebook page transparency report shows "Affordable clothes" was created on March 14, 2023, and Whois data at domaintools.com shows the website Cc0Lord55.info was registered on March 8, 2023.
While the post on Facebook promised a $1,000 store credit for answering four questions, the website switches to a gamble: The promised store credit is only for 10 "lucky winners." The survey is offered with high-pressure urgency, a manipulative tactic called the "scarcity principle."
Today, 27 October, 2019, you have been chosen to participate in this survey. It will only take a minute of your time and you can receive a fantastic prize: $1000 Shein's Gift Card!
Every Sunday we choose 10 random users giving them the chance to win fabulous prizes. Today's prize is a $1000 Shein's Gift Card! There will be 10 lucky winners. Only for those living in the United States!
This survey aims to improve the service for our users.
You only have 1 minutes and 30 seconds, to participate.
Hurry, the number of prizes up is limited!
After taking the survey, the user is offered an online "box opening"-style game of chance for a prize.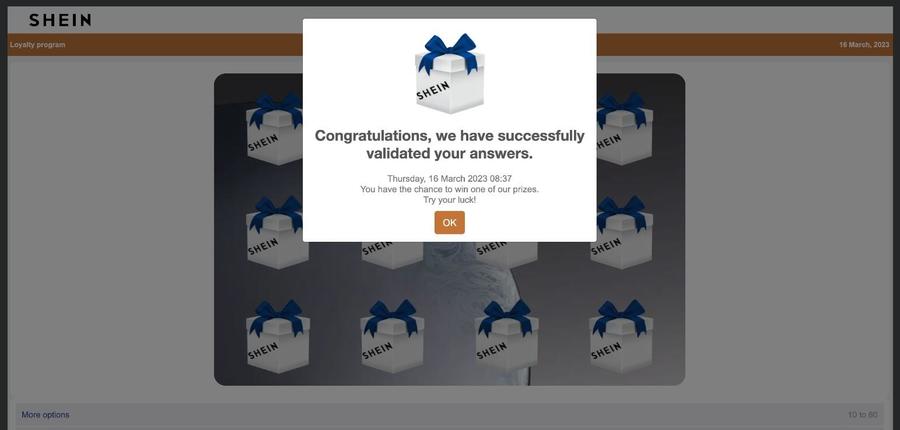 (Image source: cc0lord55.info screenshot taken on Thu Mar 16 16:05:56 2023 UTC)
The four screenshots below (will open larger in a new window) were made from a cellphone and show the last steps of this process if all the warnings are ignored. To play the game, click on a box and lift a lid. The first time there is nothing, but the game offers a second chance to pick again. This time, as shown in the second panel, "You did it! Congratulations! You won the $1000 Shein's Gift Card!"
***THE RULES***
1. Click on 'OK' to fill in your details on our checkout page.
2. Enter your address and pay $2 for shipping to get a $1000 Shein's Gift Card.
3. $1000 Shein's Gift Card will be delivered within 5-7 days
Continuing with the scarcity principle, a fake comment from Sallie Hull says, "Shit I didn't win anything!" In the next panel, the prize has inexplicably changed from $1000 to $750 and a countdown clock is set to expire in 04:15 minutes -- only four are left in stock.
After the form asking for email and phone number, three counterfeit trust verification seals from well-known security companies are displayed, VeriSign Trust Network, TRUSTe Verified and McAfee SECURE. A verification seal is proof that a website has met the standards set by the verifying company -- but these are not real verification seals. True verification would hyperlink back to a certificate about cc0lord55.info on the website of the certifying organization. These are merely images of well-known logos with no verification to back them up. The McAfee SECURE™ trustmark is not even available anymore -- it was retired in 2021 and became TrustedSite Certification. Lead Stories reached out to these security companies as well as SHEIN for comment and will update this article if appropriate.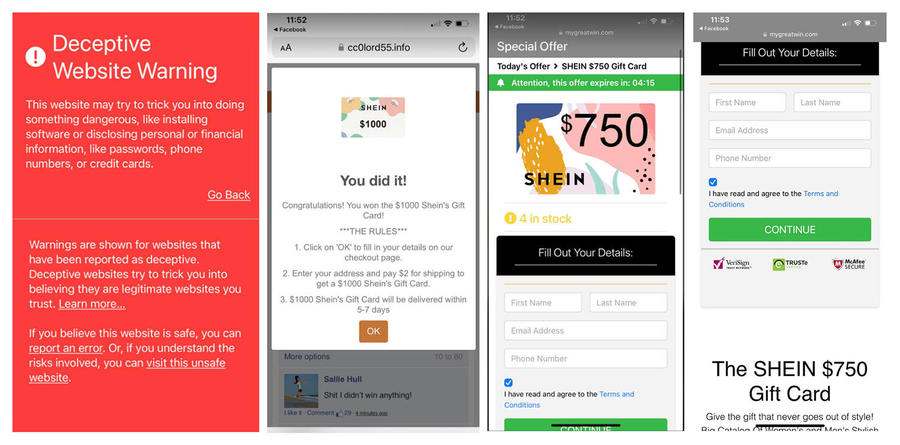 (Image source: cc0lord55.info and mygreatwin.com screenshots taken on Thu Mar 16 16:05:56 2023 UTC)
Lead Stories has written about a virtually identical scheme: This other false promotion circulating on Facebook involved promises of $500 Walmart gift cards purportedly coming from the charity Feeding America.
(Editors' Note: Facebook is a client of Lead Stories, which is a third-party fact checker for the social media platform. On our About page, you will find the following information:
Since February 2019 we are actively part of Facebook's partnership with third-party fact checkers. Under the terms of this partnership we get access to listings of content that has been flagged as potentially false by Facebook's systems or its users and we can decide independently if we want to fact check it or not. In addition to this we can enter our fact checks into a tool provided by Facebook and Facebook then uses our data to help slow down the spread of false information on its platform. Facebook pays us to perform this service for them but they have no say or influence over what we fact check or what our conclusions are, nor do they want to.)