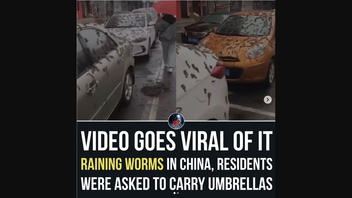 Did it "rain worms" in China in early March 2023? No, that's not true: Two separate botanical experts confirmed individually to Lead Stories that the "worms" reported by some publications and social media users were the result of the annual flower blooms, called catkins, from poplar and other trees found throughout northeastern regions of China.
One version of the claim was shown in viral videos shared on Twitter on March 9, 2023, that claimed "it started to rain worms" in China. This claim was also made in an image and video shared on Instagram on March 12, 2023. The text that accompanied the Instagram post read:
Y'all stepping out in this⁉️ video goes viral showing that it rained worms in china 😳

The video showed residents covering themselves with umbrellas as they go along with their routines and wander past.

While the cause of the slimy creature calamity has yet to be uncovered, the scientific journal Mother Nature Network suggested that the animals were dropped after being swept up by heavy winds.

The periodical also noted that this type of occurrence happens after a storm when insects are caught up in a whirlpool.

🗝️ Check out @scaryclip to unlock a new fear
Below is how the post appeared at the time of this writing: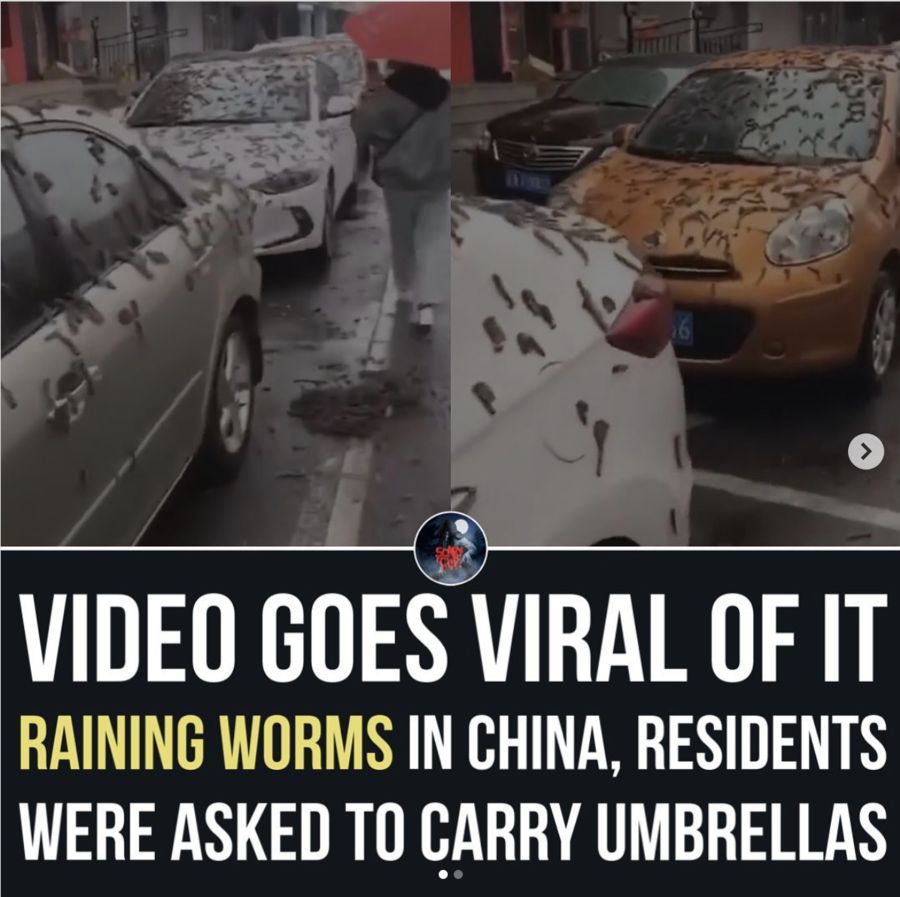 (Source: Instagram screenshot taken Sun March 12 12:58:57 UTC 2023)
Some publications and social media users likened the above images to worms, however, as one Twitter user pointed out, the "worms" are likely inflorescences or catkins from trees. Catkins, or inflorescence, are "long slim clusters of tiny flowers" that allow female flowers of certain kinds of trees to be pollinated by male flowers blown in the wind, according to the conservation charity The Woodland Trust. Stringlike in appearance, catkins allow trees like poplars to produce and disperse large amounts of seeds.
Amy McPherson, director of publications at the Botanical Society of America, confirmed in an email to Lead Stories received March 15, 2023, that the objects seen are catkins, likely from a poplar or chestnut species.
Avery Hill, an ecologist and plant biologist working at the California Academy of Sciences, also said in an email received March 14, 2023, that he believed that the "worms" are indeed poplar catkins.
According to the international biodiversity database Global Biodiversity Information Facility (BGIF), there are at least 298 poplar species across northeastern China, where the video was said to have been filmed. While Hill couldn't pinpoint the poplar species featured in the video, he noted that "in general, the genus has catkins that can look just like that."
A Google search of "catkins on cars" revealed several photographs showing similar imagery posted by photo hosting websites as to what was seen in the viral video, for example, here and here.
Previous media reports have described the annual Chinese blooms and, as The Beijinger reported in April 2022, the city often sees an "airpocalypse" in the early spring. the China Global Television Network (CGTN) reported on at least two separate occasions in 2017 and 2019 that "spring snow" in the forms of catkins had been seen in northern parts of China.
No record of raining worms was found in major Chinese media publications, with searches of Global Times and the People's Daily Online producing no such results. The official account of the Chinese media outlet Observer Network also posted about the video, writing that the species was from the Chinese white poplar, scientific name Populus tomentosa.