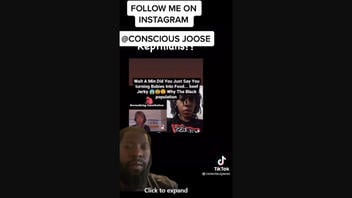 Did a public high school in Georgia implement a "business model" assignment in which students had to devise ways of "raising and eating human babies to solve the world hunger problem?" No, that's not true: At two points in a video interview shared to social media, it was stated that the supposed business model was meant as a high school English lesson in satire and not as a genuine business plan implemented by the school.
The claim originated in a video shared to TikTok on February 25, 2023, that consisted of a stich that included a clip from an interview on the web show The New American that aired October 14, 2021, titled "Exposing the Lies in Government Schools." A video overlay read:
Wait A Min Did You Just Say You turning Babies Into Food... beef Jerky😱😨😮 Why The Black population.
Below is how the video appeared at the time of this publication: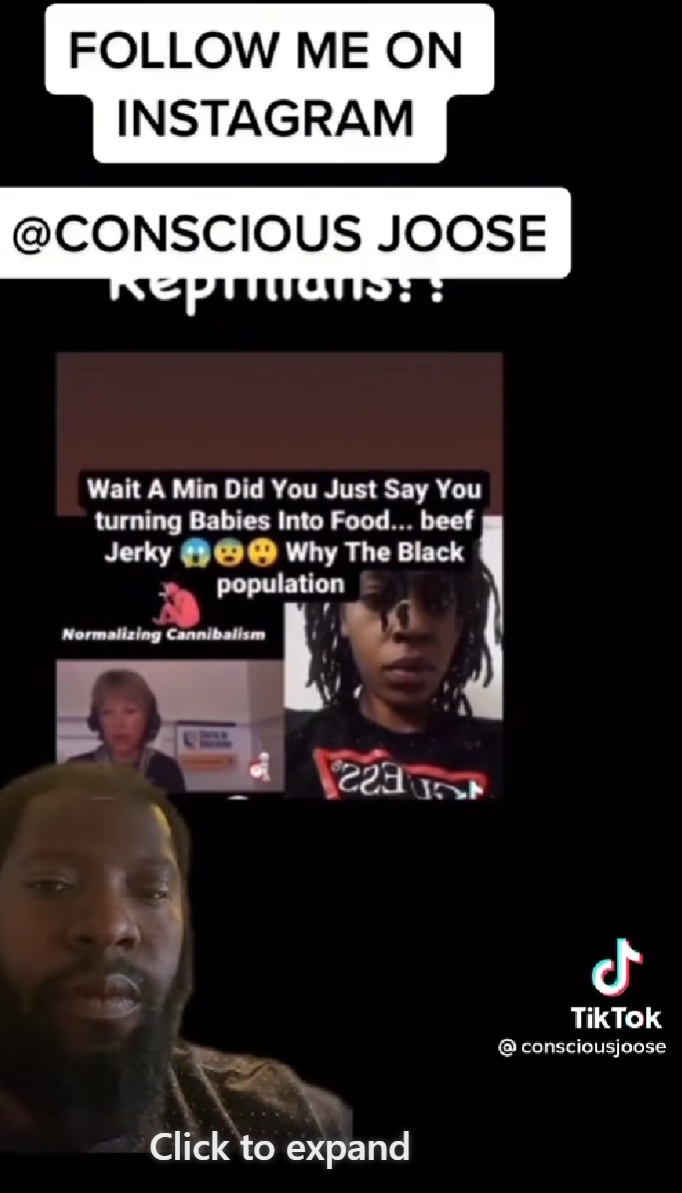 (Source: TikTok screenshot taken Weds Mar 29 11:45:00 UTC 2023)
The video shared to TikTok originated in a nearly 14-minute video posted to the website The New American on October 14, 2021, that was titled "Exposing the Lies in Government Schools." A description that accompanied the video read:
A government school in Georgia has been exposed forcing high-school students to develop a business plan for a company that would tackle world hunger by making babies into food, sparking outrage across the state and beyond.
However, the video shared to TikTok was edited to exclude the two mentions that the "business model" was an English exercise in satire and did not genuinely teach high school students methods of "raising and eating human babies to solve the world hunger problem."
The original video featured Truth in Education President Rhonda Thomas speaking with Alex Newman of The Newman Report (a publication that also published an article on the topic), who is on the advisory board of Truth in Education. In the video, Thomas claimed that "government indoctrinated" schools are teaching "cannibalism" to teenagers.
However, she also stated hat she did not think the project was "part of the curriculum" and said twice that the lesson was one of satire:
This was actually supposed to be satire. Can you imagine using cannibalism as satire for high school students? So, there's a school, Richmond Hill High School in Georgia, they wanted these students to create a business model that basically raising and eating human babies to solve the world hunger problem. And so, they actually had to come up with a plan for mass production, distribution, and target market.
In an email to Lead Stories received April 14, 2023, Melissa Roberts, school district communications coordinator, confirmed that the event took place in 2021. Roberts did not provide further details.
Protect Student Health Georgia, a self-described "grassroots volunteer organization" also posted images of the supposed lesson plan on Facebook on October 9, 2021, writing, "Bryan County, GA schools has an assignment to create a business plan to eat human babies à la Jeffrey Dahmer. We need to cry out in one voice! And make sure this never happens again!" Lead Stories contacted the group for further clarification and we will update the article should we receive a response.
As some social media users pointed out, it appears that this lesson was used to demonstrate concepts of the classic literary device of satire that is commonly taught using Jonathan Swift's 1729 "A Modest Proposal."
In a phone interview with Lead Stories on April 5, 2023, Josh Thompson, an English teacher and chair of the secondary section steering committee with the National Council of Teachers of English, said that "A Modest Proposal" is the "quintessential" text for teaching satire and that he has used it in his classrooms when appropriate.
"In addition to the way that it sheds light on the colonization of Ireland from Britain, we also really focus on it as an example of satire and a literary device of satire," said Thompson, adding that after analyzing the text, teachers will often ask the students to produce their own form of satire by writing their own "modest proposal."
"Satire does tackle social issues, political issues, cultural issues, so those are fair game for students to select for their topics," added Thompson."However, do talk about how we need to center this around people's humanity and there are topics that are not up for debate."
As the study guide website Spark Notes wrote, "A Modest Proposal" is an ironic attempt to "find out a fair, cheap, and easy method" to convert starving children of Ireland into "sound and useful members of the Commonwealth." Swift presents a "modest proposal" as a call to feed Ireland's impoverished children to rich landowners to combat overpopulation and unemployment. Swift wrote:
I have been assured by a very knowing American of my acquaintance in London, that a young healthy child well nursed, is, at a year old, a most delicious nourishing and wholesome food, whether stewed, roasted, baked, or boiled; and I make no doubt that it will equally serve in a fricasee, or a ragoust...

A child will make two dishes at an entertainment for friends, and when the family dines alone, the fore or hind quarter will make a reasonable dish, and seasoned with a little pepper or salt, will be very good boiled on the fourth day, especially in winter.
In an email to Lead Stories received March 31, 2023, Meghan Frick, communications director of the Georgia Department of Education, said that state educational standards "focus on themes and concepts students need to know and do not specify curriculum or readings."
"Those decisions are made at the local level," Frick told Lead Stories.