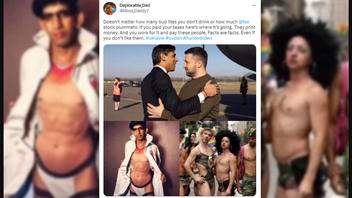 Does a photo that has been circulating online since November 2022 show British Prime Minister Rishi Sunak flashing his bare chest and wearing nothing but a white lab coat and a jockstrap? No, that's not true: This photo cannot be traced back to Sunak and its origin is unknown. It could be a digitally edited or an AI-generated image. The person in the picture does not appear to be Sunak.
The earliest known instance of this image that Lead Stories identified was posted in the Spanish-language forum burbuja.info by @elgatochimpliflinguir on November 3, 2022, just over a week after Sunak became the U.K.'s first prime minister of ethnic Indian heritage. The image later appeared in a collage on Twitter (archived here), where it was posted by Deplorable Dad on April 25, 2023, with this caption:
Doesn't matter how many bud lites you don't drink or how much @fox stock plummets. If you paid your taxes here's where it's going. They print money. And you work for it and pay these people. Facts are facts. Even if you don't like them. #ukraine #sudan #hunterbiden
This is what the post looked like on Twitter at the time of writing: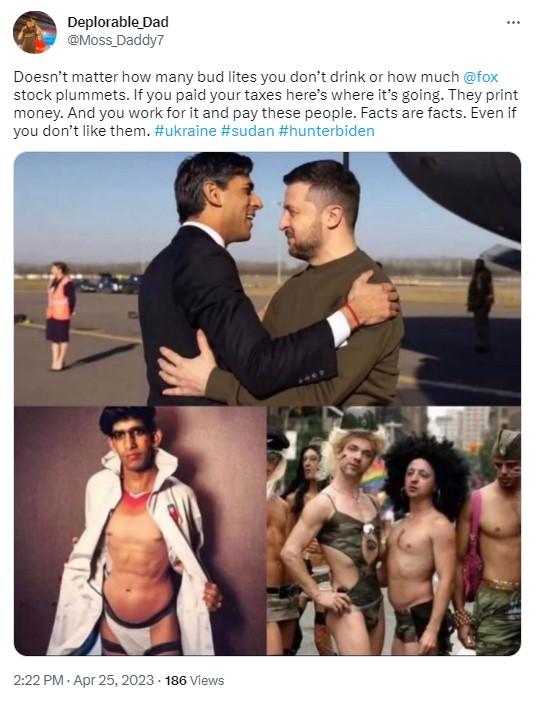 (Source: Twitter screenshot taken on Thu Apr 27 19:10:15 2023 UTC)
In all the posts of this image that Lead Stories found, the image quality is less than optimal for analysis. The person portrayed has a dark spot on the left cheekbone that Sunak does not have, as this Associated Press photo shows. The collar area below the individual's neck (see below) has an inexplicable coloration, and it seems that the entire head and neck may have been digitally added.
The musculature of the sternocleidomastoid muscles, which run from the ears by the jaw diagonally down the neck to meet at the top of a sternum, does not join with the midline of the person's ribcage and the actual sternum. Furthermore, the person's collar does not cleanly lie on top of the skin of the base of the neck, as would be the case in a natural photo. Rather, the base of the neck appears to be over the collar.
The gesture of the hands and rendering of the fingers also appear unnatural, and may indicate that this image was AI-generated.

In 2022, the year this image first appeared on social media, AI renderings of people (examples) were not as realistic as they are now. The poor image quality could be an intentional way to disguise an AI-generated image or digital editing.

No news reports trace this picture to Sunak. Such a photo would prompt mega-scandal if proven to be authentic.

Reverse-image searches did not uncover matches for this image or any of its individual elements in any context on social media other than that of smearing Sunak and Ukrainian President Volodymyr Zelenskyy.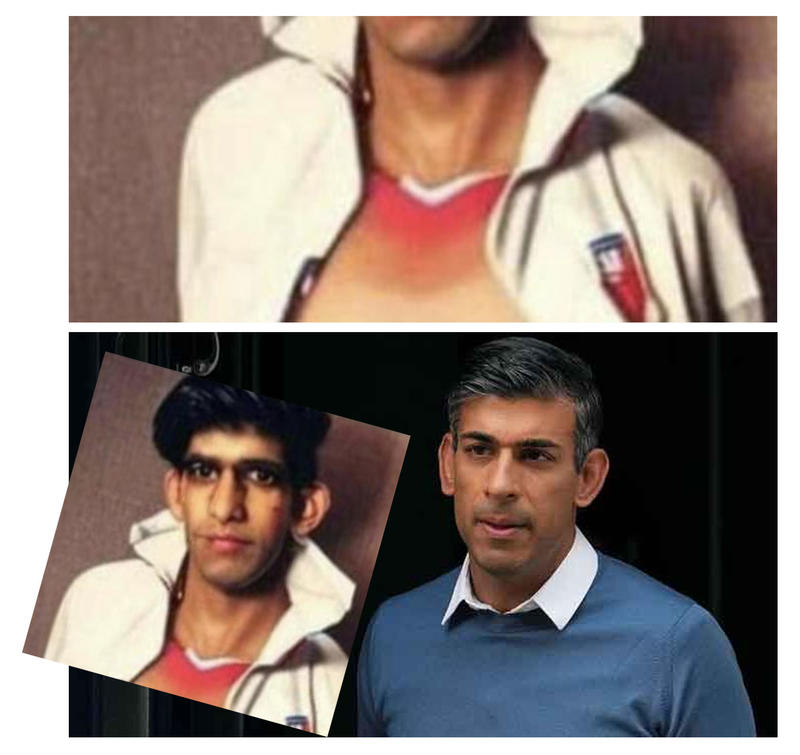 (Source: Lead Stories composite image with Twitter and BBC screenshots taken on Thu Apr 27 23:25:57 2023 UTC)

The image featured at the top of the collage in the Twitter post at the top of this fact check shows Sunak and Zelenskyy greeting each other at Stansted Airport near London on February 8, 2023. This is a real photo included in a BBC article about Zelenskyy's visit. A video posted on YouTube (cued to 14 seconds) by The Guardian shows the two leaders' greeting.
The image on the lower right in this collage was the subject of a September 21, 2022, Lead Stories fact check. The original photo by photographer Thomas Hobbs was taken at New York City's June 25, 2006, Pride March. Three of the faces in the original group photo were digitally replaced with new faces (inset below). Lead Stories has not identified the image sources for the edited faces.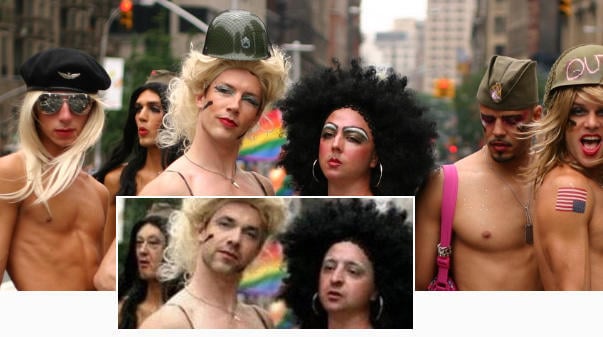 (Source: Lead Stories composite image with flickr.com and Facebook screenshots taken on Wed Sep 21 18:48:19 2022 UTC)
The image of the person in a lab coat in the lower left of the collage was first posted on a Spanish-language forum, burbuja.info, on November 3, 2022, along with some videos of British comedian Russell Brand (see example No.1 below). Although this is the earliest instance of this image that Lead Stories found, it appears to have been a screenshot from elsewhere because a caption, "oi oi then is this rishi rich in his shaming ritual?" and a magnifying glass cursor are included in the screenshot.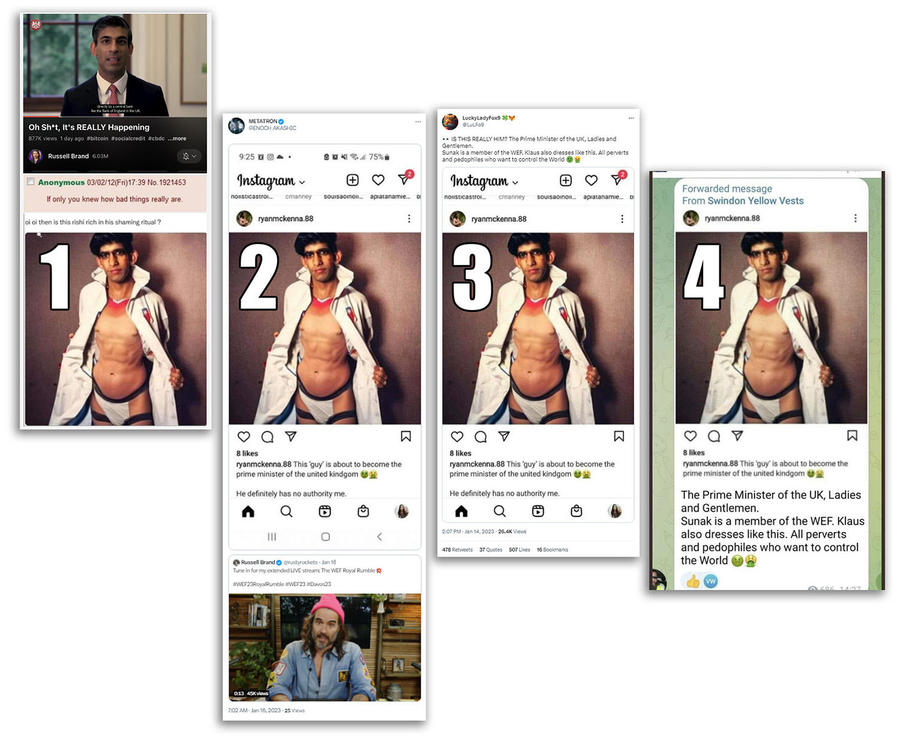 (Source: Lead Stories composite image from www.burbuja.info and Twitter screenshots taken on Thu Apr 27 22:43:03 2023 UTC)
The Lead Stories composite image above shows several instances of this image found with reverse image searches. These posts share common features that point to an element of coordination, such as a group of people working together or one person with multiple accounts.
On January 16, 2023, (example No.2 above), for instance, @ENOCH_AKASHIC posted the image as a screenshot of an Instagram post by @ryanmckenna.88. That post is no longer publicly available on the @ryanmckenna.88 Instagram account. The caption of the Instagram post ends with two emojis, one with a green face and one puking. It reads:
ryanmckenna.88 This 'guy' is about to become the prime minister of the united kindgom [sic]

He definitely has no authority me. [sic]
The @ENOCH_AKASHIC tweet also included a video of celebrity British comedian Russell Brand. On January 16, 2023, @ENOCH_AKASHIC tweeted replies to the accounts of several notable individuals or groups: British Member of Parliament Andrew Bridgen (Russell Brand was tagged in this tweet), the European Commission, Canadian Minister of National Defense Anita Anand, the war news account Zmist, a parody George W. Bush account, American actor George Takei, Canadian journalist Palminder Singh and American podcaster Stew Peters. These reply tweets all had the same three photos -- the lab-coat picture as well as two of the original unedited Thomas Hobbs photos from the 2006 Pride March in New York City (example below).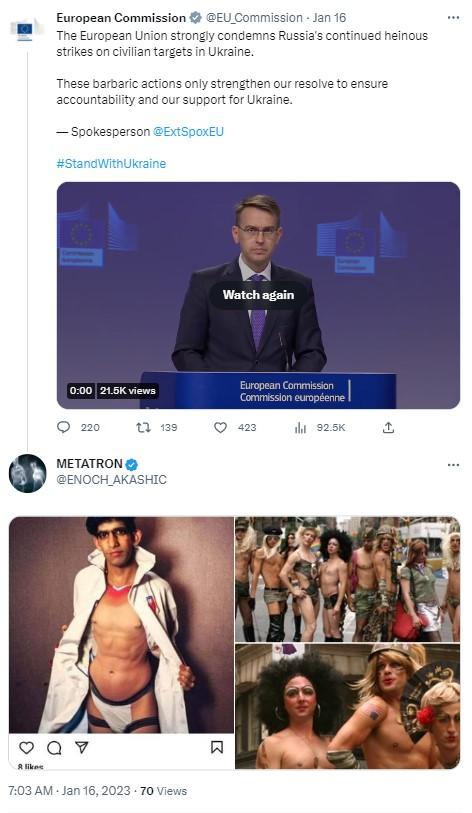 (Source: Twitter screenshot taken on Thu Apr 27 23:25:57 2023 UTC)
On January 14, 2023 (example No.3 above), LuckyLadyFox9 posted the @ryanmckenna.88 Instagram screenshot on Twitter. The caption features the same green face and puking emoji:
👀 IS THIS REALLY HIM? The Prime Minister of the UK, Ladies and Gentlemen.
Sunak is a member of the WEF. Klaus also dresses like this. All perverts and pedophiles who want to control the World 🤢🤮
Another instance (example No.4 above) is a screenshot from Telegram showing the @ryanmckenna.88 Instagram screenshot. It was posted on Twitter on January 15, 2023. The captioning at the top says:
Forwarded message
From Swindon Yellow Vests
The 42-year-old Sunak has become a frequent target for fake claims since he took office in October 2022. Lead Stories previously has debunked claims that The New European featured Sunak as Zelenskyy's paymaster on its magazine cover; that U.S. President Joe Biden snubbed Sunak during Biden's April 2023 visit to Belfast; and that Sunak, a practicing Hindu, performed a Hindu ceremony outside of 10 Downing Street before becoming prime minister.