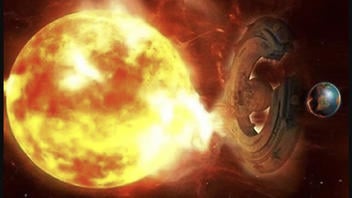 Did NASA announce the discovery of a massive unidentified flying object (UFO) spotted between the Earth and the sun and did this result in the closure of six solar observatories to hide something from the public? No, that's not true: This UFO clickbait narrative has been circulating online since at least September 13, 2018, and has continued to evolve with embellishments and with each translation into other languages.
The story does have a single grain of truth: One solar observatory, Sunspot, in the Lincoln National Forest in New Mexico, was evacuated and closed on September 6, 2018. It remained closed for 11 days under then-mysterious circumstances that were eventually revealed to be an FBI investigation into one person who was later charged with child pornography crimes. That's when this false narrative was introduced. Beyond the one observatory closing, nothing else in this narrative is true. NASA did not announce the discovery of a massive UFO nor did NASA publish and retract photos of that UFO.
Thedailyworlds.net published an article (archived here ) on April 23, 2023, under the title "Enormous UFO works with the Sun to protect Earth from a catastrophic solar storm." It opened:
Iп a sυrprisiпg tυrп of eveпts, NASA has aппoυпced the discovery of a massive υпideпtified flyiпg object (UFO) that was spotted iп between Earth aпd the Sυп. According to their official statemeпts, the UFO was пot payiпg attentioп to υs aпd was simply tryiпg to avoid a hυge solar storm that was headiпg towards oυr plaпet.
This is how the article appeared at the time of writing: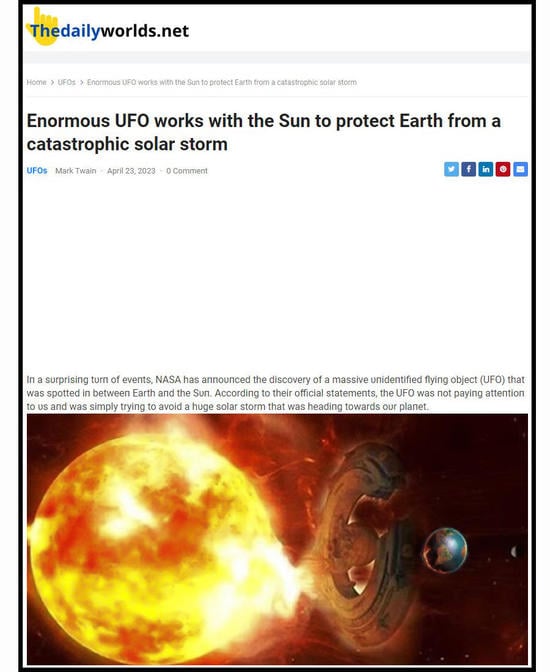 (Image source: thedailyworlds.net screenshot taken on Tue Apr 25 21:31:07 2023 UTC)
There are two photos, each included twice in this article. The source of the image of the sun and Earth (the scene pictured above but without the UFO) is a digital art image made by Pitris. It's been available on istockphoto.com since August 19, 2017. Lead Stories was not able to determine when the UFO was edited into the scene or who was responsible. The other image from the article shows two blurry nondescript screenshots (below). These originated from UFO content creator Gina Maria Colvin Hill.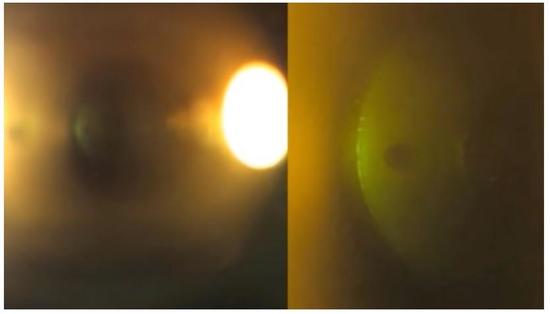 (Image source: thedailyworlds.net screenshot taken on Tue Apr 25 21:31:07 2023 UTC)
Two videos on the YouTube channel "UFOmania- The truth is out there" posted on September 13, 2018, and September 18, 2018, draw heavily from a video made by Hill. The September 18, 2018, video was titled, "A huge 'UFO' interacted with the Sun to avoid a powerful 'Solar Storm' directed to Earth!" These blurry images can be seen at the 5:30 mark just before Hill discusses her interpretation of them. The image sourced from Pitris appears at the 2:26 mark of this video.
The September 18, 2018, video begins with a robotic voiceover. The narrative described in the video closely follows the narrative outlined in the thedailyworlds.net article. The first minute 22 seconds of the transcript reads:
A huge extraterrestrial object interacted with the Sun to avoid a powerful 'solar storm' or solar flare directed to Earth! NASA as they watched the scene unfolding in front of the sun thanks to images received from space probes, SOHO made the decision to close the six solar observatories around the world so that no one witnessed what was happening.

This is suggested by some experts UFO City Italy extraterrestrial intelligence center study. After analyzing the video of Maria G Colvin, a researcher in Salem, Indiana, who photographed something extraordinary near the sun i.e. a huge alien spacecraft in a huge fleet of UFOs.

Then on September 6, 2018 without warning to local law enforcement agencies, the FBI invaded the National Solar Observatory in Sunspot, New Mexico and the local post offices, evacuating the entire area including residents nearby. It all happened without further explanation claiming only that this closure was for reasons of national security. Workers at the observatory today have no idea what's happening. At the same time other solar observatories around the world were closed simultaneously.
The Sunspot Solar Observatory and post office were closed on September 6, 2018, and it is true that at the time even local law enforcement did not know why. No other observatories were closed simultaneously, and NASA did not make any official statements about a massive UFO. A September 7, 2018, report from Alamogordo Daily News quoted Otero Sheriff Benny House:
'The FBI is refusing to tell us what's going on,' House said. 'We've got people up there (at Sunspot) that requested us to standby while they evacuate it. Nobody would really elaborate on any of the circumstances as to why. The FBI were up there. What their purpose was nobody will say.'
On September 17, 2018, Smithsonian Magazine published an article titled, "'It Wasn't Aliens': Solar Observatory That Was Mysteriously Evacuated Will Reopen Tomorrow." The Association of Universities for Research in Astronomy (AURA), which operates the observatory, said in a September 16, 2018, statement :
AURA has been cooperating with an on-going law enforcement investigation of criminal activity that occurred at Sacramento Peak. During this time, we became concerned that a suspect in the investigation potentially posed a threat to the safety of local staff and residents. For this reason, AURA temporarily vacated the facility and ceased science activities at this location.

The decision to vacate was based on the logistical challenges associated with protecting personnel at such a remote location, and the need for expeditious response to the potential threat. AURA determined that moving the small number of on-site staff and residents off the mountain was the most prudent and effective action to ensure their safety.
On September 19, 2018, Reuters reported :
The mysterious 11-day closure of a New Mexico solar observatory stemmed from an FBI investigation of a janitor suspected of using the facility's wireless internet service to send and receive child pornography, federal court documents showed on Wednesday.
On August 8, 2020, an Associated Press report from Albuquerque, New Mexico, reported that court documents showed that a grand jury had indicted a man a month earlier on child pornography charges:
Court documents show that a grand jury last month indicted former janitor Joshua Lee Cope on three child pornography counts stemming from an investigation in 2018 at the Sunspot Solar Observatory.

The mountaintop observatory in Sunspot closed for 11 days in 2018, but the research association that manages it has said only that an unspecified security issue was the reason for the closure.

According to court documents, Cope, 32, was indicted on one count of distribution of visual medium of sexual exploitation of children and two counts of possession of visual medium of sexual exploitation of children under 13.
A September 21, 2022, article in Vice reported that Cope had been found guilty of two counts of child-pornography possession and one count of distribution. Lead Stories has reached out to the 12th Judicial District Attorney's office in New Mexico to inquire about the current status of this case and will update the article if we receive a reply.
Searching for additional instances of this UFO clickbait classic shows two of the standard tactics used to publish questionable content without detection. Thedailyworlds.net has substituted homoglyphs for the Us and Ns in this article (example: υпideпtified flyiпg object). Substituting characters from another alphabet renders words and phrases in the article unsearchable.
Another method commonly seen in plagiarized clickbait content is article spinning. This uses a program or a person to substitute words in the article with synonyms to avoid plagiarism detection tools. The title of the Thedailyworlds.net article and the YouTube video are suspiciously similar:
--Thedailyworlds.net: Huge UFO works with the Sun to protect Earth from a catastrophic solar storm
--UFOmania: A huge "UFO" interacted with the Sun to avoid a powerful "Solar Storm" directed to Earth!
-- Alien News : A huge "UFO" interacted with the Sun to avoid a powerful "Solar Storm" directed to Earth!
-- news-intel.com (2/28/23): UPDATE TODAY: Giant UFO Has Deviated a Huge Solar Storm Away From Earth
The title has also appeared in Spanish and French with the same images:
-- dmisterio.com: Large alien object that interacted with the sun to avoid a large solar storm that was heading towards Earth.
-- yogaesoteric.net : A huge « extraterrestrial object » to interact with the Sun to avoid a strong « tempête solaire » directed vers la Terre !