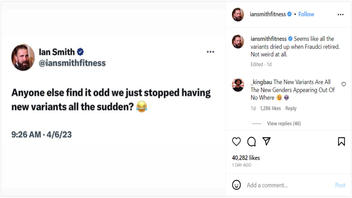 Did the world suddenly stop having new COVID-19 variants after Dr. Anthony Fauci, former director of the National Institute of Allergy and Infectious Diseases (NIAID), retired at the end of 2022? No, that's not true: More than a year before his retirement, the most recent variant of COVID, Omicron, was identified in Botswana and South Africa. Many Omicron subvariants have been discovered since then, including XBB.1.16, which was first documented on January 23, 2023.
The claim appeared in a post on Instagram by fitness entrepreneur, author and conservative commentator Ian Smith on April 6, 2023, under the title "Anyone else find it odd we just stopped having new variants all the sudden? 😂."
The previous version of the post said in its description:
Seems like all the variants dried up when Fraudci retired. Not weird at all.
This is what the post looked like on Instagram at the time of writing: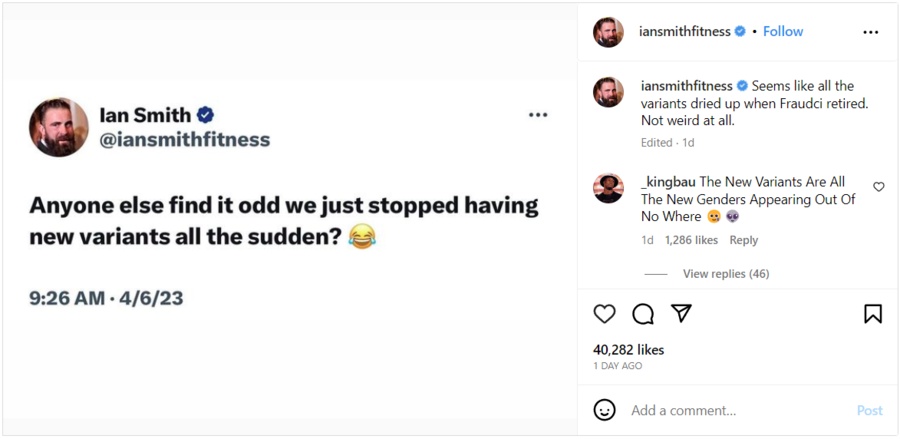 (Source: Instagram screenshot taken on Fri Apr 7 16:39:23 2023 UTC)
In the Instagram post, Smith is sharing an April 6, 2023, tweet from himself (archived here). The tweet appears below:

(Source: Twitter screenshot taken on Fri Apr 7 18:41:27 2023 UTC)
COVID variants didn't stop "all the sudden" with the retirement of Fauci at the end of 2022. In an April 7, 2023, email to Lead Stories, Dr. Stuart Ray, a professor in the Division of Infectious Diseases at the Johns Hopkins University School of Medicine, said, "this virus isn't done with us yet." He added:
We have not detected a truly distinct lineage (which would warrant a new 'Greek letter'), since Omicron was discovered in November 2021 - a year and a half - but the Omicron subvariants have been evolving since then with no end in sight.
Ray offered the NextStrain website, which shares open-source genetic data, as a way to visualize the virus' change over time. The chart below shows each COVID variant and all their subvariants. This is what it looked like on April 7, 2023:
(Source: NextStrain screenshot taken on Fri Apr 7 20:58:14 2023 UTC)
In an article updated on February 3, 2023, ("Omicron, Delta, Alpha, and More: What To Know About the Coronavirus Variants"), Yale Medicine, the Yale School of Medicine's medical group, concurred. The story said:
Omicron and its subvariants have ranked as the predominant SARS CoV-2 strains in the U.S for over a year now. The original Omicron strain (BA.1) was first identified in Botswana and South Africa in late November 2021, and cases quickly began to surface and multiply in other countries. By December of that year, Omicron was causing daily case numbers in the U.S. to skyrocket to over a million. In 2022, it spawned a number of subvariants, including BA.5, BQ.1, and BQ.1.1. By January 2023, a new Omicron subvariant called XBB.1.5 was causing the most infections in the U.S.
Variants are tracked on the websites of the World Health Organization (WHO), the Centers for Disease Control and Prevention (CDC) and the Global Initiative on Sharing All Influenza Data (GISAID).

The NIAID, which Fauci headed through December 2022, isn't involved in the naming or creation of COVID variants. COVID variants are named by the WHO and the SARS-CoV-2 Interagency Group.
In an April 7, 2023, email to the CDC, Lead Stories asked, "Have there been any newly reported strains/variants of COVID-19 since Dr. Fauci's retirement?" CDC spokesperson Lisa George responded the same day:
In response to your question, this page, GISAID - hCov19 Variants, shows the submission of new COVID-19 lineages globally. As you'll see, there are several just today.

The CDC doesn't determine when a variant gets a new name (Greek letter). That's the World Health Organization (WHO) and the SARS-CoV-2 Interagency Group (SIG), which is under the U.S. Department of Health and Human Services (HHS).
Additional fact checks of claims related to COVID can be found here.