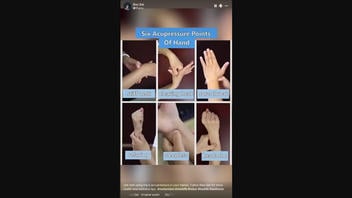 Does pressure application on a particular point in the wrist area help relieve a sore throat? No, that's not true: No credible sources suggest there is any connection between this type of self-massage and expedited recovery from a sore throat.
The claim appeared in a video posted on Facebook on April 3, 2023. Its title said:
Six Acupressure Points
Of Hand
The post continued:
Get well using the 6 accupressure in your Hands. Follow Doc Gai for more health and wellness tips #reelsvideo #reelsfb #relax #health #wellness
This is what it looked like on Facebook at the time of the writing of this fact check: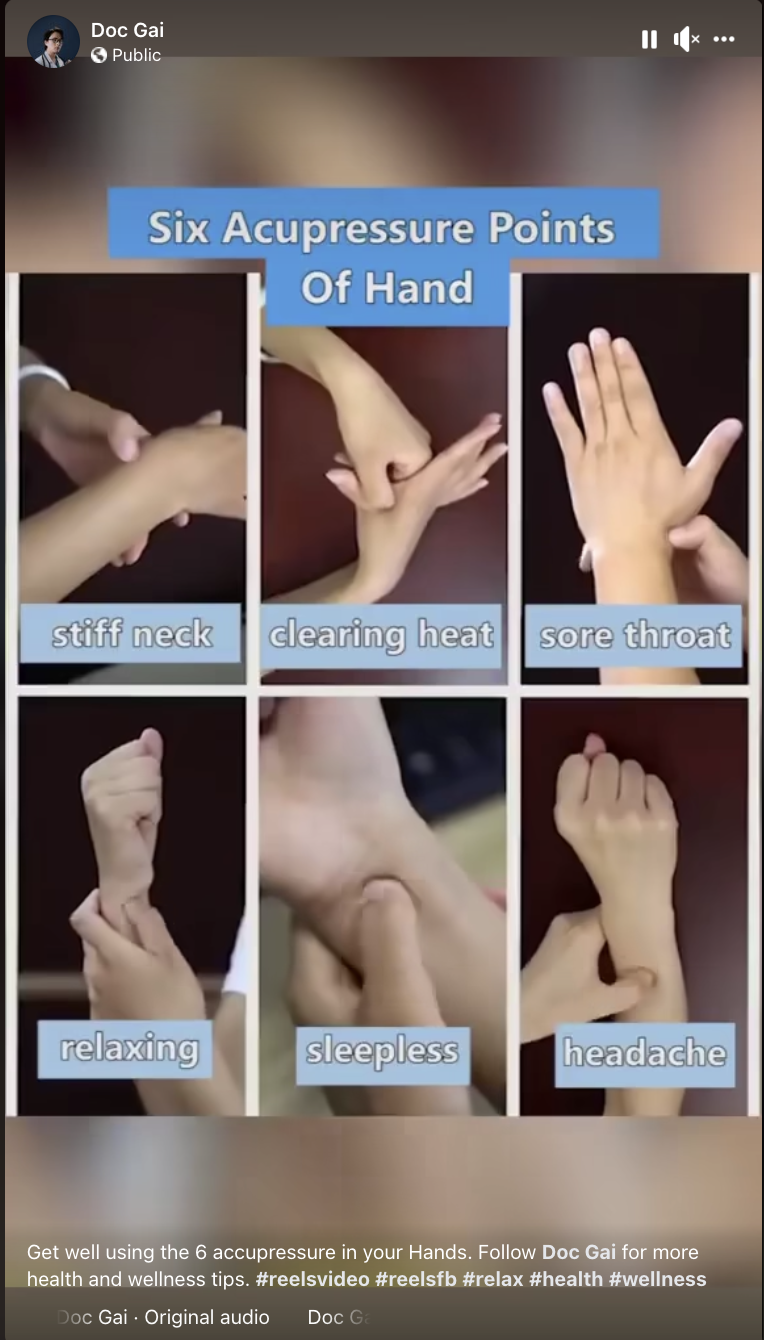 (Source: Facebook screenshot taken on Fri Apr 14 14:40:30 2023 UTC)
The video contained six moving images of hands massaging each other. One example showed a point in the wrist area, implying in the caption that rubbing that particular spot may help against a sore throat.
However, the claim is not grounded in scientifically proven facts.
According to the website of the Centers for Disease Control and Prevention, a sore throat is a condition caused by a virus that typically does not require any specific intervention, including antibiotics:
Most sore throats will get better on their own within one week.
A seemingly similar condition, strep throat, is caused by bacteria, and may require antibiotics if lab results confirm the diagnosis.
The CDC website says nothing about acupressure, acupuncture, reflexology or wrist massages as proven methods to treat or alleviate the symptoms of sore or strep throat.
Acupressure is a technique that advocates claim provides relief from multiple health conditions through applying pressure to certain points of the body believed to be connected to different organs. Other terms -- for example, reflexology -- are sometimes used to describe it as well.
The core idea of this technique is borrowed from acupuncture, which uses needles, rather than pressure, to activate supposed connections between certain body points and organs.
The National Center for Complementary and Integrative Health says there is some evidence that acupuncture may help relieve pain in people with some conditions, but sore throat is not one of them. It additionally emphasizes:
How acupuncture works is not fully understood.
What is presented in the video is more consistent with the description of reflexology.
Compared to acupuncture, reflexology is a much less studied practice. Existing research papers do not back up its supposed benefits. The National Institute for Complementary and Integrative Health concludes:
Reflexology is claimed to cause relaxation and healing in those parts of the body, but this has not been proven.
Unlike reflexology, massage focuses on rubbing soft tissues. While it may help people relax and alleviate some kinds of pain, the science does not support claims that it's a universal remedy against all types of pain. The National Institute for Complementary and Integrative Health says nothing about its purported ability to fight viruses, including those causing sore throat.
Lead Stories searched the National Library of Medicine and found no credible peer-reviewed studies proving that wrist massages may help alleviate sore throat symptoms.
One small study with a total of 54 participants, published in 2015, suggests that ear acupuncture may reduce the amount a patient with an acute sore throat needs, but noted that the procedure did not help to expedite recovery. It said nothing about wrist massages or needle application to the particular area referenced in the video.
A 2022 article evaluated four randomized control trials and one comparative study that analyzed data from 1,478 patients. The authors looked into the effects of acupuncture on postoperative patients whose sore throats resulted from surgeries under general anesthesia or from tracheal intubation.

While they implied that acupuncture had potential benefits in these circumstances, the researchers admitted that the data from the included trials was "limited" and that they "were not able to collect the samples with the best quality for meta-analysis." Additionally, the study did not specify if any patients went through any acupuncture procedures or acupressure manipulations with their hands or wrists.
A 2015 paper looked into what was described as "Korean hand therapy" applied to children experiencing throat pain after tonsillectomy. The description of the proposed technique matched the definition of hand reflexology.

However, the experiment included 29 participants, and only 15 of them reported some improvements. The study did not have a control group and did not compare the effectiveness of the proposed method with a placebo. Moreover, it did not specify in what areas the pressure was applied.
The account that published the claim on Facebook used a stock-image photo of a man posing as a doctor in a white coat as a profile picture. According to the account's description, a "digital creator" runs the page. The account's Intro section describes the person as a "Wellness Coach" in Manila, the Philippines. The description does not refer to any formal medical training that the account holder has.
Additional Lead Stories fact checks about acupuncture, reflexology and self-massages can be found here.