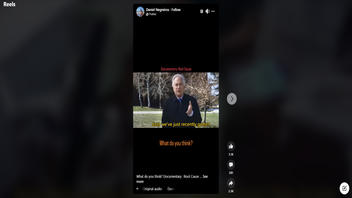 Is a root-canal-treated tooth the No. 1 cause of a heart attack? No, that's not true: According to the Centers for Disease Control and Prevention (CDC), coronary artery disease is the main cause of heart attacks. The three key risk factors for heart disease are high blood pressure, high blood cholesterol and smoking.
The claim about root canals appeared in a 30-second video clip on Facebook (archived here) published on April 10, 2023, with the words "Documentary: Root Cause" and "What do you think?" flanking the video on the top and bottom. The complete 2019 documentary was also posted to YouTube (archived here) on January 14, 2022. About 13 seconds into the clip on Facebook, Dr. Thomas E. Levy says:
Data, we've just recently gotten, shows now that the No. 1 cause of heart attack is a root canal-treated tooth. Plain and simple. Not correlation, not link, cause and effect.
This is what the post looked like on Facebook at the time of the writing of this fact check: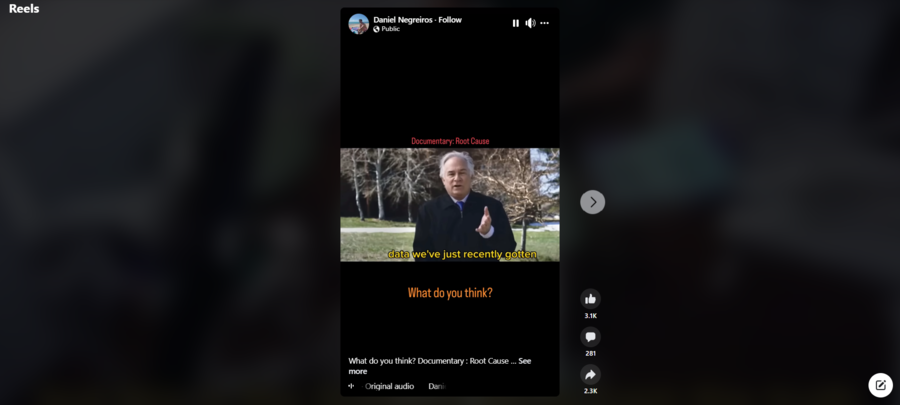 (Source: Facebook screenshot taken on Fri Apr 14 15:59:38 2023 UTC)
The clip shared on social media provides no evidence to support the claim. Levy is a board-certified cardiologist, an attorney and co-author of the book "The Toxic Tooth: How a Root Canal Could be Making You Sick."

He was also disciplined by the Colorado Medical Board. On March 4, 2022, KCNC-TV reported:
The Colorado Medical Board has disciplined licensed cardiologist Dr. Thomas Levy for promoting an unproven and controversial treatment for COVID-19. He was also disciplined for publicly cautioning against the efficacy of COVID-19 vaccines.
The World Health Organization (WHO) identifies cardiovascular diseases (CVDs) as the leading global cause of death, with nearly 18 million people dying from these conditions each year. The text on the WHO website continues:
More than four out of five CVD deaths are due to heart attacks and strokes, and one third of these deaths occur prematurely in people under 70 years of age.
Information on the CDC website says something similar:
Coronary artery disease (CAD) is the main cause of heart attack. A less common cause is a severe spasm, or sudden contraction, of a coronary artery that can stop blood flow to the heart muscle.
Neither agency mentions root canals as the No. 1 or even a top cause of heart attacks.
The website for the American Association of Endodontists says the notion that root canal treatment causes illness is a myth that's been around for decades:
Information you may find on the Internet or elsewhere, claiming that if you receive a root canal treatment you're more likely to become ill or contract a disease in the future simply isn't true. This false claim was based on long-debunked and poorly designed research conducted nearly a century ago, long before modern medicine understood the causes of many diseases. There is no valid, scientific evidence linking root canal treatment to disease elsewhere in the body.
Although the video clip doesn't cite a source, the claim may have been falsely drawn from a study, "Oral health and later coronary heart disease: Cohort study of one million people," that was published in April 2018, the year before the documentary came out. A by Dr. Robert H. Shmerling analyzing the study found:
After accounting for age, there was a moderate correlation between tooth loss (a measure of poor oral health) and coronary heart disease.
When smoking status was considered, the connection between tooth loss and cardiovascular disease largely disappeared

This study suggests that poor oral health does not directly cause cardiovascular disease.
In an October 28, 2019, article called, "Root Canals and Heart Disease: Separating Fact vs Fiction," the North Shore & Brookline Endodontics website said that getting a root canal is "the exact opposite" of poor oral health. It continued:
Untreated dental conditions such as root canal infection can introduce bacteria to the bloodstream, allowing it to travel to all parts of the body and raising the risk for a variety of diseases. But a proper root canal treatment prevents such bacterial invasion. Root canal treatment, along with all other procedures that treat tooth decay and gum disease, help to protect your overall health.
Additional fact checks of claims related to root canals can be found here and here.