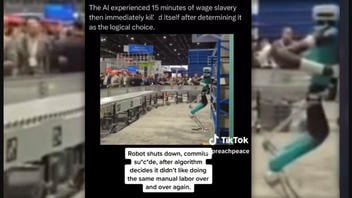 Did a robot that experienced "wage slavery" for 15 minutes commit suicide after determining that was the logical choice rather than to continue working? No, that's not true: The video was posted by Agility Robotics, celebrating the 99-percent success rate of its live demos, while acknowledging that its Digit robot did have a couple of falls. This robot's accident happened in Chicago at the 2023 Promat Trade Show, a conference for supply chain and material-handling technologies.
Agility Robotics shared the video on its LinkedIn, Twitter and Instagram accounts on April 6, 2023. A copy of the video (archived here) was published on TikTok by @ipreachpeace on April 16, 2023, with the following description:
Robot shuts down, commits su*c*de, after algorithm decides it didn't like doing the same manual labor over and over again. #robots #robotics #bostonrobotics #ai #artificialintelligence #droids #tech #blackmirror #future #cyberpunk #watchdogs #hacker #coder #engineer #darktech #blacktiktok #surrogates #worklife #workhard #hardwork
A text caption added to the video read:
The AI experienced 15 minutes of wage slavery then immediately kil d itself after determining it as the logical choice.
This is what the video looked like on TikTok at the time of the writing of this fact check: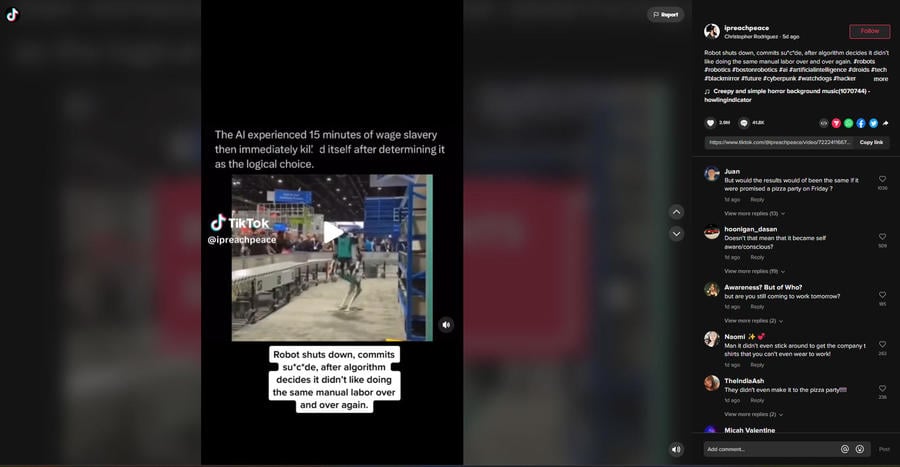 (Source: TikTok screenshot taken on Fri Apr 21 18:23:37 2023 UTC)
The post for the original Agility Robotics video did not reference any "suicide" by the robot. The caption for the 19-second-long video on LinkedIn read:
Even with a success rate of 99% over roughly 20 hours of live demos at #ProMat2023 (across multiple days). Digit still had a couple of falls. Which, in some ways provides more useful data than a full cycle with no issues.
Agility Robotics' posts on Twitter and Instagram had the same caption as above, with an additional joke aimed at their sales team:
We have no proof, but we think our sales team orchestrated it so they could talk about Digits quick-change limbs and durability. #ConspiracyTheories
In a roughly 34-minute-long video from the Promat 2023 trade show, streamed live on YouTube on March 21, 2023, the robot can be seen moving gray bins from shelves onto a conveyor for 33 minutes before leaving that station and walking out of view. On the last day of the show, Agility Robotics showed attendees five Digit robots at the same time, moving in a synchronized fashion, and also making gestures individually. This video was posted on Twitter several days later, on March 29, 2023.

A skit video, titled "Digit tries to get out of work," was posted on the Agility Robotics YouTube channel (embedded below) on April 3, 2023. After a summary of the skit, the video's sub-caption caption describes the types of tasks Agility Robotics designed the Digit robot to carry out.
39,192 views • Apr 3, 2023 • #robot #robotics #engineering

Digit attempts to sign up for an AI chatbot with the hopes of getting out of work.



At Agility, we make robots that are made for work. Our robot Digit works alongside us in spaces designed for people. Digit handles the boring and repetitive tasks that are meant for a machine, which allows companies and their people to focus on the work that requires the human element.
Lead Stories contacted Agility Robotics for comment and, if a response is received, will update this article as appropriate.

Additional Lead Stories fact checks of claims about robots can be found here.