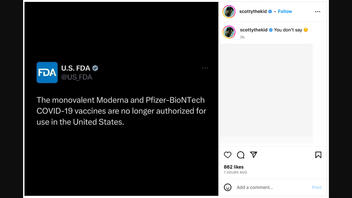 Did the U.S. Food and Drug Administration (FDA) ban COVID-19 vaccines in April 2023? No, that's not true: On April 18, 2023, the agency amended its previous emergency use authorizations (EUAs) to remove authorization for monovalent vaccines made by Moderna and Pfizer-BioNTech, and, instead, authorized bivalent vaccines for all doses given to those 6 months old and older. In a post to Twitter, the FDA confirmed that "monovalent vaccines are still approved (licensed)" but are no longer authorized for emergency use. On April 10, 2023, President Joe Biden signed a resolution that ended the United States' national COVID-19 emergency.
A version of the claim about a ban on COVID vaccines originated in a post on Instagram on April 21, 2023, that featured a screenshot of an authentic tweet the FDA posted on April 18, 2023. The tweet read:
The monovalent Moderna and Pfizer-BioNTech COVID-19 vaccines are no longer authorized for use in the United States.
The tweet was followed by a thread that provided further clarifications about the FDA's decision, but the post on Instagram did not share those details.

Social media posters included a screenshot of the FDA tweet alone to imply that the agency had banned or pulled authorization for any and all COVID vaccines. Below is how one such post appeared at the time of writing: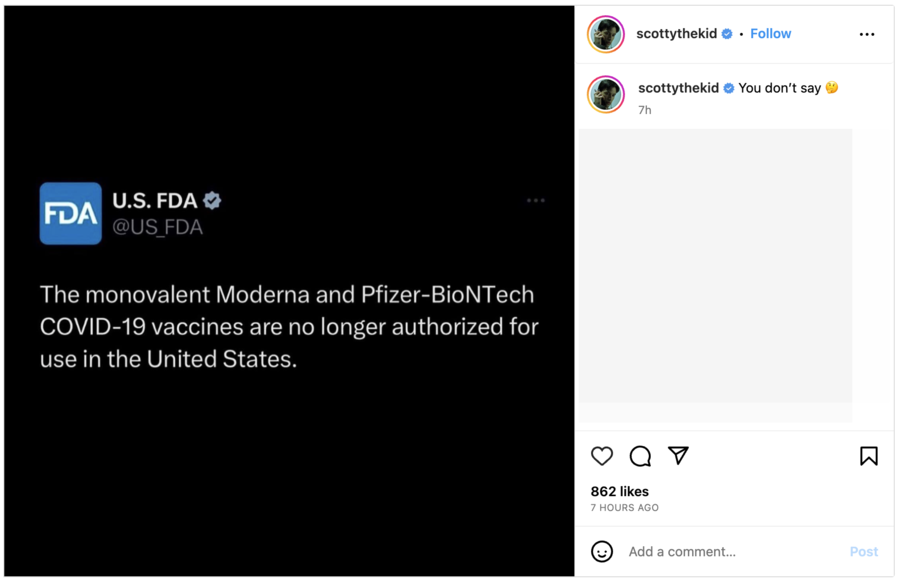 (Source: Instagram screenshot taken Fri April 21 10:09:31 UTC 2023)
In December 2020, during the first year of the pandemic, monovalent vaccines, which contained one strain of the SARS-CoV-2 virus, received from the FDA an emergency authorization for use against COVID. An emergency authorization allows the FDA to expedite the availability of medical products like COVID vaccines during a public health emergency.

In August 2022, as the virus evolved, bivalent vaccines, which include two strains of the virus, became available to the general public.
On April 18, 2023, the FDA issued a news release (archived here) that stated that it had amended its previous emergency use authorizations to "simplify the vaccination schedule for most individuals." The revision essentially made bivalent vaccines (the "original and omicron BA.4/BA.5 strains," the FDA specified) the go-to COVID vaccine for those 6 months old and older.
In its April 18, 2023, thread on Twitter, the agency clarified, in response to a question from Twitter CEO Elon Musk, that the monovalent Moderna and Pfizer-BioNTech COVID vaccines "are still approved (licensed)" but are "no longer authorized for *emergency use* in the United States."
A video posted on the FDA's YouTube channel elaborates that emergency use authorizations are intended only for when "there's no time to wait for full FDA approval" of "some medical products."

Though the FDA writes on its website that emergency use authorizations do not depend on the existence of a public health emergency, they can be revoked if the "circumstances justifying issuance no longer exist" or other grounds for the emergency authorization have changed.
Dr. Peter Marks, director of the FDA's Center for Biologics Evaluation and Research, stated in a news release on April 18, 2023, that the change in status for monovalent vaccines does not mean the agency has removed its immunization recommendations. Rather, the FDA believes its decision will "encourage future vaccination," he said.
​​Evidence is now available that most of the U.S. population 5 years of age and older has antibodies to SARS-CoV-2, the virus that causes COVID-19, either from vaccination or infection that can serve as a foundation for the protection provided by the bivalent vaccines. COVID-19 continues to be a very real risk for many people, and we encourage individuals to consider staying current with vaccination, including with a bivalent COVID-19 vaccine. The available data continue to demonstrate that vaccines prevent the most serious outcomes of COVID-19, which are severe illness, hospitalization, and death.
Clinical studies and data support the safety and efficacy of bivalent COVID vaccines, the agency added. Updated vaccine recommendations and fact sheets for both Moderna and Pfizer are listed on the FDA's website.
A statement that Pfizer sent on April 18, 2023, to Lead Stories ahead of the FDA's announcement said that the FDA amended the EUA for the company's COVID bivalent vaccines to "simplify the vaccination schedule" for most individuals. The "update," the company continued, "enables those at higher risk of severe COVID-19 illness, including the elderly and the immunocompromised, to partner with their healthcare providers to be proactive in helping to protect themselves against COVID-19."
Lead Stories has a long track record of debunking false claims about COVID-19 vaccines: We also have reported that mRNA vaccination of animals does not cause involuntary vaccination of humans who eat meat; that Switzerland did not order an "immediate halt" to COVID vaccinations or claim that they cause "more harm than good;" and that new COVID variants did not stop "all the sudden" after Dr. Anthony Fauci retired in 2022.