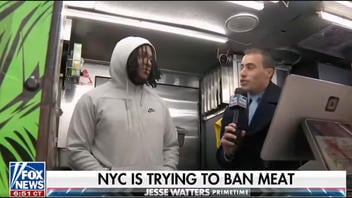 Is New York City, one of the world's culinary capitals, "trying to ban meat"? No, that's not true: The rumor followed a Mayor's Office announcement about the reduction of food-related carbon emissions, not a complete prohibition of meat. Moreover, the emissions-reduction program focuses predominantly on the city's spending on food; as of this writing, the private sector does not have to participate in the reduction of food-related emissions.
The claim appeared in a post on Facebook on April 20, 2023. The caption said:
NYC is trying to BAN MEAT! What do New Yorkers think? Johnny finds out

#FoxNews
This is what the post looked like on Facebook at the time of the writing of this fact check: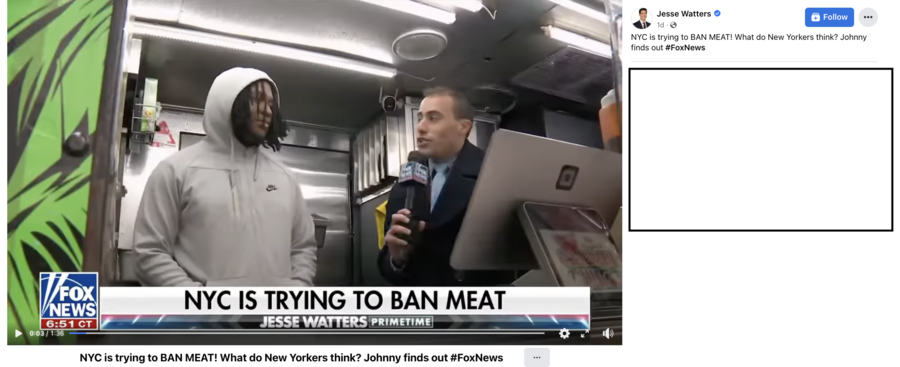 (Source: Facebook screenshot taken on Fri Apr 21 19:23:51 2023 UTC)
The attached video was aired on Fox News on April 19, 2023. It showed a reporter telling New Yorkers that "Mayor Eric Adams wants you to stop eating meat to save the planet" and recording their reactions to this statement. The reporter did not cite any specific source for this particular wording.
However, the statement is misleading. As of April 21, 2023, no available public records corroborate the existence of the purported plan to enforce a total ban on all meats in New York City.
The closest matches found by Lead Stories were Article 81 of New York City's Health Code, which says that "no meat shall be served or sold in a food service or non-retail food processing establishment unless the meat is inspected and approved by the United States Department of Agriculture"; amendments to the Code that phased out trans fat in "food service establishments" in July 2008; and a 2018 ban on processed meats in public schools.
None of these documents imply that the city government wants to ban meat as a food category.
On April 17, 2023, shortly before the claim started to spread, Mayor Adams announced that the city will decrease its food-based carbon emissions by 33 percent in the next seven years. The plan primarily targets institutions, such as public schools or public hospitals, for which New York City buys food -- an expense that totals just under $300 million annually, according to the city government.
Adams' announcement followed newly released data from the Mayor's Office that identifies food production and consumption is the city's third biggest polluter, responsible for one-fifth of all NYC's emissions.

Adams is known for promoting a plant-based diet. He describes himself as a vegan, but has also been seen eating fish, and later, calling himself "perfectly imperfect," had to admit that he has "occasionally eaten fish."
But his April 2023 proposal is not entirely brand-new. In 2021, Adams' predecessor, Mayor Bill de Blasio, committed to reducing the city's food-related emissions by 25 percent by 2030. In 2019, de Blasio also started "Meatless Mondays" in public schools, which was expanded by Adams in February 2022 with "Vegan Fridays."
As of this writing, no pork is served in New York City's public schools, but meals including chicken and turkey were listed on the April menu. The options available in May included beef (click Go to May's Menu).
In January 2023, New York City's public hospital system did announce that plant-based meals became the "primary dinner option" for its patients. Yet, according to the hospital system's estimate, plant-based dishes will make up only about 30 percent of the meals expected to be served in public hospitals in 2023. Other meal options are available, too.
Based on official data for 2021, the most recent available year, the city government spends the most on dairy products. Poultry is ranked fourth among the most common purchases, but the overall spending on poultry is significantly lower than for the first three food categories on the list: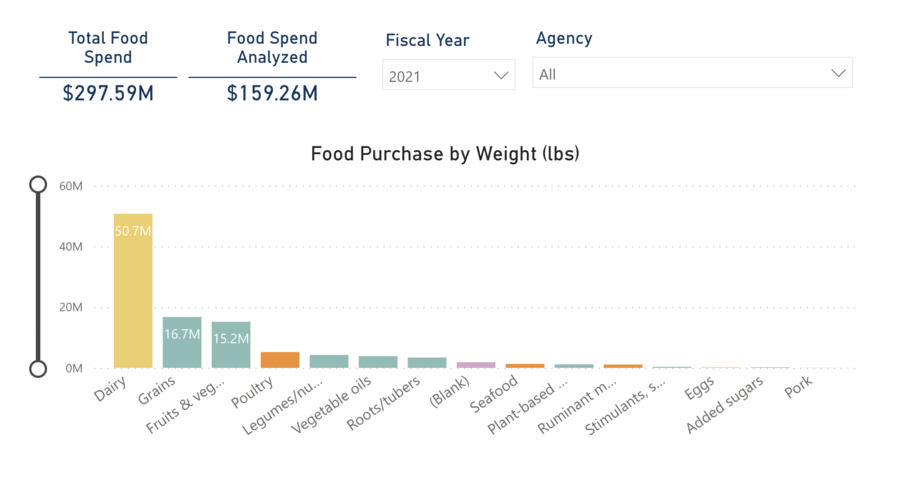 (Source: NYC.gov screenshot taken on Fri Apr 21 18:18:55 2023 UTC)
A related program, called "Corporate Challenge to Reduce Private Sector Food Emissions By 25 Percent 2030," was still voluntary as of April 21, 2023.
Lead Stories contacted the Mayor's Office for additional comments. When we receive a response, we will update this fact check as appropriate.
Other Lead Stories fact checks about New York City can be found here.