STORY UPDATED: check for updates below.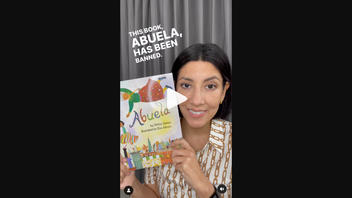 Was the children's book "Abuela" banned in "many states" as of April 20, 2023? No, that's not true: Lead Stories found no evidence as of this writing that the book has been banned at the county, state or federal level.
The claim originated in a video shared to Instagram on April 14, 2023, by actress Stephanie Beatriz, with a caption that read:
Can you believe this sweet book was banned from some libraries in the USA? Between July 2021 and June 2022... 1,648 unique books were recorded as being banned by state or local officials! Want to take action? (Link in bio) #LetAmericaRead
In the video, Beatriz said the following:
Hi. This book, 'Abuela,' has been banned in many states and shelved in others. Why, you might ask. Well, it's about a little girl and her grandmother who in Spanish you would call abuela. In fact, abuela doesn't speak English. She only speaks Spanish and so the little girl in the story shares Spanish words with us throughout the story. Words like 'abuela,' which means grandmother, 'limonada,' which -- you guessed it -- lemonade, and 'un oso,' which means a bear. Huh. Crazy. This got banned. I wonder why. It couldn't be the illustrations because they are absolutely stunning. The two of them go traveling all around New York City pretending to fly over all the buildings and there's just these like beautiful images of love and it's really distressing and sad to me that there's this trend of banning books right now. You know, these books deserve to be on the shelves of classrooms and in libraries so that kids can learn about the diversity of the United States and it's dangerous that these books are getting banned and it's flat out un-American. I say, support our children's freedom to learn and let America read.
Below is how the post appeared at the time of writing: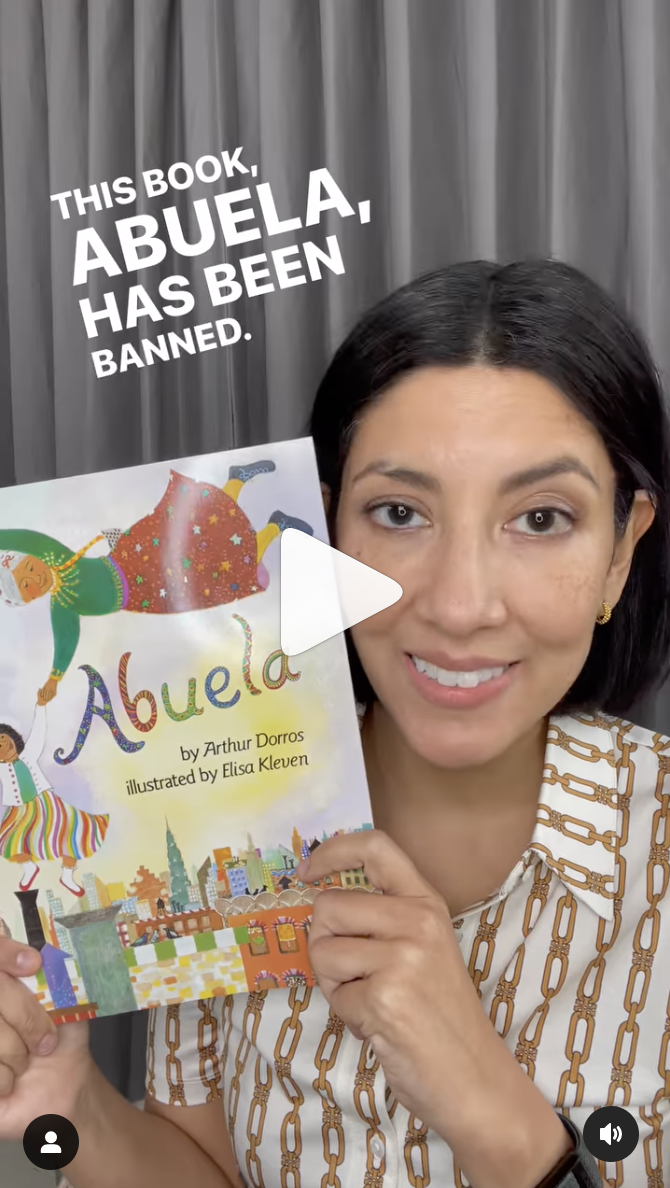 (Source: Instagram screenshot taken Thurs April 20 12:49:14 UTC 2023)
Versions of the above claim have also appeared in videos posted to TikTok.
In December 2022, PEN America reported that the book was banned, solely in Duval County, Florida. However, as of this writing "Abuela" is not banned in the county. A spokesperson for the county school district confirmed to Lead Stories in an email received on April 25, 2023, that the book "was delivered to classrooms in the fall of 2022 for grades K-3." However, confusion may have come in July 2022 after a then-new education law allowed parents to review and contest instructional materials like books and said that all books in school libraries must be reviewed by a certified media specialist.
"The book is an approved title and is in classrooms," a Duval County spokesperson confirmed to Lead Stories in an email received on April 26, 2023.
It does not appear that the book has been banned at either the Florida county or state levels, nor has it been banned at the federal level or in "many states" as the social media post claims as of April 20, 2023.
In an email to Lead Stories received on April 24, 2023, Duval County confirmed that the book was not currently listed as a "removed" book.
The book was also not in PEN America's Index of School Book Bans, which lists over 2,500 instances of individual books being banned from July 2021 to June 2022, affecting 1,648 unique book titles. Lead Stories contacted the New York-based organization to confirm the status of the book and will update the article accordingly.
"Abuela" was written by Arthur Dorros in 1997 and published by Penguin Random House.
Since 1990, the American Library Association's Office for Intellectual Freedom has documented book bans in libraries and schools. "Abuela" is not listed on the organization's 100 most frequently challenged books or under the annual roundup of most challenged books. Lead Stories contacted the organization to determine whether "Abuela" has been banned but did not receive a response.
Lead Stories also contacted the American Library Association, the Banned Books Week Coalition and the Index on Censorship for comment. We will update the article accordingly.
2023-04-26T17:17:55Z

2023-04-26T17:17:55Z

Adds April 26, 2023, statement from Duval County spokesperson confirming the book is approved and in classrooms.