STORY UPDATED: check for updates below.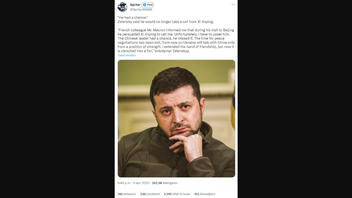 Did Volodymyr Zelenskyy announce that he would "no longer take a call from Xi Jinping?" No, that's not true: There is no evidence that the Ukrainian president made the comment about Chinese leader Xi Jinping. Lead Stories previously debunked another made-up quote from the same Twitter account.
The claim appeared as a post published on Twitter on April 6, 2023 (archived here) which opened:
"He had a chance." Zelensky said he would no longer take a call from Xi Jinping. "French colleague Mr. Macron informed me that during his visit to Beijing he persuaded Xi Jinping to call me. Unfortunately, I have to upset him. The Chinese leader had a chance, he missed it. The time for peace negotiations has been lost, from now on Ukraine will talk with China only from a position of strength. I extended the hand of friendship, but now it is clenched into a fist," Volodymyr Zelenskyy.
This is what the post looked like on Twitter (arhived here) at the time of writing:
(Source: Twitter screenshot taken on Thu Apr 6 19:13:50 2023 UTC)
There is no proof that Zelenskyy made the comments claimed in the tweet. A Google search using the sentence "French colleague Mr. Macron informed me that during his visit to Beijing he persuaded Xi Jinping to call me," did not yield any credible results of the comments being reported in reliable news outlets.
In an article posted on Zelenskyy's official presidential website on March 31, 2023, the Ukrainian leader indicated his willingness to talk:
Asked about the dialogue with President of the People's Republic of China Xi Jinping, the President said that today, for the victory of our state it is important to involve as many countries as possible, in particular those that do not yet have a clear position on supporting Ukraine in the war.

'Therefore, we send signals to such states and say that we are ready to meet, discuss, talk, and together defeat the aggression of the Russian Federation. We are waiting for answers from some states,' Zelenskyy said.
As reported in Politico in March 2023, Zelenskyy stated that he is willing to engage with China amid Russia's invasion of the country:
'I think the fact that China started talking about Ukraine is not bad. But the question is what follows the words,' Zelenskyy said at a press conference in Kyiv. 'I think some of the Chinese proposals respect international law, and I think we can work on it with China. Why not? Our goal is to gather many around us to isolate one [Russia].'
French President Macron met with Xi on April 6, 2023 and spoke about Ukraine. According to the UK Independent, Macron said:
'The Russian aggression in Ukraine has dealt a blow to (international) stability,' Macron told Xi. 'I know I can count on you to bring back Russia to reason and everyone back to the negotiating table.'


Lead Stories debunked a claim from the same Twitter account that White House press secretary Karine Jean-Pierre said the United States is "deeply concerned' about Brazil and China switching to "national currencies" to do business with each other. Jean-Pierre did not make that remark.
A Telegram channel account named "And Here Is My Yandex Wallet" was the first to post the fake quote on Apr 6 at 08:38, per their page, which appears to be hours before the 4:46 p.m. post that day on Twitter. The page is self-described as "parody, satire on political reality. only verified fakes," using Google translate.
2023-04-06T22:17:06Z

2023-04-06T22:17:06Z

Adds details about Telegram account that posted fake quote first.