STORY UPDATED: check for updates below.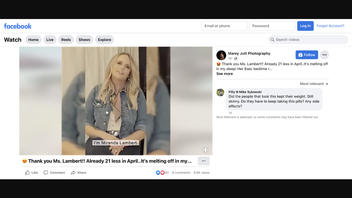 Is American singer-songwriter Miranda Lambert selling weight loss materials, specifically a special mineral used for weight loss? No, that's not true: Lambert's public relations team told Lead Stories she is not affiliated with this product. The website where the weight loss materials can be bought mimics the USA Today website. This is false advertising and follows a formula of using public figures to sell products they have not endorsed.
The claim appeared on Facebook on May 22, 2023, with the caption "😍 Thank you Ms. Lambert!! Already 21 less in April..It's melting off in my sleep! Her 6sec bedtime routine is a grand slam!" The video opened with a voice saying:
I'm Miranda Lambert. Last year, my weight ballooned and I stopped looking at myself in the mirror.
This is what the post looked like on Facebook at the time of writing: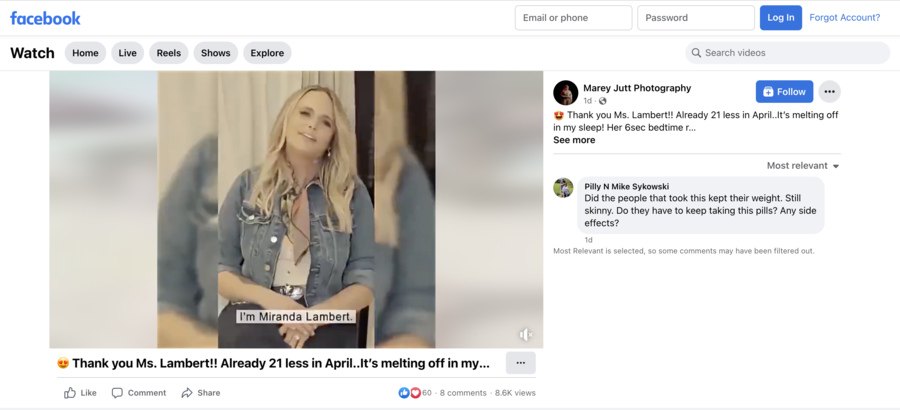 (Source: Facebook screenshot taken on Tue May 23 14:30:42 2023 UTC)
In a voice purported to be Lambert, the narration says that after Dr. Oz told her there was a two-minute trick for her to lose weight while eating whatever she wanted, she thought it was too good to be true.
Users are encouraged to click a link underneath the post to find out more. The link leads users to a fake newspaper website that claims many celebrities, along with regular people, are taking a weight loss "mineral" to lose weight fast. Lambert was not listed on the site as a celebrity who used this product.
Lead Stories has contacted Lambert's public relations team and received this email response on May 25, 2023:
These are scam videos - it is not Miranda's voice promoting the product and she is not at all affiliated with any such products. Her lawyer is actively working to get them taken down, however new versions continue to pop up daily.
The beginning of the URL for this page is www.moofferlp.com. USA Today is one publication this website mimics. The real URL is www.usatoday.com. Another such publication is Time magazine, whose real URL is time.com.
A Google News search of the phrase, "Miranda Lambert weight loss mineral" did not result in any reliable reports.
Lambert's verified Twitter and Instagram accounts show no endorsements of this mineral. The most relevant post about weight loss in her Facebook account goes back to 2013, when she wrote "I lost my weight the healthy and good old fashioned way. Watching what I eat and working out with my trainer."
Previous Lead Stories articles debunking weight loss claims can be found here. Other articles on bogus celebrity endorsements are here.

2023-05-26T14:07:00Z

2023-05-26T14:07:00Z

Added a response from Lambert's PR team.