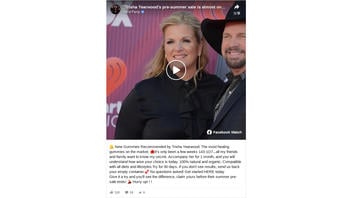 Is country singer Trisha Yearwood endorsing or selling weight-loss gummies? No, that's not true: Yearwood has denied that she made any such endorsement and Lead Stories did not find publicly available evidence that she has previously endorsed weight-loss gummies.
The claim appeared in a post on Facebook published on April 28, 2023. The video included in the post is titled "⏰Trisha Yearwood's pre-summer sale is almost over..🍉Last chance to claim" and at the beginning, the video includes a brief clip of Yearwood and her husband, country singer Garth Brooks. The two simply introduce themselves and do not mention any gummies. The caption of the post reads:
🔔 New Gummies Recommended by Trisha Yearwood: The most healing gummies on the market. 🌺It's only been a few weeks 143-1O7...all my friends and family want to know my secret. Accompany her for 1 month, and you will understand how wise your choice is today. 100% natural and organic. Compatible with all diets and lifestyles.Try for 90 days. If you don't see results, send us back your empty container.💕 No questions asked! Get started HERE today
Give it a try and you'll see the difference, claim yours before their summer pre-sale ends! 💃 Hurry up! ! !
This is what the post looked like on Facebook at the time of writing: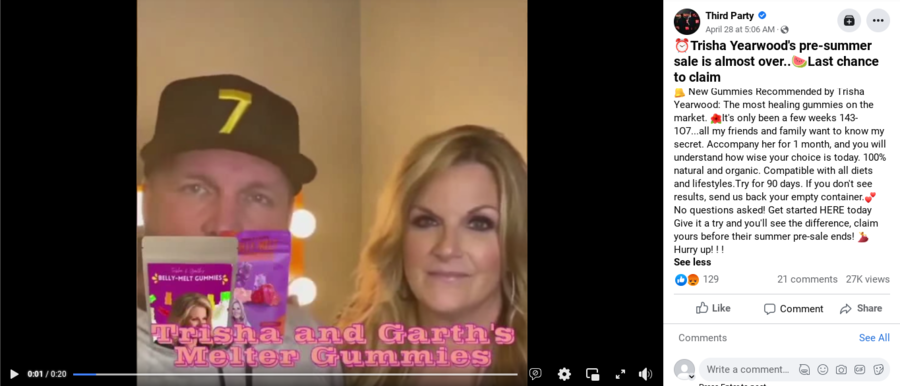 (Source: Facebook screenshot taken on Mon May 1 16:55:20 2023 UTC)
Yearwood has debunked a version of this claim on her own. An Instagram post published to her official Instagram account on April 6, 2023, included a graphic that explained that she has "NEVER sold nor endorsed any product advertised as 'KETO GUMMIES.'" The graphic also stated that such advertisements "appear to be part of a targeted scam." The caption of the post read:
🚨Don't be Fooled by Fake Gummies Ads!
Here is what Yearwood's post looked like at the time of writing: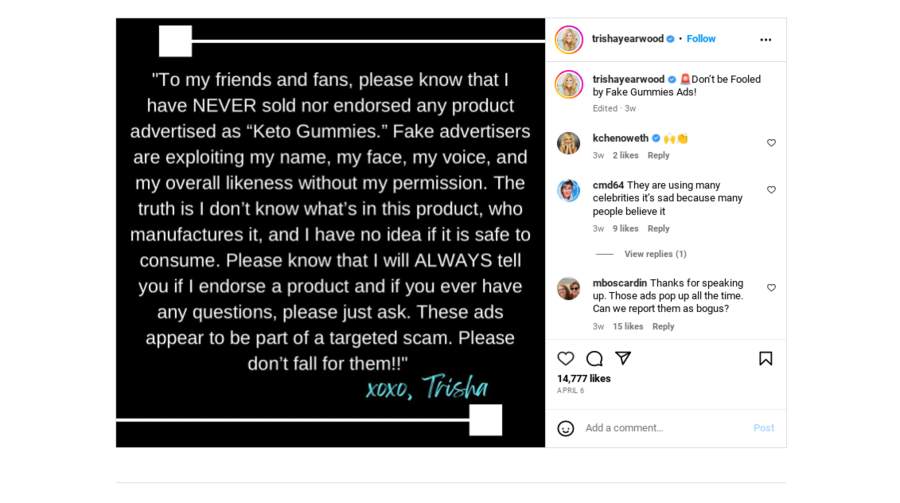 (Source: Instagram screenshot taken on Mon May 1 17:14:54 2023 UTC)
At the time of writing, Yearwood's official website does not include any mention of "weight loss," "keto" or "gummies" that confirm the claim.
The link included in the Facebook post making the claim leads to a deceptive website designed to look like that of Time magazine's website. However, major clues point to the website not being associated with Time magazine. The URL is not time.com, the publisher's home page. Also, clicking any links on the page leads to sign-up pages for keto weight-loss gummies. A screenshot of the website linked in the Facebook post making the claim is included below: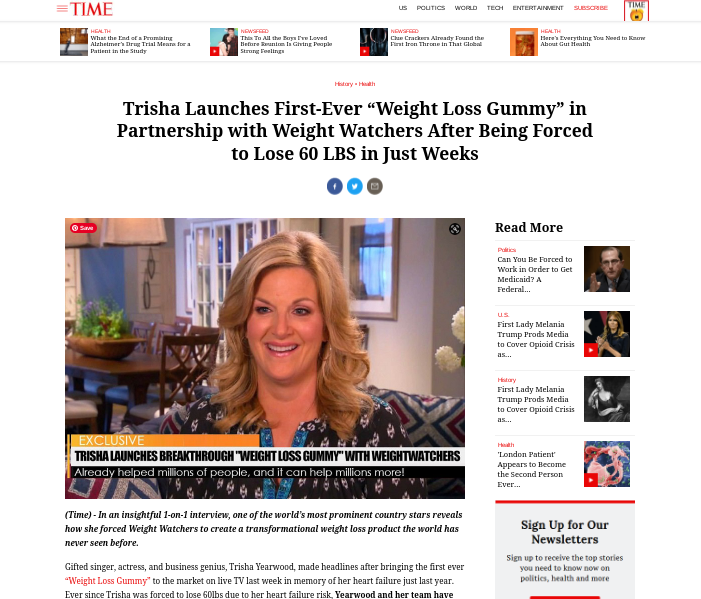 (Source: Screenshot taken on Mon May 1 17:24:19 2023 UTC)
Lead Stories previously published a comprehensive debunk of the celebrity weight loss gummies scam. That fact check can be found here.