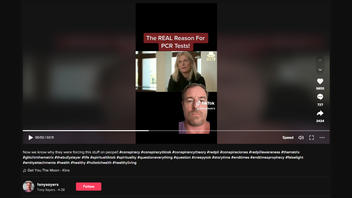 Do nasopharyngeal swabs, like those used in PCR (polymerase chain reaction) testing for COVID-19, affect your longevity and aging? No, that's not true: Most research about the effectiveness and safety of such swabs suggests that they pose no significant threat to most patients.
The claim appeared in a video (archived here) posted on TikTok on April 28, 2023. The video had overlaid text that read "The REAL Reason for PCR Tests!" It featured a clip of Astrid Stuckelberger, a population health researcher whose work primarily focuses on aging, although she has commented on COVID-19 matters. However, Stuckelberger is not a medical doctor. In the clip, Stuckelberger said in part:
And by the way, this swab in the nose is unprecedented because you can take the saliva and test the DNA. So going down there is with an intention.
Stuckelberger goes on to state that if the swab touches a particular region of the brain, "it can really have consequences on your aging, on your longevity."
This is what the post looked like on TikTok at the time of writing: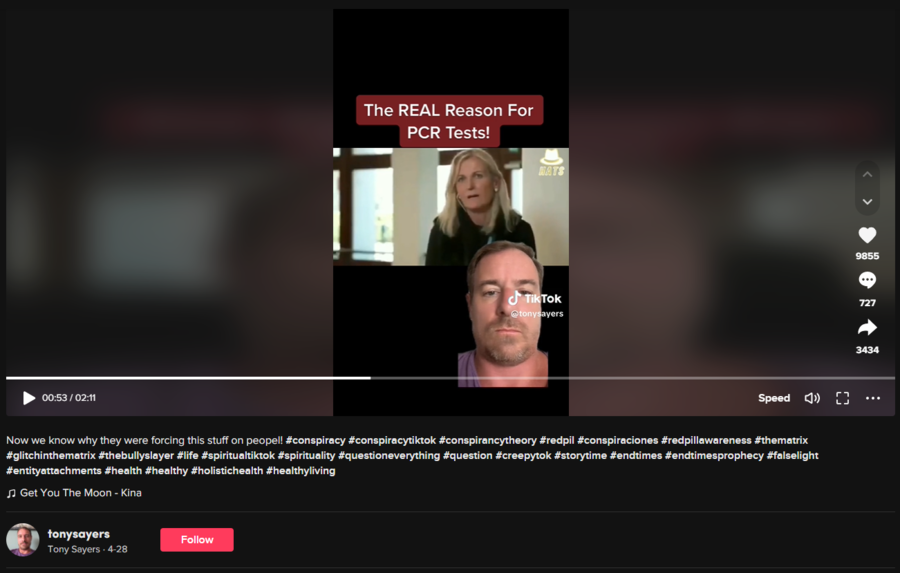 (Source: TikTok screenshot taken on Wed May 10 17:50:44 2023 UTC)
PCR testing for COVID involves the use of a sample of DNA gathered via nasal swabbing or saliva collection. From there, the tests compare the samples with primers, a short strand of DNA, from the virus to determine whether the virus is present in the sample. According to the Centers for Disease Control and Prevention, nucleic acid amplification tests like PCR tests "are typically the most reliable tests for people with or without symptoms."
There is no evidence the nasopharyngeal swabbing performed during these tests has widespread, detrimental effects on patients' health. During the COVID pandemic, some researchers closely examined the safety of nasopharyngeal swabs. In a research letter published in 2021, researchers who specialize in clinical microbiology and otorhinolaryngology, which deals with the surgical and medical management of head and neck conditions, found that across a seven-month case period at the Helsinki University Hospital Department of Otorhinolaryngology - Head and Neck Surgery, only a few nasopharyngeal swab "complication-related visits" were discovered. The researchers concluded that while complications stemming from nasopharyngeal swab PCR testing "may be life-threatening," overall, "the risk for a severe complication requiring specialist-level care after SARS-CoV-2 nasopharyngeal swab testing is extremely low."
A systematic review published in 2022 about adverse events related to nasopharyngeal swab testing for COVID concluded that "patients and clinicians should be aware of rare but possible complications and associated high-risk factors." The researchers behind the review acknowledged that such testing has been recognized as reliable.
Rather than nasopharyngeal swab testing for COVID having any significant effects on aging in patients, age is a significant factor in the contraction and severity of COVID itself in patients. The CDC reports that older adults are far more likely to develop complications from COVID that lead to hospitalization or death.
Lead Stories has debunked other claims related to PCR testing and nasal swabbing. We found that the nasopharyngeal swabbing in PCR testing does not pierce the blood-brain barrier, that PCR testing is not inherently deadly and cannot vaccinate people, and that neither COVID vaccines nor PCR tests can make people magnetic.