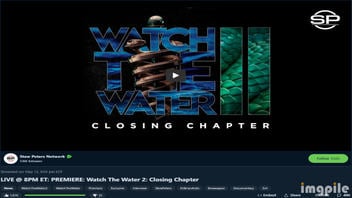 Do COVID-19 mRNA vaccines and treatments for the virus come from snake venom and do the vaccines then cause humans to produce venom in their bodies? In addition, is nicotine the "perfect antidote" for COVID, making the vaccines unnecessary? No, none of those things are true: These assertions have no basis in science, infectious disease experts told Lead Stories.
The claims appeared in a video on Rumble (archived here) published by the Stew Peters Network on May 12, 2023, titled "Watch The Water 2: Closing Chapter." The description for the post says:
They called it a conspiracy. They ignored the evidence.
But they can't change the truth.
Dr. Bryan Ardis returns in this closing chapter to Watch The Water, reinforcing the research behind the groundbreaking documentary.
From venom peptides to blood clots, Dr. Ardis and Stew dive deep into how the Covid-19 bioweapon was made.
There is evil in this world, and it is trying to snuff out God's people by any means necessary.
This is what the post looked like on Rumble at the time of writing: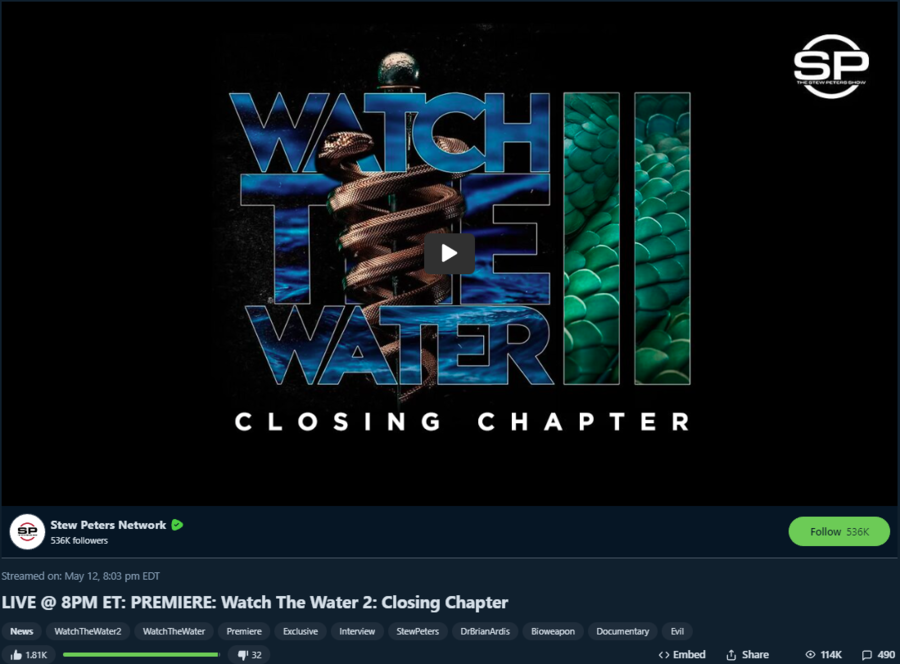 (Source: Rumble screenshot taken on Wed May 17 14:38:14 2023 UTC)
The video
The nearly 55-minute anti-vaccine documentary features far-right online personality Stew Peters with Bryan Ardis, a conspiracy theorist, dietary supplement entrepreneur and a retired doctor of chiropractic. "Watch the Water 2" opens with the Eric Church tune "The Snake," a song about people being sheep and easily fooled.
The video is a follow-up to the QAnon/anti-vax hit "Watch the Water." Lead Stories addressed the earlier documentary in this story: COVID-19 IS A Virus, NOT Snake Venom Being Used To Poison, Turn People Into Satanic Hybrids.
Is COVID vaccine snake venom?
In the opening moments of "Watch the Water 2," Ardis tells Peters he's been busy in the aftermath of the original video, which came out in April 2022. At 3:45 into the show, he says:
Since that's been released, every day it is 10, 12 hours of me actually looking into documentation, research studies, finding that this isn't new. They've been working towards creating envenomation worldwide, finding ways to use venoms and propose them to be toxins, and at the same time, propose them to be cures in the form of antiviral drugs and antiviral vaccines.
As the conversation continues, Peters states, "COVID-19 is not a virus, in fact, at all." At 5:48, Ardis responds:
Right. It's actually, simply venom. The farther you look into this, you know they're actually replicating all the symptoms of COVID, telling the world it's a virus when in fact every single symptom of COVID can be specifically pinpointed at a specific protein found in venomous creatures' venom.
Dr. James Lawler with the Division of Infectious Diseases at the University of Nebraska Medical Center told Lead Stories in a May 18, 2023, email that "COVID vaccines do not come from snake venom." He said:
They contain messenger RNA encoding for the virus spike protein packaged in nanoparticles made of lipid (fat). The spike protein from the SARS-CoV-2 virus is a protein made up of approximately 1,300 amino acids strung together. The corresponding genetic sequence (or code) for spike is therefore around 4,000 bases. With only 4 possible bases to choose from for each of these 4,000 spots, it is common for very different proteins to share short series of matching code. There are some small segments of shared series between spike protein and snake venom proteins, but that doesn't mean they have anything to do with each other.
In a May 18, 2023, phone interview with Lead Stories, Dr. William Schaffner, a professor of infectious diseases at Vanderbilt University Medical Center, said there's no connection between vaccine and venom. He added:
The vaccines are created in the laboratory using chemical and microbiologic methods. They are not derived from snake venom.
Pfizer Media Relations responded in a May 18, 2023, email to a Lead Stories query about the snake venom claims involving the pharmaceutical company's COVID mRNA vaccine. The email said:
Snake venoms are not a component of the COVID-19 vaccine.
Pfizer said the ingredients of the vaccine are listed on the fact sheet for the vaccine, which can be found here.
Over the course of the documentary, Ardis insists that people are also being exposed to snake venom through the air and by chemicals added to our water, but he says neither are as concentrated as what humans purportedly receive through COVID shots.
The end game
Ardis insists there's something nefarious going with the companies that make mRNA vaccines This all plays into a greater QAnon conspiracy theory of global satanic elites and their plans for the world. At 23:42, he says:
For all of ... big pharma, the entire goal moving forward is actually getting human cells in our bodies the instructions to make venom-based drugs for them, so they don't have to manufacture it. ... That's what the suggestion of mRNA technology is, getting your body to make the spike proteins. The spike proteins are venomous. ACE inhibitors are venomous; these are blood pressure-managing drugs. They, in the future, believe that they can get all of you and your God-created DNA to make something the serpent makes, or venomous creatures do that mammals don't do on their own.
Ardis reiterates his position at 45:28:
To clear this up, mRNA technology is solely how to get cells in the human body to manufacture venom. That's it. Y'all can call it anything else you want. You can call it ... spike proteins if you want to. It doesn't change the fact that they are venom proteins.
Later in his email response, Lawler gives Ardis credit for understanding one thing about mRNA vaccines; they do cause the body to make proteins. That is their intended purpose, he says, but they're not snake proteins. Lawler adds:
The mRNA in the vaccine is taken up by your cells and serves as the template to make spike protein, using your body's natural mechanism for protein production. Your immune system recognizes the spike protein as 'foreign,' essentially deceiving your immune system into thinking there is an infection and prompting the production of antibodies and memory cells to attack the invader if it should ever appear again. This has nothing to do with snakes, snake venom, snakes on planes, or snakenados. The latter two are more realistic than this video.
Asked about the notion that COVID mRNA vaccines cause the human body to produce something akin to snake venom, Schaffner said:
That's malarkey, to use one of our president's favorite expressions.
The Centers for Disease Control and Prevention website says it's a myth that COVID-19 vaccines alter human DNA:
FACT: COVID-19 vaccines do not change or interact with your DNA in any way.

Both messenger RNA (mRNA) and viral vector COVID-19 vaccines work by delivering instructions (genetic material) to our cells to start building protection against the virus that causes COVID-19.

After the body produces an immune response, it discards all the vaccine ingredients just as it would discard any information that cells no longer need. This process is a part of normal body functioning.

The genetic material delivered by mRNA vaccines never enters the nucleus of your cells, which is where your DNA is kept. Viral vector COVID-19 vaccines deliver genetic material to the cell nucleus to allow our cells to build protection against COVID-19. However, the vector virus does not have the machinery needed to integrate its genetic material into our DNA, so it cannot alter our DNA.

Learn more about how COVID-19 vaccines work.
Nicotine as a COVID antidote
In addition to poisoning the human race with snake venom, "Watch the Water 2" suggests health professionals are also withholding the solution to COVID infection. At 11 minutes into the documentary, Ardis says what it is:
A nicotine agent will protect people from COVID. It is the perfect antidote.
Later in the video, Ardis again suggests nicotine as a COVID cure-all. At 46:10, he says:
Hundreds of thousands of people around the world have reported to me all of their long-hauler COVID symptoms disappeared in 45 minutes to three days using nicotine gum.
Lawler told Lead Stories that the opposite is true:
In fact, studies document that active smokers are more likely to die from COVID than non-smokers.
He said this study, "Active Smokers Are at Higher Risk of COVID-19 Death: A Systematic Review and Meta-analysis," supports his position.
Schaffner found no proven benefits to the drug either:
I am not aware of any research recommendation from any authoritative source that suggests that nicotine, whether delivered via tobacco products or as a chemical agent in any way, has any therapeutic or preventive role in COVID or any other infection, for that matter.
Other claims in the documentary
The "Watch the Water 2" documentary also included previously debunked claims about these COVID-related topics:
'The Snake' song
Separate from the facts of the documentary is the use of Church's song "The Snake" at the beginning of "Watch the Water 2." The producers of the video don't have permission to use the tune, according to Marshall Alexander with Solid Entertainment, Church's management company. He provided this statement in a May 18, 2023, email:
Eric's song was not authorized for use in this documentary and it has been flagged by the label to be taken down. Eric and Solid Entertainment have not seen nor endorsed the contents of this documentary.
Lead Stories also has other fact checks involving or mentioning Stew Peters and Bryan Ardis.