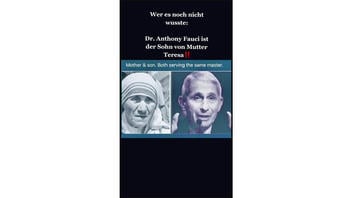 Is Dr. Anthony Fauci, former director of the National Institute of Allergy and Infectious Diseases (NIAID), the son of Mother Teresa, Catholic nun and Nobel Peace Prize winner? No, that's not true: Fauci was born to Italian-American parents in Brooklyn, New York, in 1940, when Mother Teresa lived in Calcutta, India, having moved there from her native Macedonia.
The claim appeared in a video (archived here) on TikTok on April 15, 2023, that contained photographs of Fauci and Mother Teresa with the caption "Mother & son. Both serving the same master."
This is what it looked like on TikTok at the time of writing: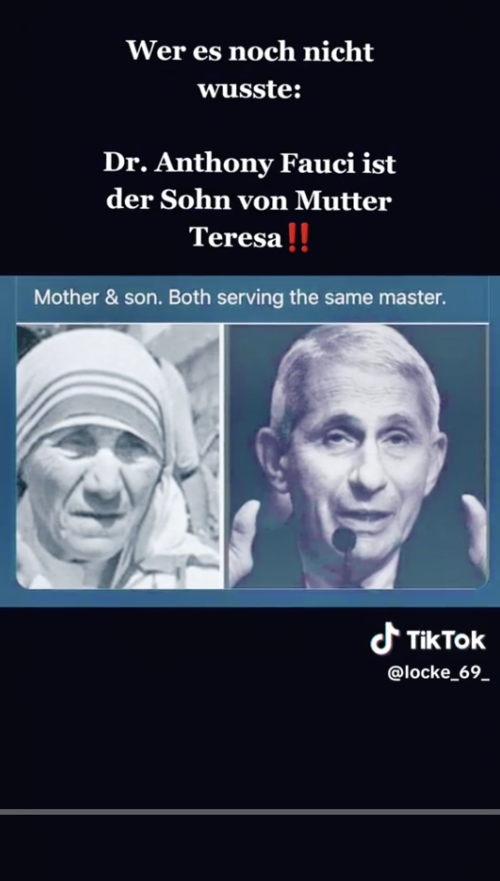 (Source: TikTok screenshot taken on Fri May 19 13:51:59 2023 UTC)
In reality, Fauci and Mother Teresa are not relatives of any kind. Fauci was born in Brooklyn Hospital on December 24, 1940. His mother was Eugenia Fauci (formerly Eugenia Abys), whose parents had emigrated to New York City from Naples, Italy. His father was Stephen Fauci, whose parents had arrived from Sicily before also moving to Brooklyn.
In a 1989 interview, Fauci reflected on his childhood:
I went to Our Lady of Guadeloupe Grammar School in Brooklyn and to Regis High School, a Jesuit high school in Manhattan. ... my childhood was a typical, very happy, and very active growing-up period in New York City during the early forties.
Mother Teresa was born Agnes Gonxha Bojaxhiu on August 26, 1910, in Skopje, which, at the time, was part of the Ottoman Empire and is now the capital city of modern-day North Macedonia.
In December 1928, at the age of 18, Bojaxhiu -- by then known as Sister Teresa -- traveled to India with the intention of becoming a missionary nun. From 1931 to 1948, she taught at St. Mary's Bengali Medium School for girls, becoming principal in 1944.
Thus, throughout 1940 -- the year of Fauci's birth -- Mother Teresa was firmly ensconced in her missionary work in Calcutta, India, some 8,000 miles away from the Fauci family home in Brooklyn. Lead Stories found no evidence that any member of the Fauci clan made a journey to West Bengal, for any purpose.
Not only did Mother Teresa not present herself in the Diocese of Brooklyn during 1940, she did not even enter the United States, or leave India, for another two decades. In 1960, Catholic Relief Services, a U.S. humanitarian agency, invited her to attend that year's convention of the National Council of Catholic Women, to be held in Las Vegas.
Having obtained permission to travel from the Archbishop of Calcutta, Mother Teresa mentioned to a friend, the American Catholic social activist Eileen Egan, that she hadn't travelled internationally since 1929: "Being an Indian citizen, I will have to get an Indian passport."
Lead Stories has debunked multiple claims about Anthony Fauci, both during his time overseeing the U.S. policy response to COVID-19 and afterwards.