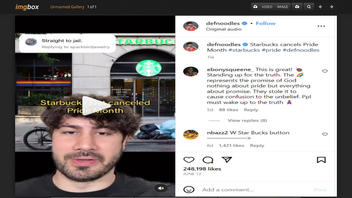 Did Starbucks cancel Pride Month in its retail locations? No, that's not true: There is nothing to suggest that Starbucks, as a company, has canceled Pride Month. Starbucks has historically shown support for the LGBTQ community and has been known to actively participate in Pride Month celebrations. However, there is evidence that a tiny percentage of the company's more than 16,000 stores in the United States did not decorate for Pride or took down decorations after they were put up.
The claim appeared in a post on Instagram by Def Noodles, comedian and actor Dennis Feitosa, on June 13, 2023, under the title "Starbucks canceled Pride Month." The description of the post says:
Starbucks cancels Pride Month

#starbucks

#pride

#defnoodles
This is what the post looked like on Twitter at the time of writing: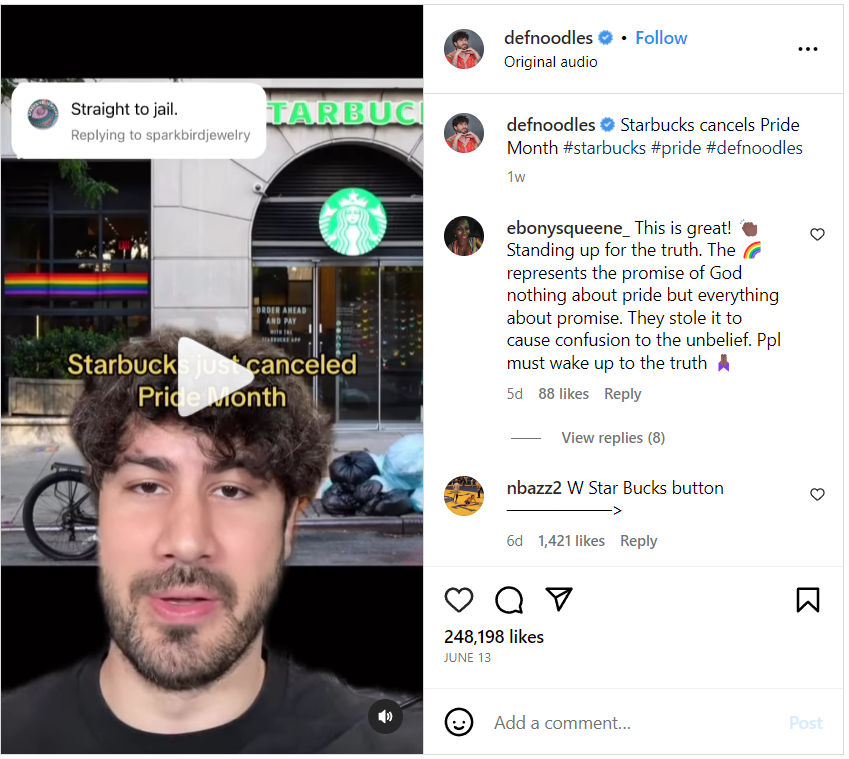 (Source: Instagram screenshot taken on Mon Jun 26 15:56:32 2023 UTC)
The video is narrated by Feitosa. During the 34-second clip, he says:
Starbucks just canceled Pride Month. According to their workers' union. Starbucks banned all Pride decorations in their stores across America. The union is speculating it's due to the backlash that other brands like Target have been getting.

They're also sharing videos showing workers actively taking down decorations from stores that were already decorated, and showing how all the decorations are now being hidden in the bathrooms. Employees are claiming that Starbucks is telling them that it's too dangerous for them to get up on steps to hang up the decorations and that this is the first time in over six years that they've ever been told anything even remotely close to this.

Do you agree with Starbucks banning Pride? Tell me in the comments.
It's unclear whether Feitosa meant his post on Instagram to be satire or commentary. He did not respond to a Lead Stories email requesting comment. If one is provided, it will be added to our story.
Starbucks Workers United
Feitosa cites "their workers' union" for the information in his post about Starbucks and the claim that Starbucks canceled Pride Month. The union, Starbucks Workers United, and the company are involved in contentious negotiations over the first collective bargaining contracts for stores that voted to unionize in 2022.
The union told Lead Stories in a June 26, 2023, email that it never said that Starbucks canceled Pride or corporately banned Pride decorations:
What we are saying is that Starbucks claims to be a progressive company, yet they have launched an illegal union-busting campaign that has significantly impacted queer workers.

... We are not arguing that Starbucks has a national corporate policy banning pride decorations. [But] There are dozens of documented instances in Starbucks taking down pride decorations in over 20 stores across the country.
Starbucks
In a June 26, 2023, email to Lead Stories, Starbucks said it has not altered its corporate policies or approach to celebrating Pride Month. Starbucks CEO Laxman Narasimhan said this in a statement from the company:
We want to be crystal clear - Starbucks has been and will continue to be at the forefront of supporting the LGBTQIA2+ community, and we will not waver in that commitment!

Despite today's public commentary, there has been no change to any of our policies as it relates to our inclusive store environments, our company culture and the benefits we offer our partners. We continue to encourage our store leaders to celebrate with their communities including for U.S. Pride month in June, as we always have.
Additionally, Starbucks provided this statement in response to the claim in the Instagram post by Feitosa:
To be clear: We unwaveringly support the LGBTQIA2+ community. It is inaccurate to report that Starbucks has issued a ban on Pride decorations as there has been no change to company policy on this matter. We remain deeply concerned by false information being spread about our inclusive store environments, our company culture and the benefits we offer our partners.
Starbucks noted that it continues to sell Pride merchandise in its stores.
Additional Lead Stories fact checks of claims related to Pride can be found here.