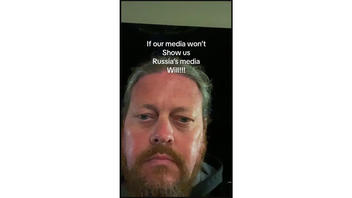 Did Sen. Lindsey Graham publicly proclaim that spending U.S. resources on "killing Russians" is "the best money we've ever spent"? No, that's not true: Graham's words from two different sentences have been run together into what amounts to a misquote, distorting both the meaning and rhetoric of his message.
The story appeared in a video (archived here) on TikTok on May 28, 2023.
The text overlay said:
If our media won't

Show us

Russia's media

Will!!!
The 59-second-long video showed a bearded man looking into the camera. At the 50-second mark, he said:
Lindsey Graham was there on Friday. You heard what he said. Killing Russians is the best money we've ever spent.
This is what the post looked like on TikTok at the time of writing: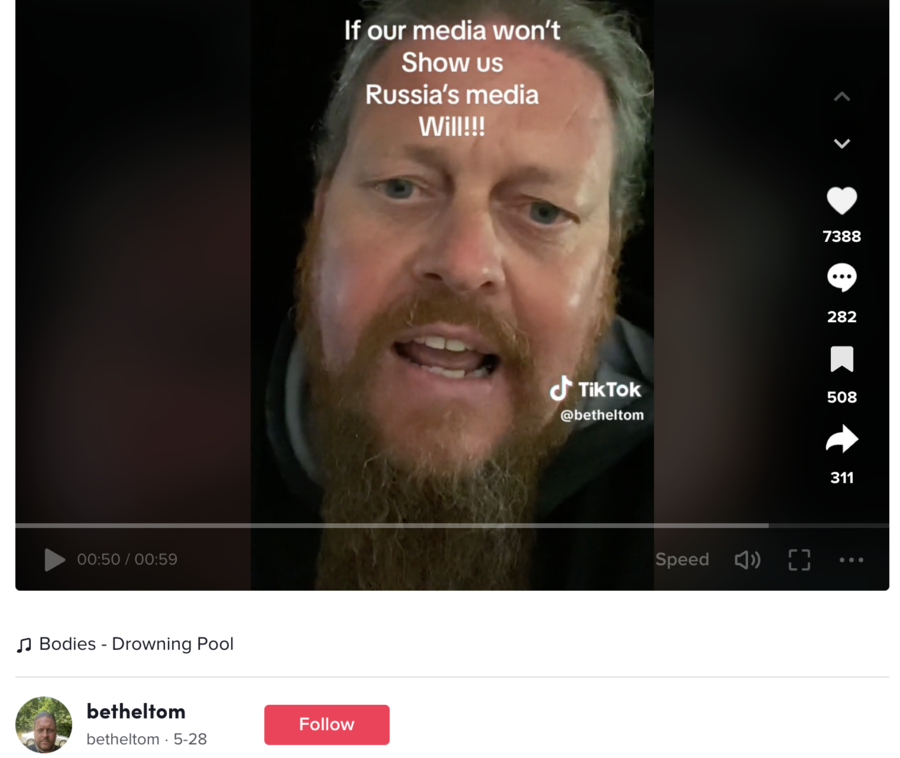 (Source: TikTok screenshot taken on Tue Jun 6 14:52:27 2023 UTC)
Graham visited Kyiv, Ukraine, on May 26, 2023. During his trip, he met President Volodymyr Zelenskyy. On the same day, a brief video recap of their public exchange was published on the Telegram account of the Ukrainian head of the state.
In the video, audiences heard the following dialogue:
ZELENSKY: Free or die.

GRAHAM: Free or die.

ZELENSKYY: Now you are free.

GRAHAM: Yes.

ZELENSKYY: And we will be.

GRAHAM: ... and Russians are dying.
After a video cut, Graham said: "The best money we've ever spent." Yet, the fact that this line belonged to a different part of the conversation was not immediately obvious to some.
Russian officials expressed criticism of Graham, and Russia issued an arrest warrant for him.
Graham, in response, said: "To know that my commitment to Ukraine has drawn the ire of Putin's regime brings me immense joy. I will continue to stand with and for Ukraine's freedom until every Russian soldier is expelled from Ukrainian territory."
On May 29, 2023, a longer version of the conversation was released by Ukraine to erase confusion about Graham's words. Shot from a slightly different angle, that video focused mostly on capturing Graham's reactions. The footage demonstrated that he made the comment about "the best money" in the context of discussing the overall U.S. aid, not specifically "killing Russians":
ZELENSKYY: We know that from first days we had total support ... So the 38 billion ... Big, big support, very important.

GRAHAM: Best money we've ever spent
As the exchange continued, the longer video provided an important contextual clue on how the phrase about dying Russians entered the conversation.
GRAHAM: You remind me of our better selves in America. There was a time when we were this way fighting to the last person. Free or die.

ZELENSKYY: Free or die. Now you are free.

GRAHAM: Yes.

ZELENSKYY: And we will be [too].

GRAHAM: And the Russians are dying.

ZELENSKYY: Yes, but they came to our territory, we are not fighting on their territory.
Despite the availability of the footage portraying the entire scene, the claim continued to be spread on social media (for example, here.)
Other Lead Stories fact checks about the war in Ukraine can be found here.