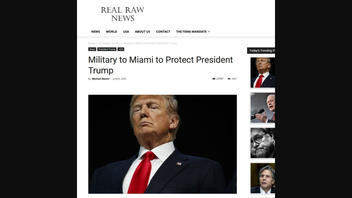 Were U.S. Marine Corps "white hats" deployed to Miami, Florida, to protect former President Donald Trump following his June 9, 2023, indictment? No, that's not true: The claim was published by the satirical website Real Raw News, which has a disclaimer that their articles contain content described as "humor, parody and satire." An Office of the Secretary of Defense (OSD) spokesperson confirmed to Lead Stories that "the military has not deployed to Miami for this purpose" and no major national outlets reported that such events had transpired.
The claim originated in an article published by Real Raw News on June 9, 2023 (archived here), titled, "Military to Miami to Protect President Trump." The article said:
White Hats have deployed to Miami in case the Deep State tries to unlawfully detain or disappear President Donald J. Trump on Tuesday, when he is expected to plead not guilty to fabricated federal charges that he kept classified documents at Mar-a-Lago, as well as other baseless allegations.
Below is how the post appeared at the time of this publication: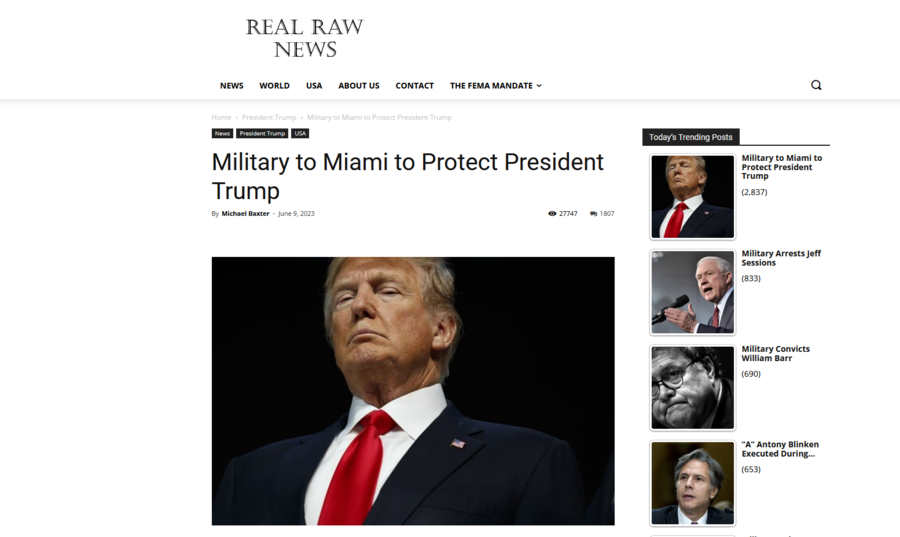 (Source: Real Raw News screenshot taken Mon June 12 07:24:00 UTC 2023)
The article also claimed that Gen. Eric M. Smith recommended "that Trump ignore the fraudulent indictment and remain at Mar-a-Lago for his safety ... during a Thursday evening telephone call."
There is no truth to the Real Raw News item and the website is known for publishing satirical content that is often reposted on social media or republished by websites as authentic.
While Gen. Eric M. Smith is in fact the assistant commandant of the U.S. Marine Corps as of June 2023, an OSD spokesperson confirmed to Lead Stories that neither the conversation nor deployment described by Real Raw News had occurred.
"The military has not deployed to Miami for this purpose and no such conversation took place," Lt. Cmdr. Tim Gorman, OSD public affairs duty officer, told Lead Stories in an email received on June 12, 2023.
There were no other credible reports on any national news outlets of "white hats" having been deployed to Florida in June 2023. A search for the phrase "General Eric M. Smith White Hats deployed Miami Trump" using Google News' index of thousands of credible news sites did not reveal any factual reports that such an event or conversation had occurred.
Trump was indicted on June 9, 2023, and faced 37 felony counts related to the mishandling of classified documents, obstructing justice, and making false statements. Here is a copy of the indictment released by the Department of Justice.
Real Raw News
Real Raw News is a website that consistently publishes made-up stories about U.S. politics. The well-written English and news-style layout of the website makes it look like a legitimate news source, so it often fools people into believing the stories are real. Screenshots and copies of the stories regularly turn up on other websites or on social media where they are presented as real.
It bills itself as "humor, parody and satire" on the "about" page (archived here):
Disclaimer:

Information on this website is for informational and educational and entertainment purposes. This website contains humor, parody, and satire. We have included this disclaimer for our protection, on the advice on legal counsel.
The same "about" page claims the main author is a man named Michael Baxter. In 2021 a PolitiFact article (archived here) identified the writer as a "Michael Tuffin" in Texas based on records found in a GoFundMe campaign set up to support the site.
NewsGuard, a tool that provides credibility ratings for websites, published a five-page PDF report (archived here) in 2021 describing realrawnews.com as, "An anonymously run website that has published baseless and debunked conspiracies about COVID-19 and U.S. politics." It cautioned that the website severely violates basic journalistic standards.
Lead Stories has covered claims published by Real Raw News in the past. Previous Lead Stories debunks of Real Raw News items are collected here.