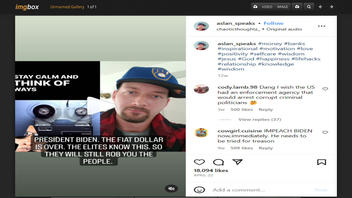 Is a social media post featuring an audio recording of President Joe Biden talking about the banks collapsing real? No, that's not true: Experts in digital forensics and deepfakes told Lead Stories that the recording is not authentic.
The claim appeared in a post and video on Instagram on April 22, 2023, under the title "President Biden. The fiat dollar is over. The elites know this. So they will still rob you the people." The video description says:
#money

#banks

#inspirational

#motivation

#love

#positivity

#selfcare

#wisdom

#jesus

#God

#happiness

#lifehacks

#relationship

#knowledge

#wisdom
This is what the post looked like on Instagram at the time of writing: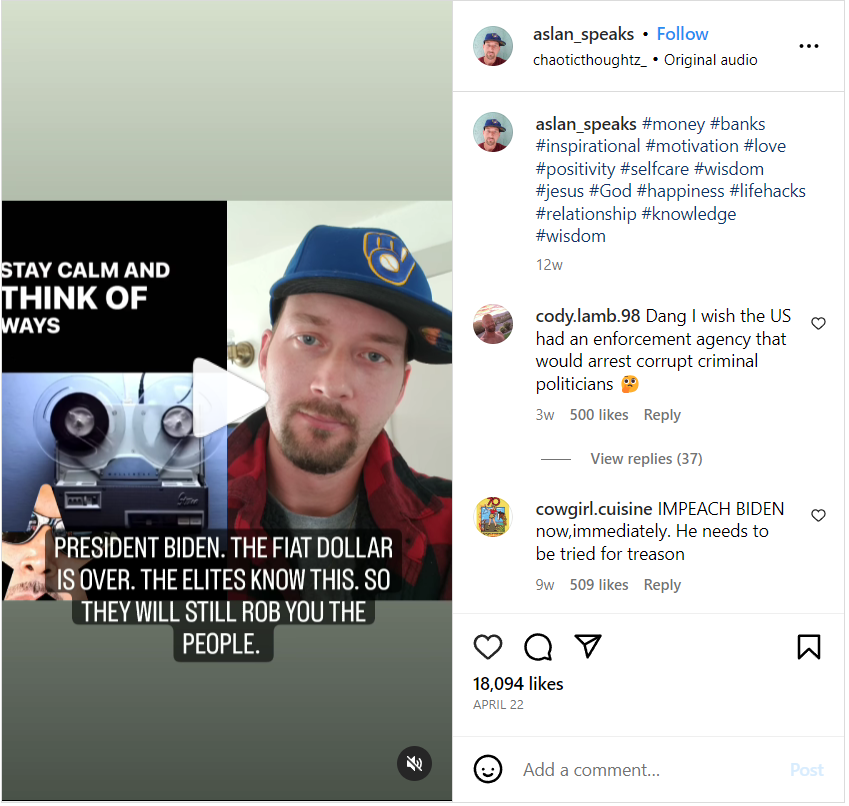 (Source: Instagram screenshot taken on Wed Jul 19 20:31:34 2023 UTC)
Digital media forensics and deepfakes
Siwei Lyu, director of the University at Buffalo Media Forensic Lab and co-director of the school's Center for Information Integrity, told Lead Stories in a July 19, 2023, email that "This audio is likely created by an algorithm and not a real recording." He added:
We have performed a breathing pattern analysis of this audio. We speak on exhalation; the longer our inhalation, the more words we can produce clearly as we breathe. When speaking, humans take short and fast inhalations that last about half a second on average. This audio is about 45 sec long with ~140 words. Typical adult breaths about 20 times per minute while talking, but our algorithm could not detect strong breath signals from the audio. ...

The breathing pattern is not consistent with a live recording of someone talking.
In a July 19, 2023, phone interview, Hafiz Malik, founder and director of the Information Systems, Security, and Forensics Laboratory at the University of Michigan-Dearborn, agreed, telling Lead Stories that the audio in the post on Instagram is not an actual recording of Biden's voice. He continued:
It has his fake voice. That's not his original voice.
Malik also said he found the voice to be too monotone and emotionless:
It lacks the dynamic nature of the pitch [of normal speaking] if we analyze it on the computer.
The same audio appeared in a similar video posted to TikTok (archived here) about a month earlier on March 14, 2023, with the title "Biden talking about all banks collapsing??"
Malik first analyzed it a few days later, shortly after the collapse of Silicon Valley Bank, which had financial markets nervous at the time. The full video appears below:
Malik told Lead Stories that there were a couple of additional tell-tale signs that the audio is fake. He said:
If you look at President Biden's word delivery rate, he doesn't talk that fast. ... He talks relatively slow because of his age all those kind of things.
Another thing, according to Malik, is the hissing sound underneath the voice, which he suggests is being used as part of "anti-forensic post-processing" in an effort to cover up the tools used to generate the audio, to begin with, and making it more difficult for experts to analyze.
Additional Lead Stories fact checks of claims related to deepfakes can be found here.
Other Lead Stories articles regarding claims involving Joe Biden are here.