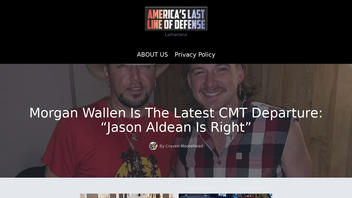 Did country star Morgan Wallen pull his music from Country Music Television (CMT) in response to CMT removing a song by Jason Aldean? No, that's not true: This is a fabricated satirical article crafted to spin off the true news that CMT did pull the video for Aldean's song, "Try That In A Small Town" on Monday, July 17, 2023. The website latherland.com, which carries a satire disclaimer, originated the false claim. It is part of a network of satirical websites called "America's Last Line of Defense," which are run by Christopher Blair, a self-professed liberal troll. Morgan Wallen has not removed his music from the CMT network as of this writing.
The article (archived here) published by latherland.com on July 23, 2023, is titled "Morgan Wallen Is The Latest CMT Departure: 'Jason Aldean Is Right.'" It opened:
Morgan Wallen has joined the chorus of country stars pulling their music and departing CMT, Country Music Television. The top selling country music superstar pulls no punches and this time is no different.

Morgan Wallen, who courted controversy a few years ago, says he stands with Jason Aldean. Liberals had tried cancelling him too, and he's not backing down from them, especially for a good friend like Jason Aldean.
This is how the article appeared at the time of writing: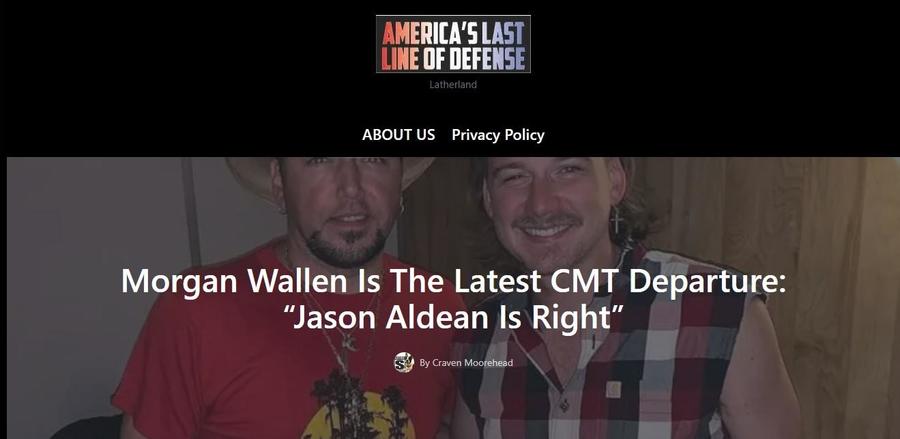 (Image source: latherland.com screenshot taken on Mon Jul 24 13:49:20 2023 UTC)
In the screenshot above, the logo of the American's Last Line of Defense (ALLOD) network is visible at the top. The byline of the article's author, is a prank pun pseudonym, Craven Moorehead. Alongside Moorhead's name is a small profile icon (enlarged below) of a Boston Terrier and a large letter S for "satire rated."

(Image source: latherland.com screenshot taken on Mon Jul 24 13:49:20 2023 UTC)
The story is a fabrication, and there is no news about Morgan Wallen weighing in on the Jason Aldean song controversy at all. At the time of writing the country star's last post on X, the platform formerly known as Twitter, was a video dated May 9, 2023. The singer spoke softly about an extended break he would be taking due to injury to his vocal cords. An advanced Google search for, "'Morgan Wallen' 'Try That in a Small Town'" (archived here) did not produce any relevant results at the time of writing.
The "About Us" page on latherland.com has the following disclaimer:
Everything on this website is fiction. It is not a lie and it is not fake news because it is not real. If you believe that it is real, you should have your head examined. Any similarities between this site's pure fantasy and actual people, places, and events are purely coincidental and all images should be considered altered and satirical. See above if you're still having an issue with that satire thing.
In the fictional article, a false quote is attributed to the CMT publicist Joe Barron. This name appears in many ALLOD network articles, as these search results show, offering outlandish official statements from any number of companies. Joe Barron was a real friend of Christopher Blair's who passed away, and this recurring inside joke is a way ALLOD pays homage to him.
Lead Stories does not typically publish fact checks for satire that is clearly labeled -- our satire policy is included on our website. The articles from ALLOD have such compelling headlines that many clickbaiting plagiarists frequently copy the articles and republish them on their own website without the disclaimers, and others on social media repeat them as news. Because of this Lead Stories has debunked many ALLOD network satire articles over the years, they can be found (here) on leadstories.com.