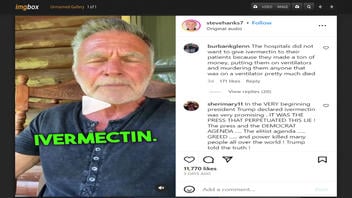 Did public health experts discredit the anti-parasitic drug ivermectin to ensure that COVID-19 vaccines by Pfizer and other pharmaceutical companies got emergency authorization from the Food & Drug Administration (FDA)? No, that's not true: While the new vaccines were being developed, ivermectin was also being studied as a potential treatment for COVID. Field trials did not find conclusive evidence that ivermectin defeats the virus that causes COVID.
By law, the FDA cannot expedite approval for use of a new drug unless there is a public health emergency and there is no existing effective treatment. The development and authorization of COVID vaccines went through the lab and field testing and regulatory processes to ensure their safety and efficacy before being granted Emergency Use Authorization (EUA). The EUA for vaccines was based on extensive clinical trials and data analysis, demonstrating their ability to protect against COVID and reduce severe illness and death.
The claim appeared in a post and video on Instagram (archived here) published on July 16, 2023. Here's what the narrator says in the minute-long video:
Robert F. Kennedy reveals why they discredited ivermectin. Because its existence threatened a $200 billion vaccine enterprise. Here's why:

The federal emergency use authorization statute says that you cannot issue an emergency use authorization to a vaccine if there is an existing medication that is effective against COVID. So they destroyed ivermectin and hydroxychloroquine.

Every single doctor that ever talked about ivermectin was censored. They told everybody it is not effective. Even though in Africa where they pop ivermectin like candy because of the plethora of parasites in Africa, they had very few cases of COVID, which made the experts, duh, scratch their head.

But if they had acknowledged that ivermectin is effective against COVID, the whole $200 billion vaccine enterprise would have collapsed because they never would have gotten the emergency use authorization.

Will you ever trust them, again?

[On screen but not spoken] NEVER...!!
This is what the post looked like on Instagram at the time of writing: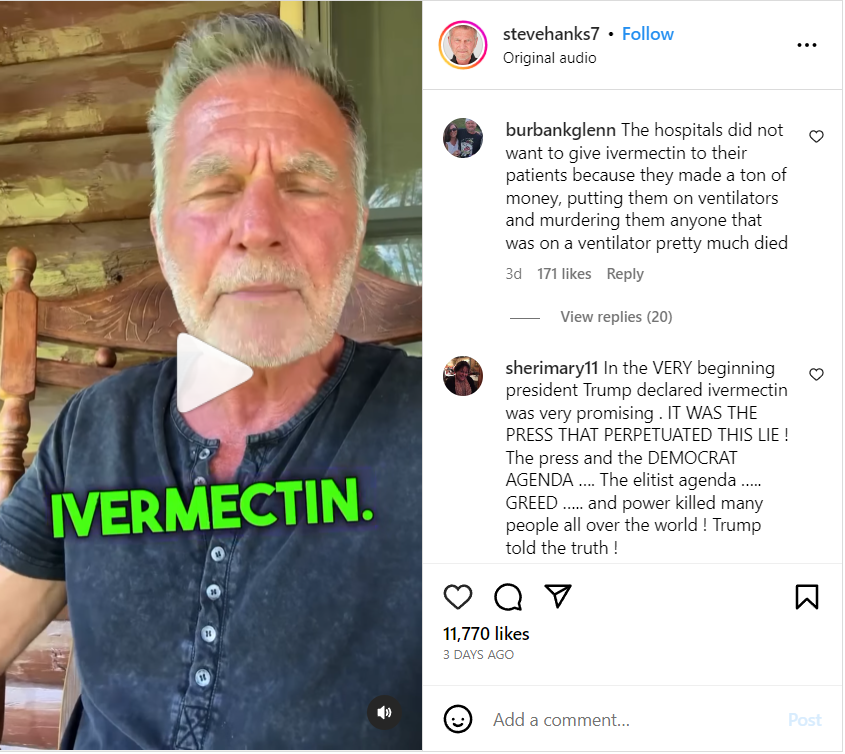 (Source: Instagram screenshot taken on Thu Jul 20 16:26:18 2023 UTC)
U.S. Food and Drug Administration
The U.S. Food and Drug Administration told Lead Stories in a July 20, 2023, email that the claim in the post is "completely false." Carly Pflaum, a press officer at the FDA, provided the agency's response. It said:
Under an Emergency Use Authorization, the FDA may allow the use of unapproved medical products, or unapproved uses of approved medical products in an emergency to diagnose, treat, or prevent serious or life-threatening diseases or conditions when certain statutory criteria have been met, including that there are no adequate, approved, and available alternatives.

Once submitted, the FDA will evaluate an EUA request and determine whether the relevant statutory criteria are met, taking into account the totality of the scientific evidence about the vaccine that is available to the FDA. As summarized in Section 2 of the December 11, 2020 FDA decision memorandum for the first COVID-19 vaccine, there is no adequate, approved, and available alternative to the product to prevent COVID-19 caused by SARS-CoV-2 in individuals 16 years of age and older." An available treatment for COVID-19 does not preclude the FDA from authorizing a vaccine to prevent COVID-19.

Additionally, the FDA has not authorized or approved ivermectin for use in preventing or treating COVID-19 in humans or animals. Ivermectin is approved for human use to treat infections caused by some parasitic worms and head lice and skin conditions like rosacea. Currently available data do not show ivermectin is effective against COVID-19.
Vaccines vs. medicines
Vaccines serve a different purpose than medicines like ivermectin. A vaccine helps your immune system fight infections faster and more effectively, possibly preventing illness to begin with, or, at least, lessening its severity. Medicines can be used to treat diseases, alleviate symptoms or manage health conditions.
COVID-19 Vaccines Work Group
In a July 20, 2023, phone interview with Lead Stories, Dr. William Schaffner, a professor of medicine in the division of infectious diseases at Vanderbilt University Medical Center, said the claims in the video make no sense, based on his experience. He told Lead Stories:
I can tell you since I was a member of the COVID vaccines work group, the subcommittee that dealt with COVID vaccines on behalf of the CDC's Advisory Committee on Immunization Practices [ACIP] that I don't think the word ivermectin was ever even voiced during those discussions, either in the workgroup or in the discussions of the full ACIP committee. ...

I've been associated with the ACIP since 1982, first as a full member and then as the liaison representative. And I don't ever remember the availability of drug treatment, having a direct influence in any way on vaccine decisions.
Additionally, Schaffner doesn't buy the argument that ivermectin was pushed aside to protect a "$200 billion vaccine enterprise." He continued:
That would be profoundly, medically unethical, that you would disregard a valid treatment in order to make the sort of decision that has been suggested. That wouldn't happen. And obviously, even if we go down that road just for a moment, to think that that might happen in the United States, physicians and clinicians around the world would be using and promoting ivermectin and doing the appropriate studies to show that it did work. So, we're such a global neighborhood now that the thesis that you could deny a treatment couldn't be sustained.
Ivermectin studies
Since early in the pandemic, many studies into the efficacy of ivermectin have been conducted, and, as of the time of this writing, they have not found conclusive evidence that ivermectin defeats or has a major impact on the virus that causes COVID. Schaffner told Lead Stories that the evidence falls heavily on the side against the drug as a COVID treatment:
There are a few small studies, usually very small and not very well controlled, with highly selected patients, that would suggest that ivermectin has some utility. On the other hand, there have been a whole series of studies now that are larger, rigorously well-designed, and very well-controlled. These studies have indicated that ivermectin neither prevents the development of serious disease nor has a notable effect in the treatment of the disease once the illness has become evident.
A February 20, 2023, editor's note published on the American Medical Association's JAMA Network website casts additional doubt on the use of the anti-parasitic as a COVID treatment. The article, "At a Higher Dose and Longer Duration, Ivermectin Still Not Effective Against COVID-19," is a follow-up on a "meta-analysis of 11 eligible trials examining the efficacy of ivermectin for the treatment of COVID-19," which was published in April 2022, and "concluded that ivermectin has no beneficial effect for people with COVID-19."
The editor's note examines three additional large randomized clinical trials, including several thousand participants, that reached similar conclusions to the original 11.
The authors said:
Today JAMA publishes a new trial of ivermectin treatment for mild to moderate COVID-19 that addresses the possibility that the existing literature may have missed the efficacy of ivermectin because the previously tested dose (approximately 400 μg/kg daily for 3 days) was insufficient.5 At a higher treatment dose (600 μg/kg daily) and longer treatment duration (6 days), Naggie and colleagues again conclude that ivermectin is not beneficial for the treatment of COVID-19.

At the doses and durations tested in these studies, ivermectin does not appear to be associated with serious adverse effects. However, a generally well-tolerated therapy that lacks efficacy can still be dangerous, particularly if it results in patients forgoing other interventions with proven efficacy, such as evidence-based COVID-19 treatments or vaccination against SARS-CoV-2. Ivermectin has been used throughout the pandemic. Although the current prevalence of ivermectin use in the US and globally is difficult to determine, reports in the lay media as well as our own experience as clinicians suggest that use of ivermectin for COVID-19 has not fully abated, fueled in part by real or perceived lack of access to effective therapies, continued confusion or misinformation, and active disinformation about ivermectin's efficacy, including by physicians.

In a February 2022 emergency newsletter to clinicians, the Centers for Disease Control and Prevention (CDC) warned against "using ivermectin to prevent or treat COVID-19 in humans." The CDC went on to say:
The National Institutes of Health (NIH) COVID-19 Treatment Guidelines Panel has determined that there are currently insufficient data to recommend using ivermectin to treat COVID-19. Clinicians and public health practitioners should educate patients about the risks of using ivermectin without an indication or prescription, as well as about the risks of ingesting ivermectin products that are meant solely for external use or veterinary use. COVID-19 vaccination is safe and the most effective means to prevent infection and protect against severe disease and death from SARS-CoV-2, the virus that causes COVID-19. Clinicians are strongly encouraged to educate patients to use proven COVID-19 prevention measures, especially getting vaccinated and boosted as soon as eligible, and use FDA-authorized treatment.
Read more
Additional Lead Stories fact checks of claims about COVID-19 vaccination can be found here.
Other Lead Stories articles regarding claims involving ivermectin are available here.