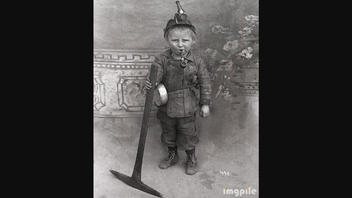 Does a photo in a social media post accurately portray an "8-year-old coal miner in Utah or Colorado, USA, in the early 1900s"? No, that's not true: A representative of the Helper's Mining and Railroad Museum, where the photo originated, confirmed for Lead Stories that the boy in the image was not a child coal mine worker but was posing for a staged photo taken in a photography studio. Credible fact-checking organizations have previously debunked this claim since at least 2020.
The claim appeared in a post on Facebook on July 9, 2023. Beside a black and white photo of a young boy dressed as a coal miner with a large pickaxe in one hand and a pipe in his mouth, the caption said:
An 8-year-old coal miner in Utah or Colorado, USA, in the early 1900's.
This is what the photo looked like on Facebook at the time of writing: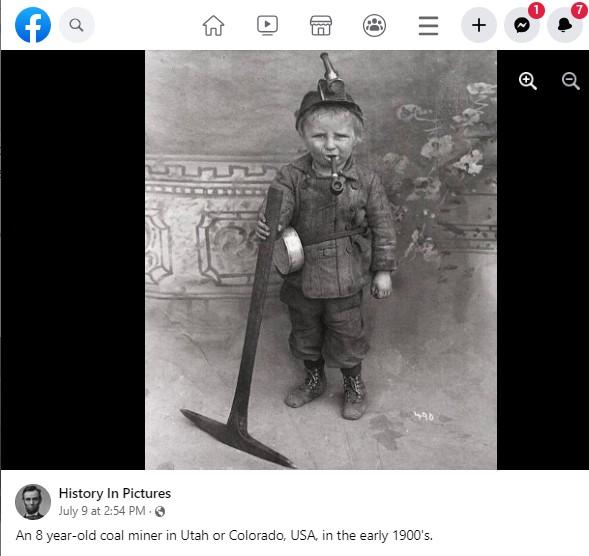 (Source: Facebook.com screenshot taken Thu July 20 20:33:01 2023 UTC)
While child coal miners did exist during the "American Era of Child Labor," which did not end until the 1930s, young coal mine workers, otherwise known as "breaker boys" or "boneys," were typically 8 to 12 years old. They faced extensive neglect to the point of becoming amputee victims due to the rigorous nature of working in the coal mines. In contrast, the boy in this photo appears much younger than 8 and healthy.
It is also worth noting that the tools he has are much larger than his small frame. The background in this photo does not look like a coal mine but instead appears to be an illustration painted onto a backcloth or wall.
Lead Stories reached out to the Helper's Mining & Railroad Museum, also known as The Western Mining Railroad Museum, to verify the origin of the photo and the validity of the claim. During a July 20, 2023, phone call, Isabelle Vega, a docent for the museum, confirmed that the original photo of the boy is located in the Helper's Museum and that this claim is false:
He [the boy in the photo whose name remains unknown] was a real child born in Scofield, Utah in the early 1900s. While it is recorded that his parents did work in the coal mines in Utah and may have taken him to work with them during the era in which the photo was taken, the boy did not work in the mines with them.

It was a tradition during this era that kids take photos that portray what it is their parents do for a living so, this photo was taken in a family photography studio like Faucet's Photography [located in Park City, Utah], and his parents had him pose for a prop picture.
Roman Vega, the director of the Helper's Museum, said:
boys would work in the mines from as young as 8, but not as miners. Instead, they picked impurities out of the coal, such as dirt or sharp pieces of slate, with their bare hands as it came by on a conveyor belt. These boys, who worked in dust-choked gloom, were called 'boneys' -- a local term for what was known as a breaker boy on the East Coast. Once they got older, they would work with their fathers underground.
Snopes debunked the claim in April 20, 2020. The Western Mining and Railroad Museum responded to Snopes with:
This is our most commented-on photograph in the museum, [and] it is interesting to see the wide range of reactions [it elicits], from amused to horrified. ... children did not work [as miners], although there is some reality to it, as the kids did go to work with their fathers [at the mines] at a young -- although not that young -- age.