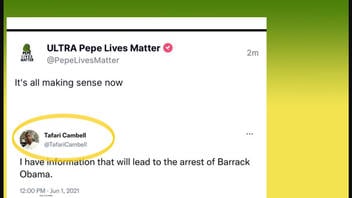 Did Tafari Campbell, the Obamas' chef who drowned in July 2023 while paddleboarding, make a post two years ago stating that he had information that would lead to Barack Obama's arrest? No, that's not true: This is a fabricated post shared by the right-wing meme account @PepeLivesMatter. Campbell never suggested he had incriminating evidence about Barack Obama on social media, and the @PepeLivesMatter account that originated the claim acknowledges that this post is a meme.
The meme was posted by @PepeLivesMatter on Truth Social on July 24, 2023, with the caption:
It's all making sense now
The fabricated post, using as a profile photo a picture of Campbell that had been released publicly by the White House, reads:
Tafari Cambell
@TafariCambell
I have information that will lead to the arrest of Barrack Obama.
12:00 PM Jun 1, 2021
A screenshot of the entire post was posted on Instagram on July 25, 2023, by @rightside_optics3. The misspelled name and handle of Tafari Campbell were circled with yellow and the post was captioned:
Oh really, but we knew this...
This is how the post appeared on Instagram: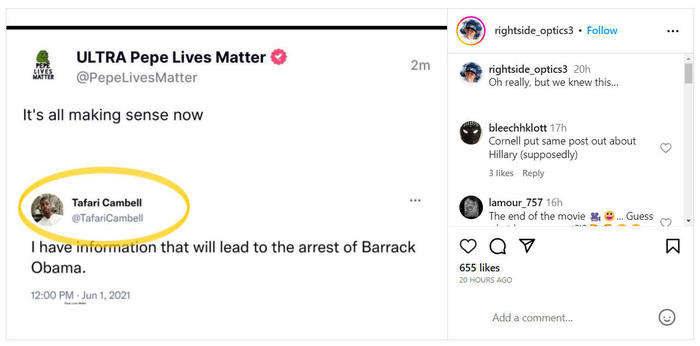 (Source: Instagram screenshot taken on Wed Jul 26 16:10:51 2023 UTC)
Campbell was a chef employed by former President Barack Obama. He drowned while paddleboarding, and his body was recovered on July, 24, 2023. As soon as news of a drowning began to circulate on social media, rumors did as well -- that this accident might be some sort of foul play or cover-up. The fabricated post in the meme plays to the conspiracy rumors by offering a motive for someone to silence Campbell -- but Campbell never made this post.
The meme (pictured above), has a tiny, blurry, barely legible "Pepe Lives Matter" watermark below the June 1, 2021, date stamp. The zoomed detail (pictured below) is taken from the original Truth Social post.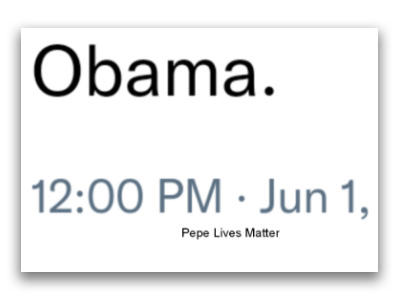 (Source: Truth Social screenshot taken on Wed Jul 26 16:10:51 2023 UTC)
The meme also misspells the names of both Barack Obama, misspelled Barrack, and Tafari Campbell, misspelled Cambell. The fabricated post is suggestive of a tweet, purportedly from an account @tafaricambell (archived here). On X, the platform formerly known as Twitter, the handle only brings up a notice, "This account doesn't exist." The internet archiving systems Wayback Machine and Archive.Today have no record that an @tafaricambell account ever existed on Twitter in the past.
Minutes after @PepeLivesMatter made the original post at 7:46 p.m. on July 24, 2023, they followed at 7:52 p.m. with a comment stating, "This is a meme lol" (pictured below).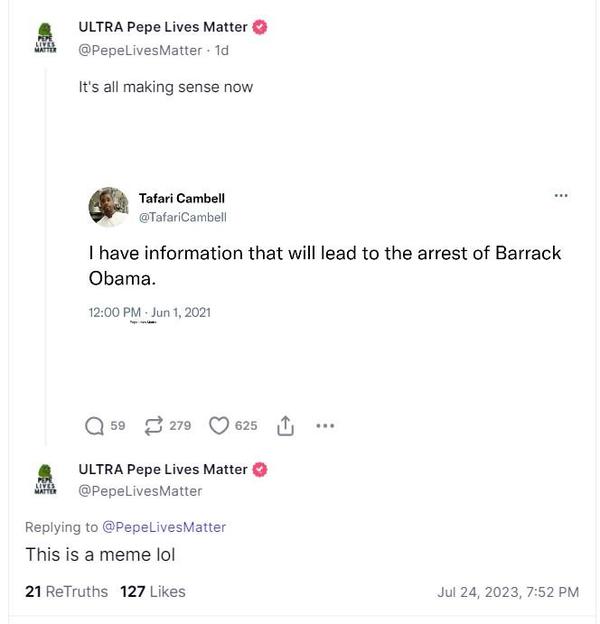 (Source: Truth Social screenshot taken on Wed Jul 26 16:10:51 2023 UTC)
The cartoon frog Pepe is a character originally created by cartoonist Matt Furie for a 2005 underground comic called Boy's Club. Pepe the Frog took on a life of his own when his likeness was appropriated for alt-right memes on 4chan and other platforms. On September 27, 2016, the Anti Defamation League identified the frog as a hate symbol, which Furie never intended. In 2020 a documentary about Pepe, "Feels Good Man," was released. An extensive history of Pepe the Frog appears in the Know Your Meme database.