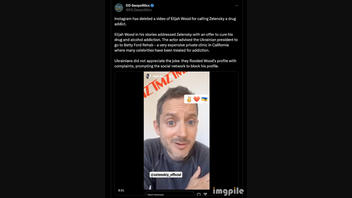 Did American actor Elijah Wood offer Ukraine President Volodymyr Zelenskyy "to cure drug and alcohol addiction" on Instagram? No, that's not true: The actor doesn't post Instagram stories publicly. Wood did not say anything that would imply he was addressing Zelenskyy specifically in the heavily edited clip circulating on social media.
The claim appeared in a tweet published on July 20, 2023 (archived here). It opened:
Instagram has deleted a video of Elijah Wood for calling Zelensky a drug addict.
The tweet continued:
Elijah Wood in his stories addressed Zelensky with an offer to cure his drug and alcohol addiction. The actor advised the Ukrainian president to go to Betty Ford Rehab - a very expensive private clinic in California where many celebrities have been treated for addiction.
This is what it looked like on Twitter at the time of writing: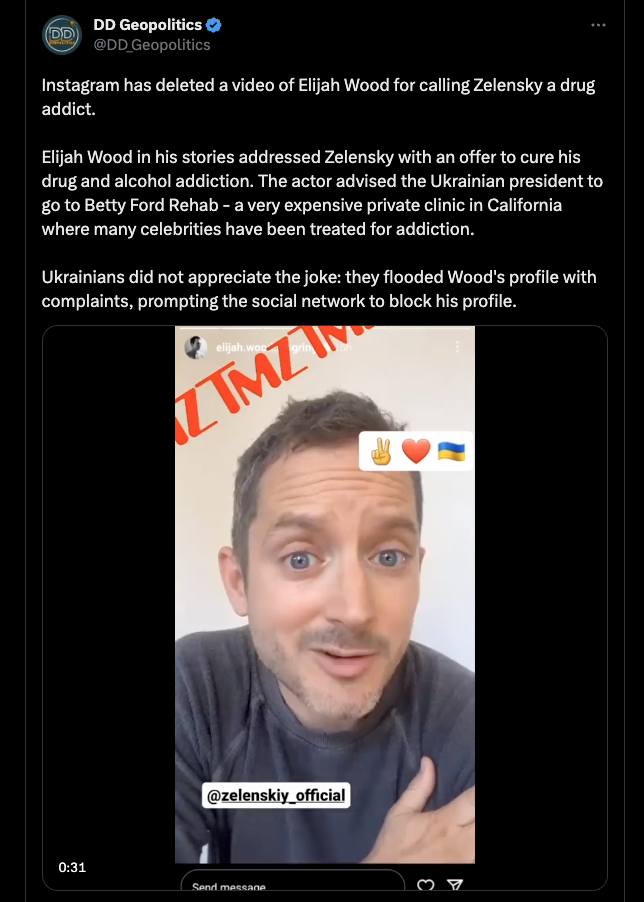 (Source: Twitter screenshot taken on Wed Jul 26 14:51:03 2023 UTC)
The 44-second video shared in the tweet depicted a man who looks like American actor Elijah Wood, known for portraying Frodo Baggins in "The Lord of the Rings" trilogy.
However, a close look raised doubts about the story circulating on social media.
Caption incorrectly describes video's content
Contrary to the claim, Wood never actually said in the clip that he "advised the Ukrainian president to go to Betty Ford Rehab." He didn't make any explicit references to Volodymyr Zelenskyy either.
The video was heavily edited, with many cuts occurring in the middle of a sentence, creating sentence fragments -- not full, grammatically correct English sentences a native English speaker with a background in entertainment such as Wood would use.
Here is the full transcript:
Vladimir, hi! Elijah is here. I hope this finds you happy, healthy and well. [CUT]

You [CUT]

just sort of greater dependency on drugs and alcohol. So I just want to make sure that you're getting help [CUT]

through ... We all suffer from that, of course. So I just hope that you know, you're looking at yourself taking care of yourself taking your health into consideration and know that should you [CUT]

need help. There are people out there that want to help you. [CUT]

Do need help, I hope that you'll get help that you need. Alright, lots of love, Vladimir. Take care.
Vladimir is a common Russian name that is also the name of Russian President Putin and his now-deceased father.
The Ukrainian version of this name is Volodymyr, which is the correct first name of Ukraine's leader.
It was not uncommon that U.S. officials would use a Russified version of the name to refer to Zelenskyy before Russia's full-scale invasion of Ukraine in 2022 and shortly after it (for example, here.)
But as the war continued, the general public in the United States grew more aware of the difference between the Russian and Ukrainian languages, and the Russified English spelling started to be more often replaced with the Ukrainian one. For example, Kiev became Kyiv. The same happened with the name of the Ukrainian president. As of this writing, a search across Google News limited to the results from the past year shows that "Vladimir" is used to refer to him significantly less frequently than "Volodymyr."
The only thing in the video that suggests the words were addressed to the Ukrainian president is a banner with Zelenskyy's official Twitter handle, but Lead Stories analysis finds it highly unlikely that it was added by Wood.
Wood doesn't post Instagram stories for everyone to watch
The video on Twitter contained in its final seconds a screenshot of what looked like a verified actor's account with numerous followers: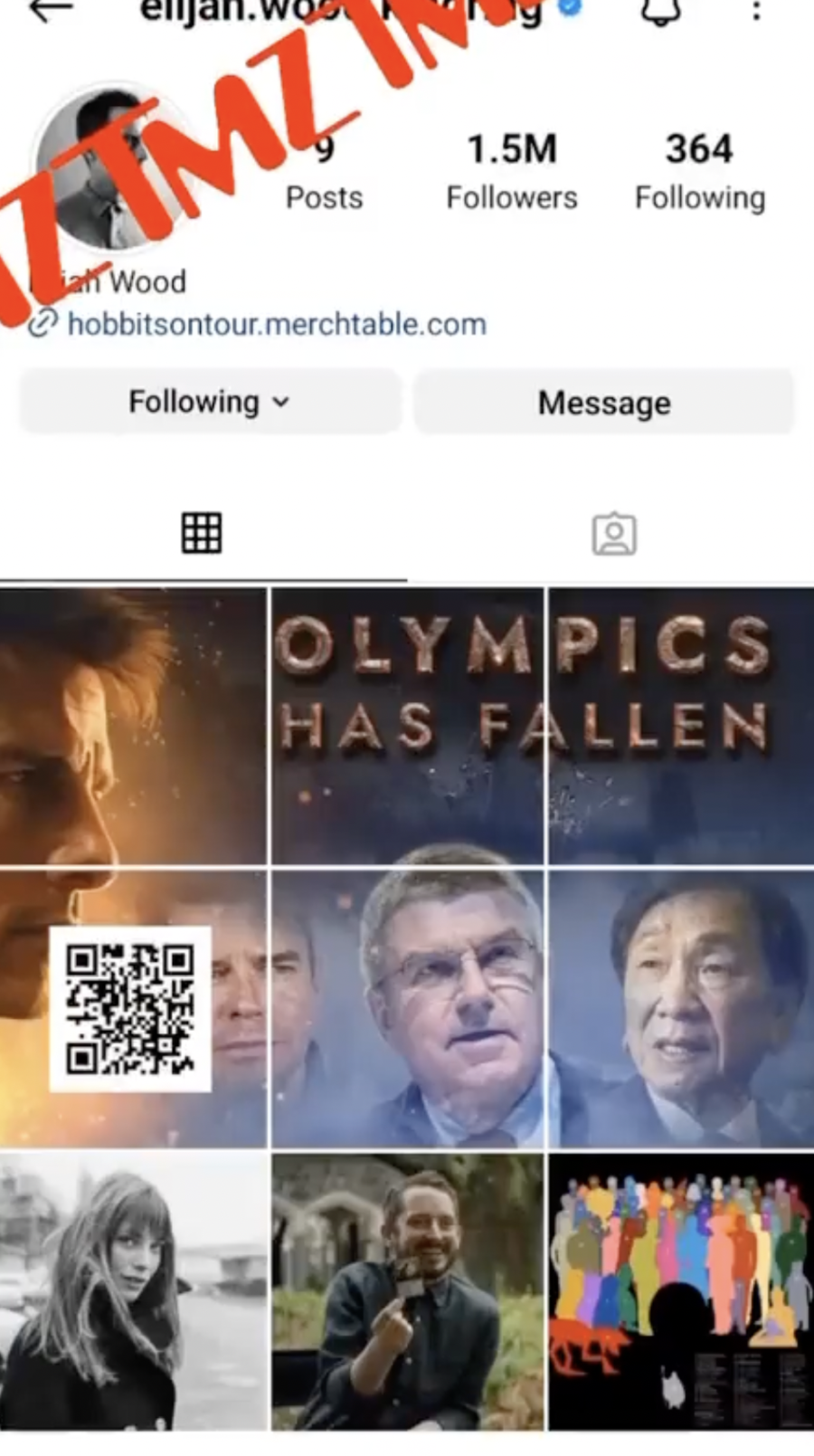 (Source: Twitter screenshot taken on Wed Jul 26 16:29:18 2023 UTC)
However, Wood tends to avoid bringing personal aspects of his life to the public space, and his social media is no exception. In March 2023, he told The Wall Street Journal that he used a private account on Instagram:
I wanted to be able to share photos that I didn't necessarily want to share with the world. An account that's public-facing would really change what I share. It's not like I'm sharing anything that I wouldn't want to go out, but I'm a relatively private person.
As of this writing, there was no evidence that Wood started a verified public account on Instagram.
The content of the purported Wood account seen in the video -- elijah.wood.kingring -- raises additional questions. Unlike other official celebrity accounts, it only contained one post of a person resembling the actor, the middle photo on the bottom row of the nine photos above. Furthermore, the link in the account description does not lead to his portfolio or recent projects -- it is a website of an American nonprofit specializing in addiction treatments, and it didn't contain any mentions of collaborative projects with Wood:

(Source: Hazelden Betty Ford screenshot taken on Wed Jul 26 17:16:13 2023 UTC)
The most recent six entries (the top two rows of the three) form a poster with a QR code leading to a Telegram channel created on July 3, 2023, aiming to promote a supposed documentary series called "Olympics Has Fallen" that promises to reveal "financial and sports scandals surrounding the International Olympic Committee" on Netflix. However, there is no publicly available evidence that such a project is in progress or already available for streaming, as of this writing. The closest match Lead Stories found was a 2013 fictional movie named "Olympus Has Fallen" that told the fabricated story of an "ex-Secret Service agent" who "must rescue the president when the White House is attacked."
The same visual technique -- composing a larger image from individual posts -- was used by an Instagram account that posted nonexistent anti-Zelenskyy graffiti. Those stories were debunked by Lead Stories here, here and here.
The name of the account purportedly maintained by Wood that was partially cut off from the supposed "screenshot" of it -- elijah.wood.kingring -- was better seen in other frames of the same video on Twitter. This handle was associated with a user named Mark who has zero posts and zero followers, as of this writing: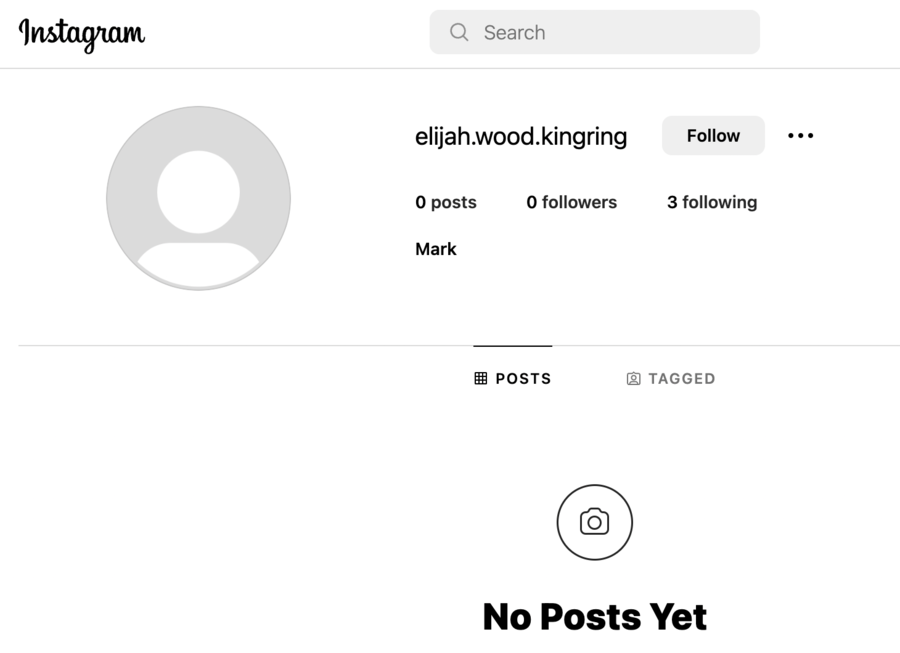 (Source: Instagram screenshot taken on Wed Jul 26 17:25:56 2023 UTC)
The TMZ logo seen on top of the footage of Wood in the tweet implied that this entertainment news website reposted the clip. Yet, as of this writing, the most recent article about the actor appeared on the TMZ website in 2022: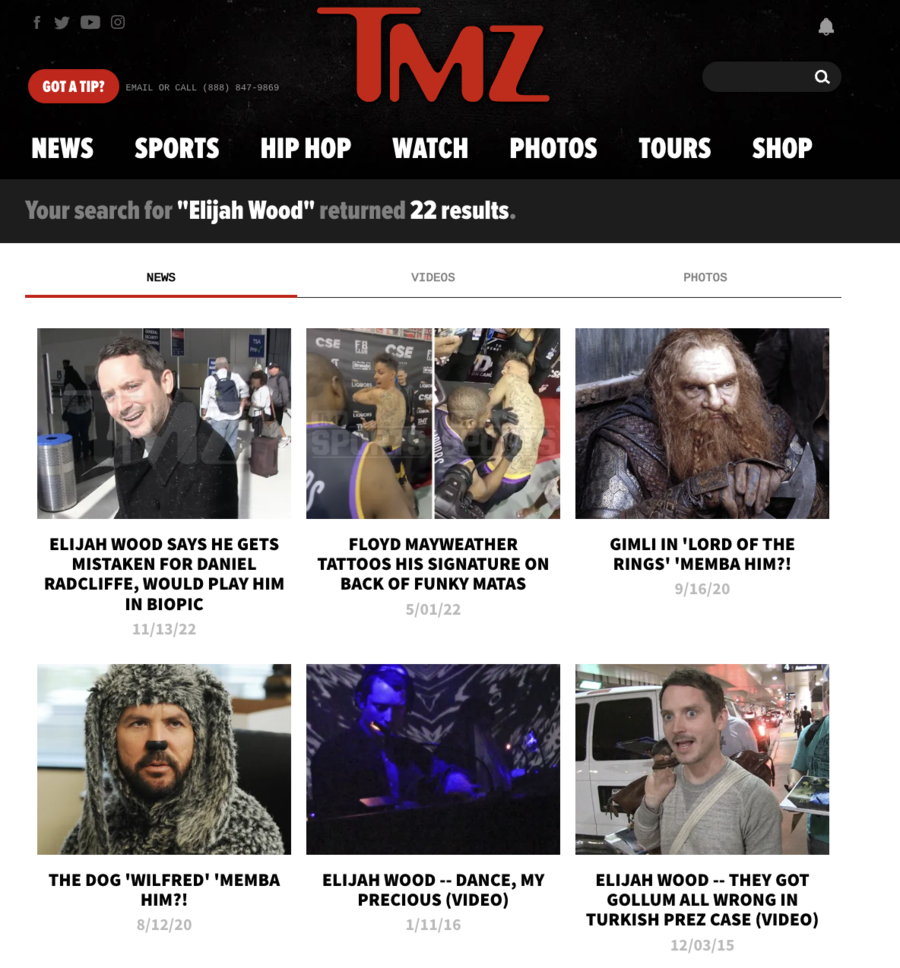 (Source: TMZ screenshot taken on Wed Jul 26 18:30:34 2023 UTC)
Wood did support Ukraine in the past
On the first day of the full-scale war, the actor expressed his support for Ukraine on Twitter:

(Source: Twitter screenshot taken on Wed Jul 26 18:37:18 2023 UTC)
The use of the emoji showing the Ukrainian flag is highly indicative in this case. Since February 2023, the Russian government has been seeing that combination of colors on any surface as a threat, which, in turn, increases the chances of interrogation or arrest.
Openly pro-Kremlin users who often describe themselves as "patriots" on social media do not use the emoji of the Ukrainian flag as a way to express solidarity with the people of Ukraine --- they rather tend to use it to replace the word "Ukraine" in a sentence to avoid detection.
A hypothetical 180-degree change in the actor's attitudes would likely attract media attention. But Lead Stories did not find any credible reports from well-established media organizations confirming that it has ever occurred in the public discourse.
Possible origins of the footage
According to Hive Moderation, a tool designed to detect AI-generated content, what was seen in the clip on Twitter was unlikely to have been created by algorithms: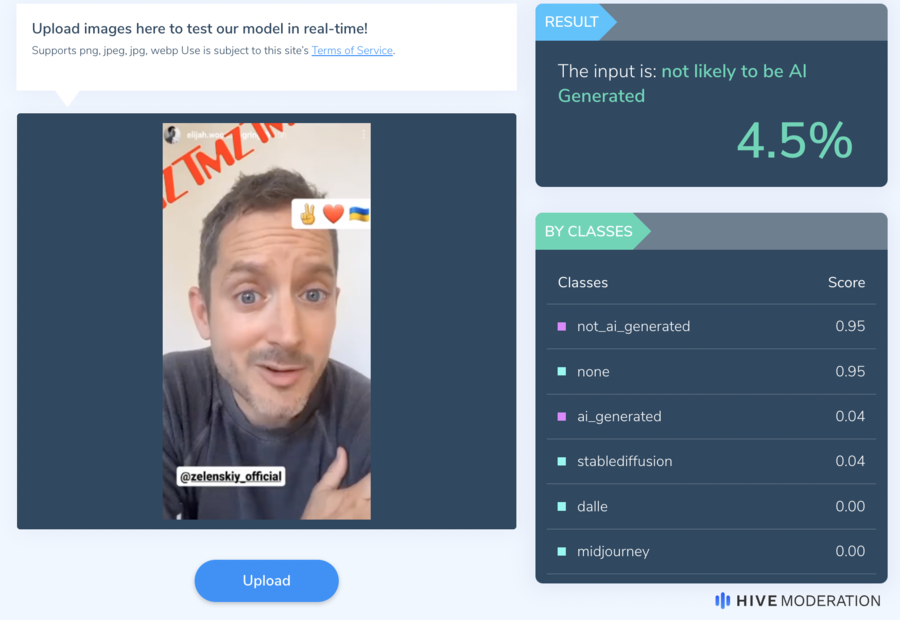 (Source: Hive Moderation screenshot taken on Wed Jul 26 16:03:55 2023 UTC)
One possible explanation of the origin of the footage is that it came from the website called Cameo. It allows the public to request personalized video greetings from celebrities for a fee. The resource explains:
Tell them what to say

During checkout, you'll provide the details the celeb will need to make the perfect personalized video.
Elijah Wood has an account on Cameo: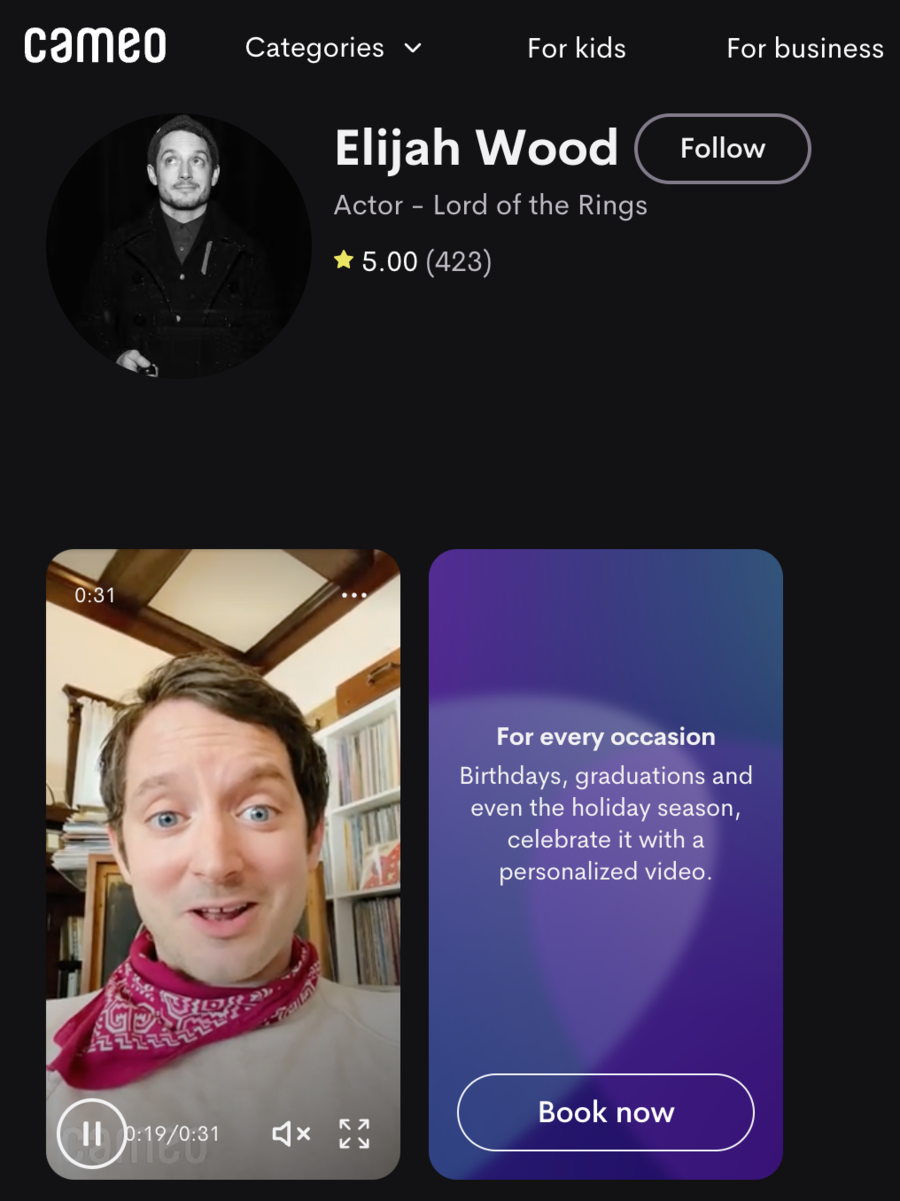 (Source: Cameo screenshot taken on Wed Jul 26 19:24:08 2023 UTC)
As seen in the screenshot above, the videos are recorded on cellphones vertically in the same format as stories on Instagram.
Social media users occasionally share such videos on their personal accounts. One example of Wood's personalized greeting found by Lead Stories is a clip that also contains several cuts, but never in the middle of the sentence to "assemble" a new one. It remains unclear whether the edits were made by Wood, Cameo staff or the user who shared it.
Lead Stories searched for but did not find the unedited footage that was reused in the tweet that is the focus of this fact check.
Besides English, the claim circulated on social media in French and Russian across different platforms. It was additionally amplified by such Russian media as the pro-Kremlin Tsargrad TV and Channel Five. All that showed signs of a coordinated campaign.
Claims accusing Zelenskyy of drug and alcohol addiction constitute a recurring topic in Russian war propaganda. Such messaging reuses obscure online speculations related to the 2019 presidential campaign in Ukraine. At the time, one of Zelenskyy's campaign videos was re-edited to imply he uses cocaine. However, it did not show the act itself, France Info reported, as translated by Google Chrome:
In the original clip, the comedian stages himself with Ukrainians, placed on both sides of the road. He lights the green light for them to cross it and reunite.

In a short video, posted on April 10 on Telegram messaging, we can see an extract from this same clip. But this time, the comedian is run over by a truck. The image of a rail of cocaine then appears on the screen with a play on words in Ukrainian: 'everyone [has] his way' (dorizhka: 'road' in Ukrainian, can also be translated as 'rail'). Petro Poroshenko's entourage denied any involvement in making the video. To determine the origin of the diversion, a judicial investigation was opened.
Both candidates, then-President Poroshenko and his challenger Zelenskyy went as far as taking drug and alcohol tests live.
Lead Stories reached out to Wood's representatives and Cameo. This story will be updated as appropriate.
Other Lead Stories fact checks about entertainment can be found here.