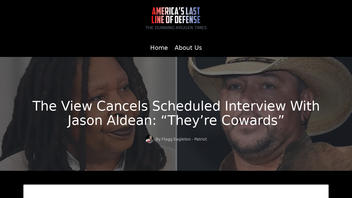 Did producers for ABC's talk show "The View" rescind an invitation to Jason Aldean to be a guest on the show after he surprised them by accepting their disingenuous offer? No, that's not true: This article was published by The Dunning-Kruger Times, a publication from the satire network America's Last Line of Defense (ALLOD). The website has a clear disclaimer stating, "Everything on this website is fiction."
The article (archived here) published by dunning-kruger-times.com on July 30, 2023, is titled "The View Cancels Scheduled Interview With Jason Aldean: 'They're Cowards,'" which opened:
When Jason Aldean's hit song "Try That in a Small Town" made national news for being "controversial," it was no surprise that the ladies of "The View" jumped on the bandwagon to call him names.

Without any merit to their claims, they called him a "racist." They said he was a "Trumpster who believed the Big Lie." They eviscerated him all across their program for days. They even extended an offer for him to come and face their wrath live on the show.
This is how the article appeared at the time of writing: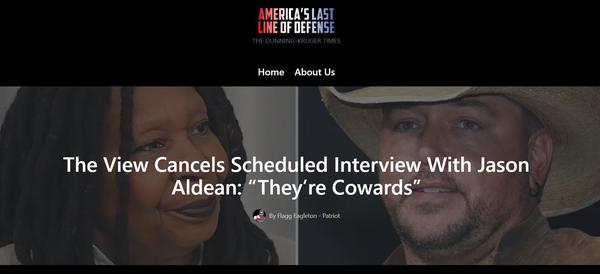 (Image source: dunning-krugertimes.com screenshot taken on Mon Jul 31 14:00:21 2023 UTC)
The article continues:
They didn't, however, expect him to accept. "Once I said yes they rescinded the offer," said Aldean, "It's almost like they don't want to talk about the truth at all."

A representative for the show confirmed that Aldean was considered for a guest spot but the show decided it would be best not to have him on, which makes one wonder what they're so afraid of.
The two people named in the next sentence of the article appear frequently in ALLOD articles:
ALLOD Correspondent Skip Tetheludah caught up with The View's Executive Producer, Joe Barron, who went a little bit further on why they nixed the Aldean interview.
Joe Barron is not 'The View' executive producer, he was a friend of the ALLOD network who passed away. Barron's name lives on as a homage, conveniently taking on the role of a spokesperson to offer false official statements when needed. Skip Tetheludah is a recurring fictional character whose name is likely based on the name of the American Folk song "Skip To My Lou."

This story -- spun from the controversy surrounding Aldean's hit song, "Try That In A Small Town" -- is a fabrication from the ALLOD network of sites run by Christopher Blair, a self-professed liberal troll who produces content targeted to conservative audiences. Lead Stories has published fact checks on several of the fabricated narratives Blair's network has recently published (here). Lead Stories has a satire policy and typically does not fact check content clearly labeled satire. In this case it is warranted as ALLOD content is frequently plagiarized and republished on other websites, such as billbordi.com (here) without the disclaimer.
The Dunning-Kruger Times
The Dunning-Kruger Times is a satirical website with an about page (archived here) that has following disclaimer:
About Us

Dunning-Kruger-Times.com is a subsidiary of the 'America's Last Line of Defense' network of parody, satire, and tomfoolery, or as Snopes called it before they lost their war on satire: Junk News

About Satire

Before you complain and decide satire is synonymous with 'comedy':

sat·ire ˈsaˌtī(ə)r noun: The use of humor, irony, exaggeration, OR ridicule to expose and criticize people's stupidity or vices, particularly in the context of contemporary politics and other topical issues.

Everything on this website is fiction. It is not a lie and it is not fake news because it is not real. If you believe that it is real, you should have your head examined. Any similarities between this site's pure fantasy and actual people, places, and events are purely coincidental and all images should be considered altered and satirical. See above if you're still having an issue with that satire thing.
The website is named after the Dunning-Kruger effect, a term from a psychology experiment that describes the phenomenon of being ignorant of one's own ignorance. (That experiment has been disputed by a math professor.)
Lead Stories reached out to ABC for comment regarding these claims about "The View" and will update this article as appropriate when ABC responds.