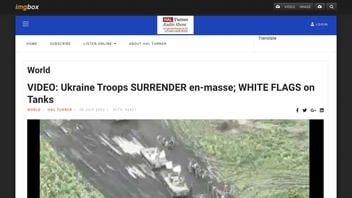 Does a viral video show a large group of Ukrainian soldiers surrendering on July 24, 2023, or on July 30, 2023? No, that's not true: The clip captures a prisoner exchange that was reported to have taken place in late May 2023 in an undisclosed location in Ukraine.
The story appeared in an article (archived here) published by halturnerradioshow.com on July 30, 2023, under the headline:
VIDEO: Ukraine Troops SURRENDER en-masse; WHITE FLAGS on Tanks
It opened:
Hundreds of Ukrainian troops, displaying white flags on their tanks and infantry vehicles, surrendered en-masse to Russia today.

More and more common as troops see with their own eyes, it is hopeless to continue fighting.
Here is what it looked like at the time of writing: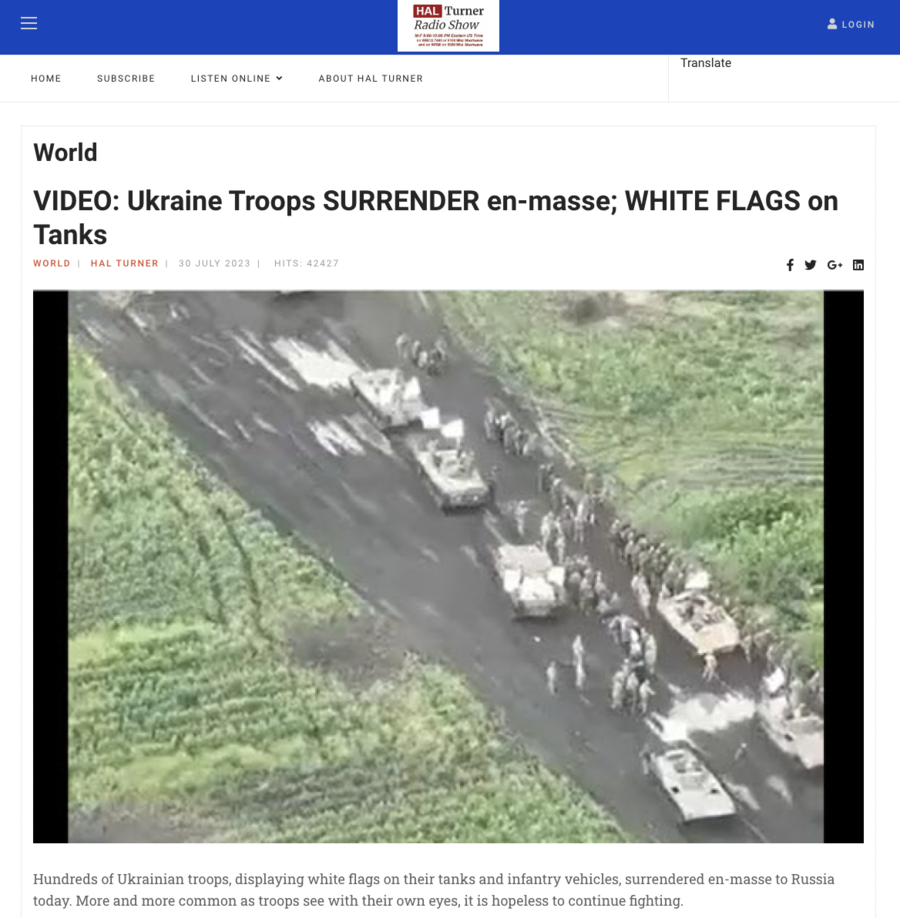 (Source: Halturnerradioshow.com screenshot taken on Jul 31 15:15:50 2023 UTC)
The article contained a screenshot from a video previously shared in a tweet (archived here) posted on July 24, 2023, with the following caption in French, as translated by DeepL:
🚨🇺🇦⏰ Ukrainian soldiers don't want to die for Zelensky. They surrender without a fight! 🤣

🚨🇺🇦⏰Ukrainian soldiers don't want to die for Zelensky. They surrender without a fight!🤣
The video in the social media entry captured two columns of uniformed men walking between tanks with white flags, which was filmed in one long shot from above the ground.
However, it was not the first appearance of the clip on Twitter.
For example, two days prior, on July 22, 2023, it was shared by another account with a different caption: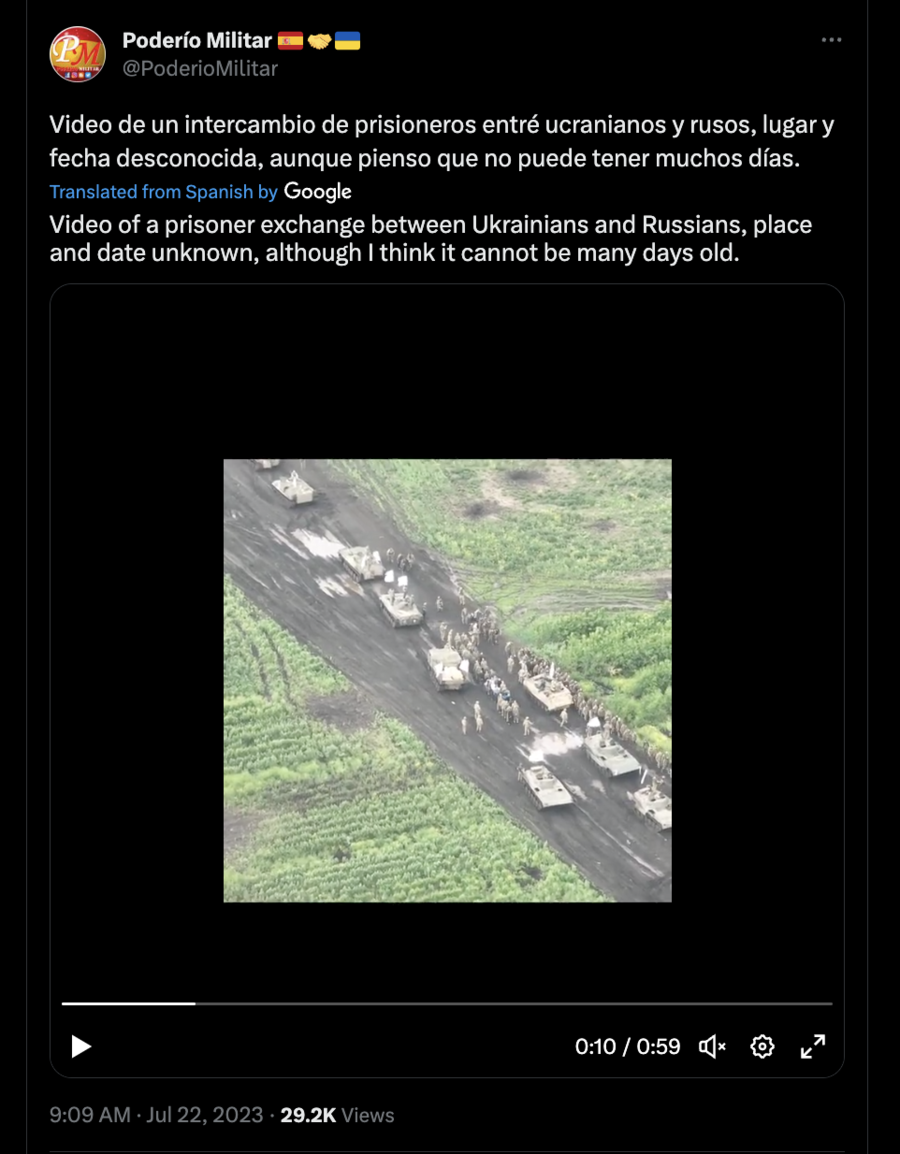 (Source: Twitter screenshot taken on Jul 31 15:55:23 2023 UTC)
One significant detail is that the two lines of people are moving in opposite directions in the video. Had it been a scene of surrender, all of them would be more likely to march toward the same point.
A search for recent images and videos of prisoner exchanges shows a series of visuals capturing a similar field (for example, here and here.) Just like in the clip in question, we see two columns of soldiers marching in opposite directions between the tanks marked by white flags to signal neutrality: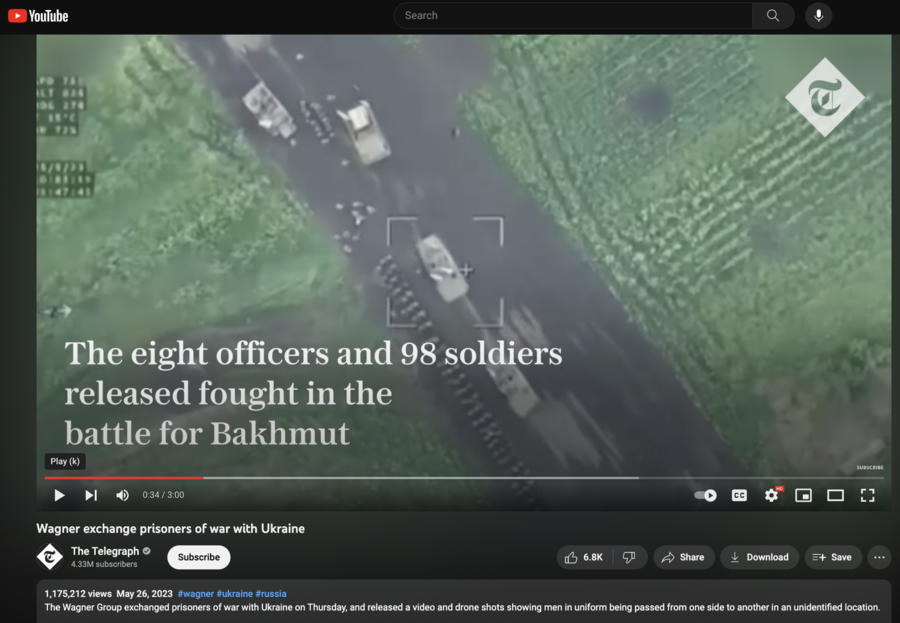 (Source: YouTube screenshot taken on Jul 31 16:17:54 2023 UTC)
Another distinctive feature is a group of three tanks lined up in one row, with the fourth tank standing apart. If rotated, a screenshot from the video in question shows the exact same scene, additionally providing one more matching unique identifier --- the road on the left: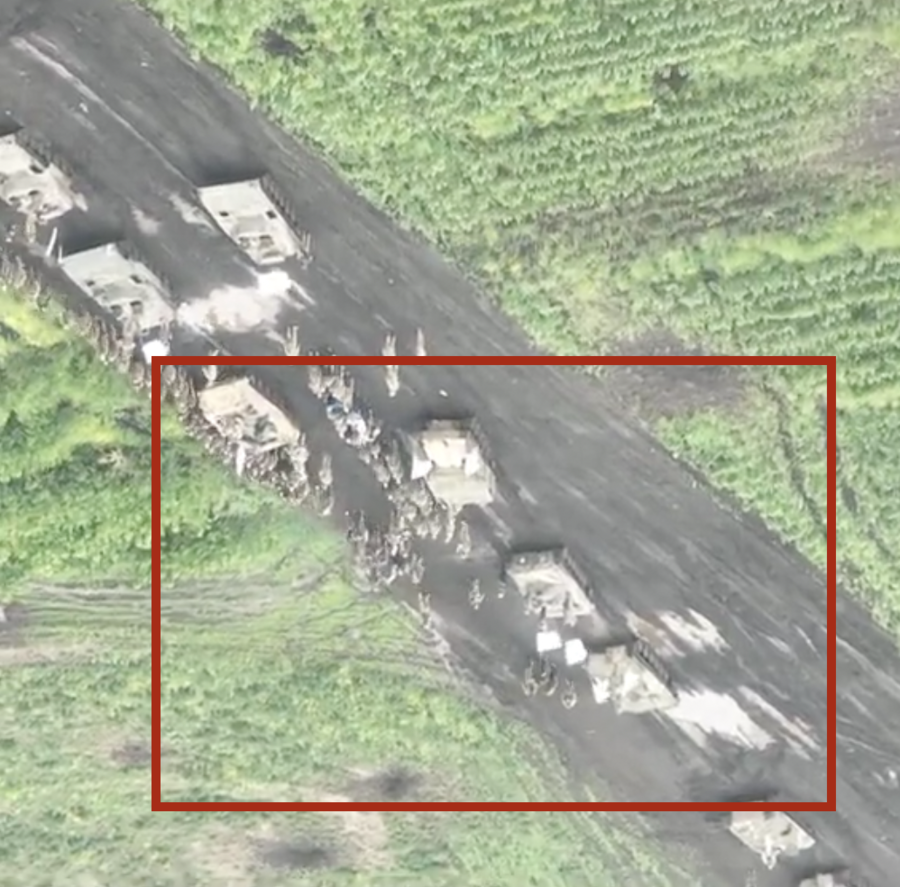 (Source: Twitter screenshot taken on Jul 31 15:35:27 2023 UTC)
As reported by the The Associated Press, the prisoner swap took place on May 25, 2023, in an unknown location in Ukraine. Both parties, the Wagner paramilitary group and the Ukrainian armed forces, released their own footage of the event, and those shots did not contradict each other, as seen, for example, in the AP package or in the video published by the Wall Street Journal on YouTube.
Other Lead Stories articles on claims concerning the Hal Turner Radio Show are here.
Other Lead Stories fact checks about the war in Ukraine can be found here.