STORY UPDATED: check for updates below.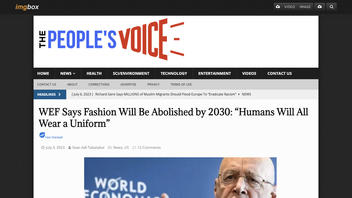 Did the World Economic Forum announce in early July 2023 that it will ban fashion, making people exclusively wear uniforms by 2030? No, that's not true: The claim came into being as an exaggerated extrapolation of a 2019 report that wasn't even produced by the World Economic Forum as an organization.
The story appeared in an article published by The People's Voice on July 3, 2023. Its title read:
WEF Says Fashion Will Be Abolished by 2030: 'Humans Will All Wear a Uniform'
The article continued:
The World Economic Forum has declared that by 2030 fashion will become completely obsolete and all humans will be vegan, whether they like it or not.
Here is how it appeared at the time of writing: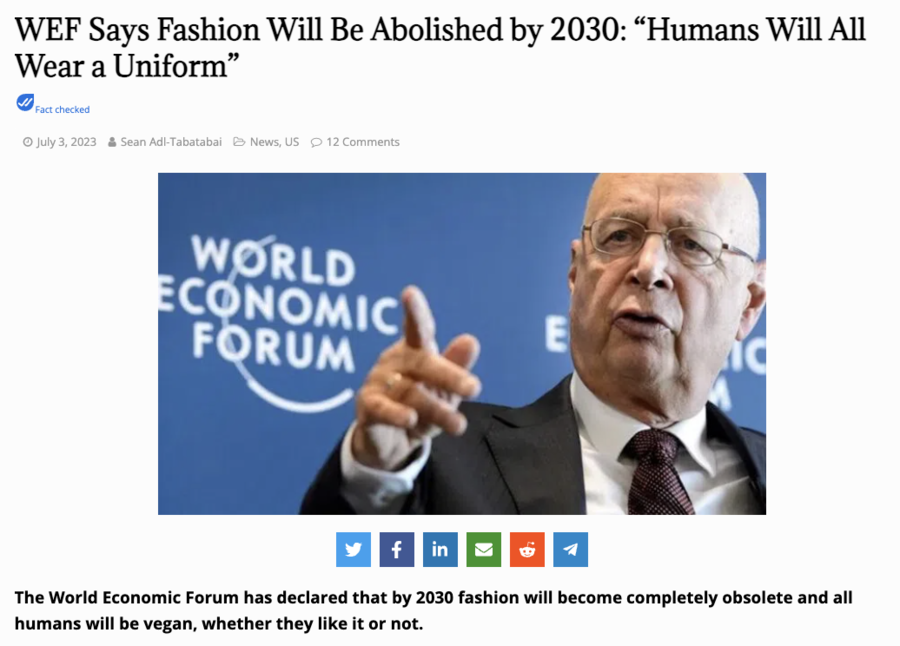 (Source: The People's Voice screenshot taken on Thu Jul 6 16:25:28 2023 UTC)
The article cited a 2019 report re-uploaded on the UK-based website The Exposé. That website does not disclose the names of the editorial team in its "About" section, only saying it is run by "ordinary, hardworking people who are sick and tired of the fear-mongering." The website has a long history of publishing false claims.
The Exposé did not write the report.
The World Economic Forum, which is a frequent target of conspiracy theorists, did not produce it either.
The document titled "The Future of Urban Consumption in a 1.5°C World" was prepared by several organizations: C40 Cities, which describes itself as "a global network of nearly 100 mayors of the world's leading cities that are united in action to confront the climate crisis"; Arup, a consulting firm focused on sustainability projects; and the University of Leeds, one of the major British higher education institutions.
In June 2023, the report resurfaced on Rumble (for example, here.)
The document did not suggest banning fashion as a cultural phenomenon or switching to uniforms en masse. It only explored different paths to reduce consumption-related emissions in six major areas, including clothing and textiles. One part of the analysis was to aim at decreasing the number of brand-new items each person buys annually.
The report set two goals: eight and three items, additionally emphasizing that the latter should be seen as an "ambitious target," thus, acknowledging that it would be much harder to achieve: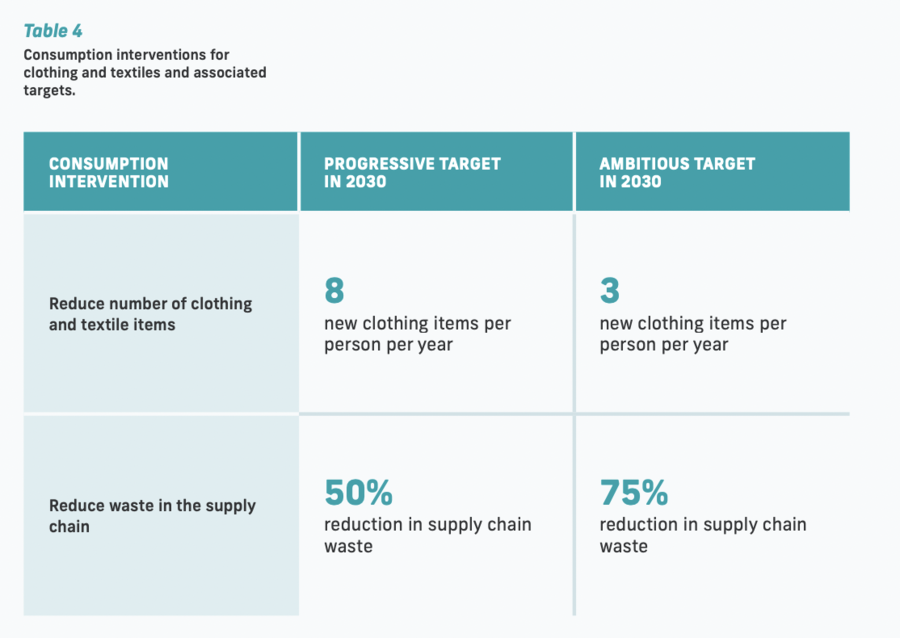 (Source: Issuu screenshot taken on Thu Jul 6 14:31:57 2023 UTC)
While such an approach may be perceived as a statement against a particular business model -- so-called fast fashion, due to its focus on the trends that quickly come and go -- the report did not discuss any orders, fines, additional taxes, or other specific methods of enforcement.
The report is not a law and has never been one.
It describes its purpose more as a recommended framework than a concrete policy proposal:
The consumption interventions analysed for this project can be collectively delivered by different actors and coalitions of actors, but forwardthinking and proactive city governments can facilitate this wider collaboration by providing a platform for action.
On July 10, 2023, a C40 Cities spokesperson told Lead Stories via email:
The report is an analysis of consumption-based emissions in C40 cities, not a plan for cities to adopt. It's up to individuals to make their personal lifestyle choices, including what type of food to eat and what type of clothing they prefer.
The organization's representative added that the report was neither funded by the World Economic Forum nor does C40 have a formal relationship with it and pointed to the
explainer
saying:
We explored ways to make the production of goods and services less carbon-intensive without compromising their function, and provided a scenario for the adoption of low-carbon choices without compromising quality of life. In practice, these ideas aren't intended for every person, community or city.
The World Economic Forum is a nonprofit operating as a platform for the exchange of ideas in different formats, not a secret world government giving orders to national leaders -- it simply does not have the authority or means to do so.
Its website contains blog entries from different people who may not be specifically responsible for the decisions that govern how the Forum functions as an organization. The website does mention fashion but in a very different context. Those entries focus on making clothing choices more sustainable, not prohibiting fashion. For example, such articles can be found here, here and here.
The People's Voice has published multiple false stories in the past. It describes itself as a resource "comprised of various web pages operated by Fact Checked Limited."
As of this writing, its website contained a liability disclaimer that says:
FACT CHECKED LIMITED AND/OR ITS SUPPLIERS MAKE NO REPRESENTATIONS ABOUT THE SUITABILITY, RELIABILITY, AVAILABILITY, TIMELINESS, AND ACCURACY OF THE INFORMATION, SOFTWARE, PRODUCTS, SERVICES AND RELATED GRAPHICS CONTAINED ON THE SITE FOR ANY PURPOSE. TO THE MAXIMUM EXTENT PERMITTED BY APPLICABLE LAW, ALL SUCH INFORMATION, SOFTWARE, PRODUCTS, SERVICES AND RELATED GRAPHICS ARE PROVIDED 'AS IS' WITHOUT WARRANTY OR CONDITION OF ANY KIND.
Other Lead Stories fact checks about clothing can be found here.
2023-07-10T18:52:42Z

2023-07-10T18:52:42Z

Added the comments from a C40 Cities spokesperson.