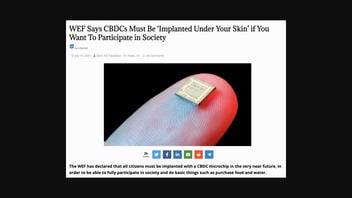 Did the World Economic Forum (WEF) say that a central bank digital currency (CBDC) microchip must be "implanted under your skin" to participate in society? No, that's not true: Richard Werner, a German economist and professor who is not employed by the WEF, talked about the possible future use of microchip implants to regulate the availability of CBDC funds and possibly control behavior during an interview. The WEF is a nonprofit operating as a platform for the exchange of ideas in different formats, not a secret world government giving orders to national leaders -- it does not have the authority or means to do so.
The claim stemmed from an article titled, "WEF Says CBDCs Must Be 'Implanted Under Your Skin' if You Want To Participate in Society" (archived here) by The People's Voice on July 14, 2023. It read, in part:
The WEF has declared that all citizens must be implanted with a CBDC microchip in the very near future, in order to be able to fully participate in society and do basic things such as purchase food and water.

According to Professor Richard Werner, in the very near future citizens will 'need to use the latest technology' such as a 'CBDC chip implant' in order to access their bank accounts.
Below is how the post appeared at the time of this publication: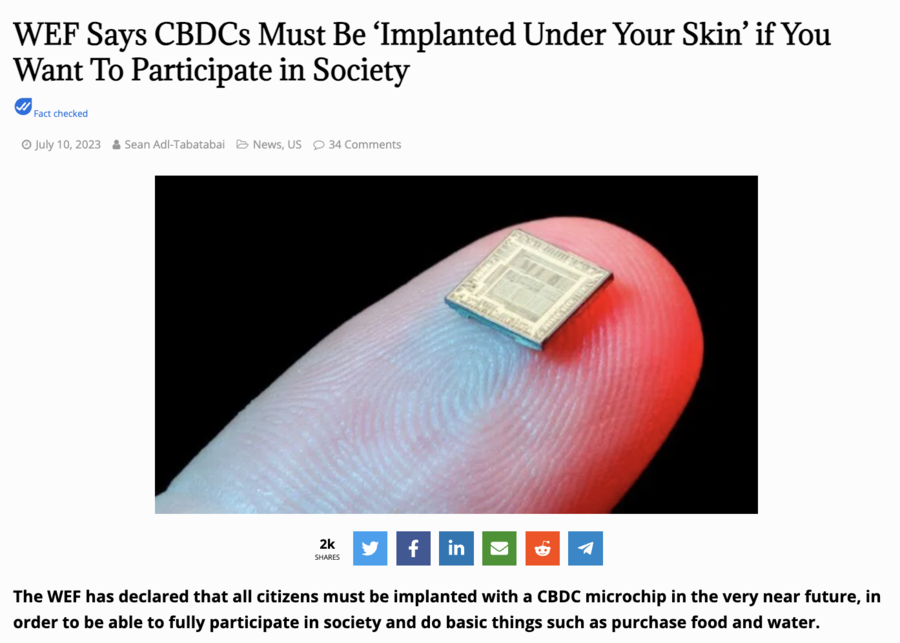 (Source: The People's Voice screenshot taken Fri July 14 10:43:35 UTC 2023)
The quote originated from an interview published on YouTube on July 7, 2023, with commentator Ivor Cummins, in which Werner discussed the development of digital currencies in light of current events, such as the COVID-19 pandemic. At the 1:05:42 mark, Werner stated:
What they really want, apparently, I was taught by a central banker, is, you know, CBDCs look like a small grain of rice that they want to put under your skin, which in my view is a violation of human dignity ...
Werner does not represent the WEF in any official capacity. He was selected by the intergovernmental agency as a "Global Leader for Tomorrow" in 2003 but does not hold a position as of July 14, 2023.
During the interview, Werner implied that he had inside knowledge that global bank leaders may someday recommend a CBDC microchip implant, though he openly spoke against such possibilities in the interview. Lead Stories contacted Werner by email for further clarification regarding his statements but did not receive a response as of this writing.
CBDCs are a digital currency, or simply put, electronic versions of a country's physical dollar, explained the WEF in a post published in October 2022.
"The central banks issuing and managing these digital currencies are national financial authorities that oversee a country's currency, supply of money and monetary policy - like setting interest rates, which change the cost of borrowing," they wrote.
As of July 14, 2023, the U.S.-based think tank Atlantic Council Geoeconomics Center found that at least 130 countries representing 98 percent of the global economy were exploring digital versions of their currencies.
The U.S. Federal Reserve has not made a decision on whether to pursue a national CBDC, though the agency stated it was exploring the possibility in an April 20, 2023, update to its webpage.
The People's Voice has published multiple false stories in the past. It describes itself as a resource "comprised of various web pages operated by Fact Checked Limited."
As of this writing, its website contained a liability disclaimer that says:
FACT CHECKED LIMITED AND/OR ITS SUPPLIERS MAKE NO REPRESENTATIONS ABOUT THE SUITABILITY, RELIABILITY, AVAILABILITY, TIMELINESS, AND ACCURACY OF THE INFORMATION, SOFTWARE, PRODUCTS, SERVICES AND RELATED GRAPHICS CONTAINED ON THE SITE FOR ANY PURPOSE. TO THE MAXIMUM EXTENT PERMITTED BY APPLICABLE LAW, ALL SUCH INFORMATION, SOFTWARE, PRODUCTS, SERVICES AND RELATED GRAPHICS ARE PROVIDED 'AS IS' WITHOUT WARRANTY OR CONDITION OF ANY KIND.
Lead Stories has also reported that a "WEF agent" did not call for a cashless society to keep "less desirable" people out, that the intergovernmental agency did not post a tweet about "when being anti-bug is bigotry," and that the WEF did not announce the recruitment of "information warriors" to control the narrative on social media.