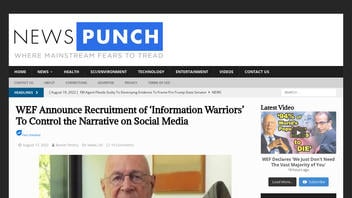 Did the World Economic Forum (WEF) announce the recruitment of "information warriors" to control the narrative on social media? No, that's not true: The WEF has recruited no such people. An article making the claim misrepresents a UN initiative called "Verified," which was launched in May 2020 in an effort to fight misinformation around COVID-19.
The article (archived here) was published by News Punch on August 17, 2022. Titled "WEF Announce Recruitment of 'Information Warriors' To Control the Narrative on Social Media," the article opened:
The World Economic Forum (WEF) has announced it has recruited hundreds of thousands of 'information warriors' to control the internet, policing social media and forums for 'misinformation' and conspiracy content which will then be systematically shut down.
Users on social media saw this at the time of writing:
The News Punch article includes a link to a WEF podcast, which can be read about and heard here. The podcast makes clear that the initiative the article refers to is not a WEF program; it's a UN campaign known as Verified.
The WEF podcast features Melissa Fleming, who leads global communications for the UN, talking about Verified, launched in May 2020 in an effort to fight misinformation around COVID-19. At the 7:23 mark, she says:
So far, we've recruited 110,000 information volunteers, and we equip these information volunteers with the kind of knowledge about how misinformation spreads and ask them to serve as kind of 'digital first responders' in those spaces where misinformation travels.
Note her use of the phrase "information volunteers," not "information warriors."
News Punch (formerly YourNewsWire) has published hoaxes and fake news articles in the past, so anything it writes or publishes should be taken with a large grain of salt. Its Facebook page "The People's Voice" even lost its verification checkmark, according to a 2018 report from Media Matters For America.
The Terms of Use of the site (archived here) also make it clear they don't really stand behind the accuracy of any of their reporting:
NEWSPUNCH, LLC AND/OR ITS SUPPLIERS MAKE NO REPRESENTATIONS ABOUT THE SUITABILITY, RELIABILITY, AVAILABILITY, TIMELINESS, AND ACCURACY OF THE INFORMATION, SOFTWARE, PRODUCTS, SERVICES AND RELATED GRAPHICS CONTAINED ON THE SITE FOR ANY PURPOSE.