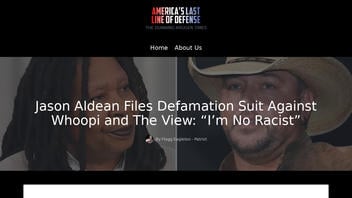 Did country music star Jason Aldean file a defamation suit against host Whoopi Goldberg and the talk show "The View"? No, that's not true: This claim originated from a self-described satirical website aimed at trolling conservatives. That website, The Dunning-Kruger Times, has a disclaimer that describes itself as part of a network of "parody, satire, and tomfoolery" and says, "Everything on this website is fiction."
The claim originated from an article published by The Dunning-Kruger Times on July 24, 2023, titled "Jason Aldean Files Defamation Suit Against Whoopi and The View: 'I'm No Racist'" (archived here). It opened:
Jason Aldean says he's 'taking the advice of counsel' and filing a $40 Million defamation suit against Whoopi, Sunny, Joy, and the rest of the hosts of ABC's 'The View.'
Users on social media only saw this title, description and thumbnail:
He's seeking $40 million in damages.
The made-up claim is a reference to the controversy over Aldean's music video "Try That In A Small Town," which was pulled from Country Music Television (CMT) rotation after a public outcry over the video's lyrics and backdrop.
A Google search for the key words "jason aldean files lawsuit whoopi goldberg" yields zero legitimate news sources.
This story is a fabrication from the America's Last Line of Defense (ALLOD) network of sites run by Christopher Blair, a self-professed liberal troll who produces content targeted to conservative audiences. Lead Stories has published fact checks on several of the fabricated narratives Blair's network has recently published (here).
Lead Stories has a satire policy and typically does not fact check content clearly labeled as satire. In this case it is warranted as ALLOD content is frequently plagiarized and republished on other websites.
Lead Stories' other debunks of Dunning-Kruger-Times articles related to the Aldean controversy can be found here.

The Dunning-Kruger Times
The Dunning-Kruger Times is a satirical website with an about page (archived here) that has the following disclaimer:
About Us

Dunning-Kruger-Times.com is a subsidiary of the 'America's Last Line of Defense' network of parody, satire, and tomfoolery, or as Snopes called it before they lost their war on satire: Junk News

About Satire

Before you complain and decide satire is synonymous with 'comedy':

sat·ire ˈsaˌtī(ə)r noun: The use of humor, irony, exaggeration, OR ridicule to expose and criticize people's stupidity or vices, particularly in the context of contemporary politics and other topical issues.

Everything on this website is fiction. It is not a lie and it is not fake news because it is not real. If you believe that it is real, you should have your head examined. Any similarities between this site's pure fantasy and actual people, places, and events are purely coincidental and all images should be considered altered and satirical. See above if you're still having an issue with that satire thing.
The website is named after the Dunning-Kruger effect, a term from a psychology experiment that describes the phenomenon of being ignorant of one's own ignorance. (That experiment has been disputed by a math professor.)