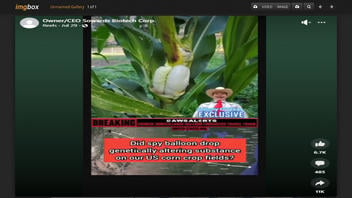 Does a social media video provide evidence of a "new odd blight on corn" that follows the path of a Chinese spy balloon that traversed sections of the United States from January 28, 2023, through February 4, 2023? No, that's not true: The video is a comedy skit by digital creator John Gerard Gillar. Also, there are no credible news reports of a corn blight occurring along the balloon's path.
The claim appeared in a video on Facebook (archived here) published on July 29, 2023. Here's what the narrator says in the video:
Did spy balloon drop genetically altering substance on our U.S. corn crop fields? Well, all the reports I've heard of this new odd blight on corn have come from along the line of the path of the balloon. Some say it's akin to smut rot. But farmers, such as this photo that was sent to me today, are reporting otherwise. The White House is not commenting on the fact that these reports are coming. Almost an exact line is where the balloon flew over America. In fact, they're saying it's just a coincidence. I will follow this story and keep you posted.
This is what the post looked like on Facebook at the time of writing: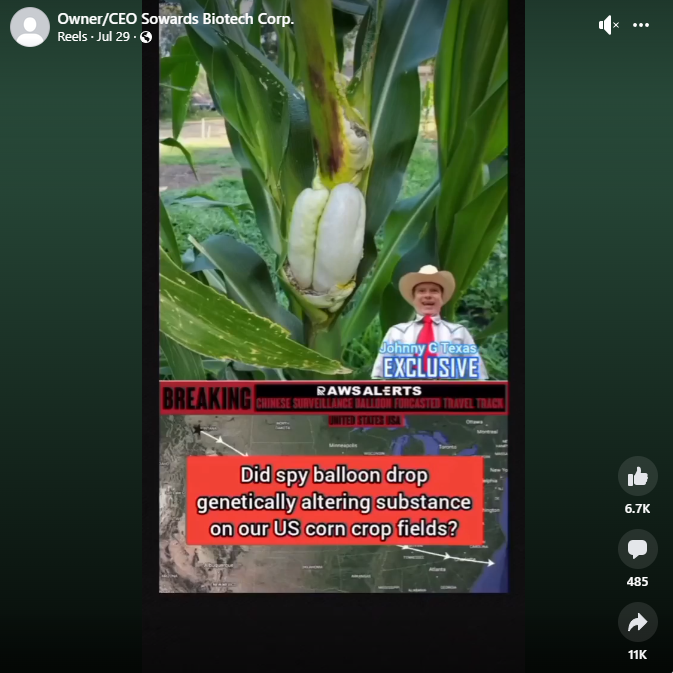 (Source: Facebook screenshot taken on Thu Aug 3 14:29:40 2023 UTC)
The original version of the video (archived here) appeared on the Instagram account of John Gerard Gillar on July 27, 2023. Many of the videos feature his alter ego, Johnny G Texas, which was the case in this clip:
In his profile, Gillar identifies himself as a digital creator, skit creator and actor. His account information goes on to say:
All Original Skits! Subjects A-Z

Check-in Daily to kill 10 minutes for a good laugh, or to just get any News that's kept from you by the MSM! [mainstream media]
Gillar also has a Facebook account, describing his videos as "Original Conservative Skits."
Google News search
A Google News search for the phrase "'Chinese spy balloon' + 'corn blight'" produced no results.
Lead Stories previously reported that a local vigilante did not shoot down the balloon.