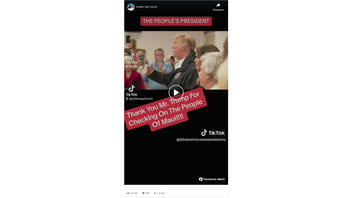 Does a video show former President Donald Trump visiting the Hawaiian island of Maui in August 2023 to comfort survivors of the devastating wildfires there? No, that's not true: The footage of Trump is from 2019, when Trump visited Alabama following a tornado. As of August 19, 2023, he had not visited Maui after its wildfires.
The claim appeared in several social media posts, including a video posted on Facebook on August 16, 2023 with the title "The People's President." The video appears to have been removed, but an archived version can be found here. The video was also posted on YouTube, X and TikTok. The Facebook video opened with a graphic that read:
Thank You Mr. Trump For Checking On The People Of Maui!!!!
The TikTok video was captioned: "Trump Arrives in Maui"
This is what the Facebook post looked like at the time of the writing of this fact check:
(Source: Facebook screenshot taken on Fri Aug 18 18:11:27 2023 UTC)
As of August 19, 2023, Trump had not visited Maui after wildfires, which began on August 8, 2023, destroyed the town of Lahaina. President Joe Biden announced he would visit Maui on August 22, 2023, according to a statement from his press secretary, CNN reported.
The video of Trump posted on Facebook comes from his March 8, 2019, visit to Lee County, Alabama. He was accompanied by his wife, Melania Trump, and toured with Alabama Governor Kay Ivey. National news outlets, including The New York Times and USA Today covered his trip.
Video from Trump's visit was posted on C-SPAN, which allows viewers to make clips from the footage. The video's description says:
MARCH 8, 2019
President Trump Tours Storm Damage in Alabama
President Trump and first lady Melania Trump toured the tornado storm damage in Lee County, Alabama. The president met with Alabama Governor Kay Ivey (R) and Lee County Emergency Management Director Kathy Carson. They also visited a local church and met with residents in the area, signed bibles and hats, and later paid tribute to the people who died in the storm.
Begining at :05 in the video posted on Facebook, Trump is seen walking in front of a FEMA truck and through damaged land. This matches the C-SPAN footage, beginning at at 3:17, from his 2019 Alabama trip, as this screenshot shows: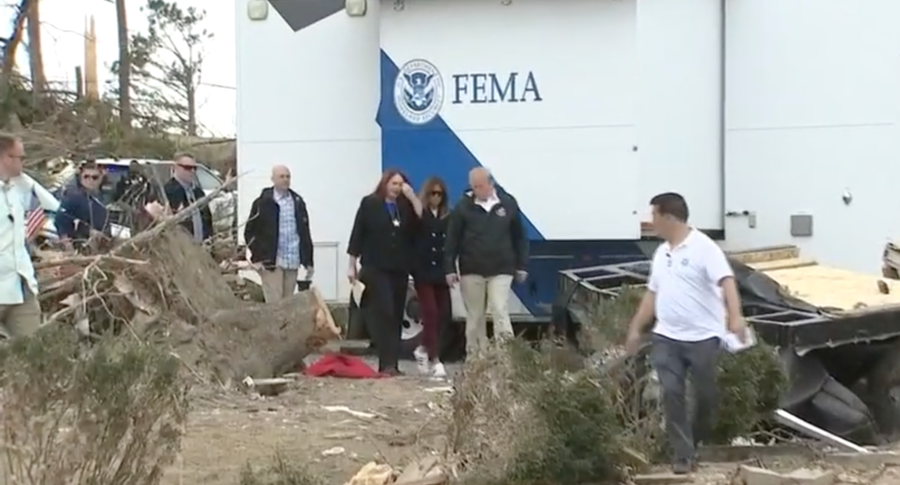 (Source: C-SPAN screenshot taken on Fri Aug 18 18:22:21 2023 UTC)
At :14 in the video posted on Facebook, Trump says:
These are incredible people. We just met some of the survivors and family members, and what they've been through is incredible. One woman lost 10 people in her family, and ... an incredible woman. And she ... I said, "How -- how did it go?" She said, "I lost 10. Ten people."
These remarks match exactly what Trump said during a stop at the Providence Baptist Church Annex Building in Opelika, Alabama in March 2019. The comments were posted on the Alabama governor's website. Here is a screenshot of the transcript of his remarks: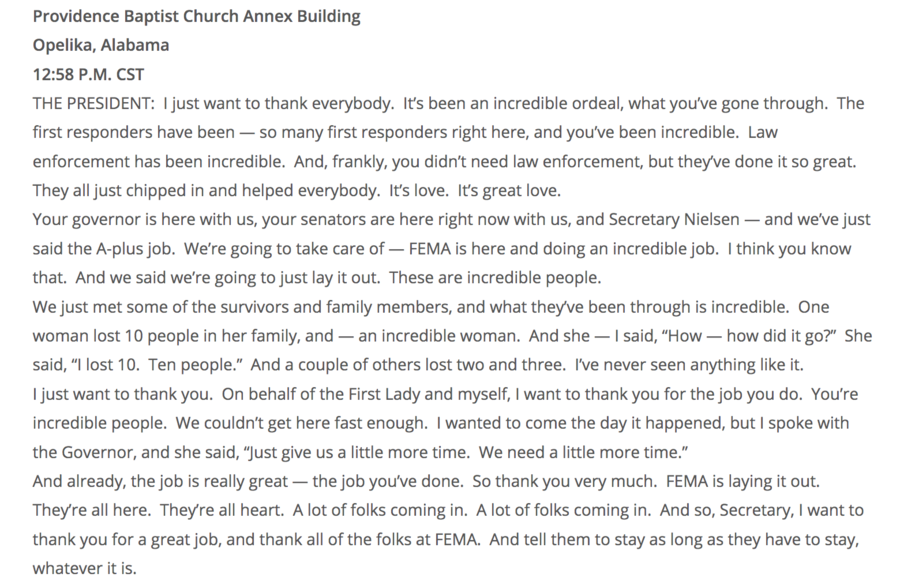 (Source: Governor of Alabama website screenshot taken on Fri Aug 18 18:23:55 2023 UTC)
Lead Stories has debunked multiple stories about the 2023 fires on Maui, including claims that the fire was started by a laser from the sky or that a laser beam was present in a photo of a burning church on Lahiana and that a direct energy weapon started the fire or that it was ignited to create a crisis that could be solved by AI.
Other Lead Stories fact checks of claims involving former President Donald Trump can be found here.