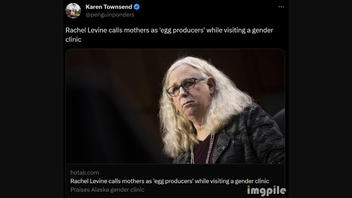 Did U.S. Assistant Secretary for Health Admiral Rachel Levine, a physician, describe mothers as "egg producers" during her August 6, 2023, visit to an LGBTQ+ clinic in Alaska? No, that's not true: None of the sources describing this supposed remark use a direct quote or a recording to prove it was said, and a clinic manager confirmed to Lead Stories that Levine did not use such an expression during her visit.
The claim appeared in a post (archived here) published on X, formerly known as Twitter, on August 16, 2023. It said:
Rachel Levine calls mothers as 'egg producers' while visiting a gender clinic.
This is what it looked like at the time of the writing of this fact check: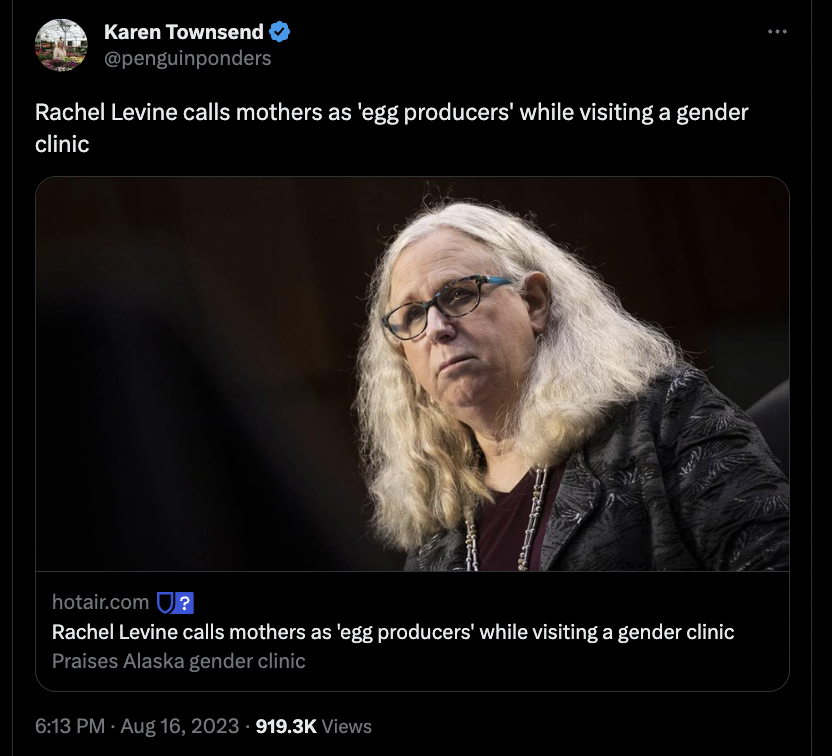 (Source: Twitter screenshot taken on Fri Aug 18 18:31:26 2023 UTC)
The post contained a link to an article making the same claim. However, that piece did not contain a direct quote of what was allegedly said.
Assistant Secretary for Health Levine toured Alaska at the beginning of August 2023. Her schedule included an August 6, 2023, visit to Identity Alaska, a health-care organization that describes itself as a "nonprofit community center and health clinic that provides resources, programs, and health care for the LGBTQIA2S+ and allied community."
Identity's Operations Director Lynn Murphy told Lead Stories via email on August 18, 2023, that the claim that Levine had referred to mothers as "egg producers" was not true:
This is a false article; at no point did Admiral Levine use the term "egg-producers" in any context during her visit. This term was extrapolated from an outside source listed in a separate website link on our "resources" page on our website.
A search for the key terms
"Rachel Levine", "Alaska" and "egg producer"
across Google News resources did not show anything other than duplicates of the claim. These duplicates failed to cite the exact sentence attributed to the U.S. Assistant Secretary for Health.
The
link
cited by Murphy on the clinic's website leads to language-focused recommendations for biology teachers discussing "body parts and functions" in the classroom. The underlying idea appears to suggest focusing on the specific terms or descriptions of these parts and functions without overemphasizing their connections to a particular gender.
In 2021, Levine became the first openly transgender federal official confirmed by the U.S. Senate. That was followed by a transphobic smear campaign, as reported by
NBC
.
Other Lead Stories fact checks of gender-related claims can be found here.