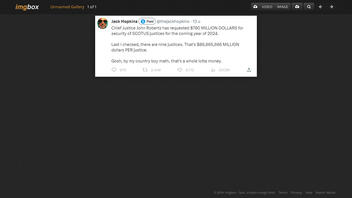 Did Chief Justice John Roberts ask for $780 million to protect the nine U.S. Supreme Court justices, with each of the justices receiving close to $87 million, in 2024? No, that's not true: The federal judiciary system asked Congress in March 2023 to provide $783.5 million for the security of all its courts, which includes courts of appeals, district courts and other judicial programs and services. From that amount, the Supreme Court's total ask was roughly $150 million, according to the official summary of the budget request.
The claim appeared in a now-deleted post on X, formerly Twitter, on August 31, 2023. At least one other X post still references it.

The post read:
Chief Justice John Roberts has requested $780 MILLION DOLLARS for security of SCOTUS justices for the coming year of 2024. Last I checked, there are nine justices. That's $86,666,666 MILLION dollars PER justice. Gosh, by my country boy math, that's a whole lotta money.
This is what the post looked like at the time of the writing of this fact check:

(Source: X screenshot taken on Fri Sep 1 15:12:36 2023 UTC)
A post on Facebook from September 1, 2023 (archived here), quotes it in full.
The judicial branch's budget request, prepared by the Administrative Office of the United States Courts, is public record; a summary of it can be read on the United States Courts website.
Overall, the judiciary is requesting a 2024 discretionary budget of $9.1 billion, which represents an 8 percent increase over what it received in 2023. Of that, $783.5 million is earmarked for the Court Security account. The budget summary states:
The judiciary requests $783.5 million for Court Security in FY 2024, a 4.4 percent increase over the FY 2023 enacted annual appropriation. This FY 2024 request reflects the necessary adjustments to base to maintain current services. The request also includes several program increases related to the court security officer (CSO) program, security systems and equipment needs, additional U.S. Marshals Service (USMS) staffing requirements, additional Vulnerability Management Program (VMP) requirements, and additional Administrative Office staffing and emergency management requirements. The majority of the funding in this account is transferred to the USMS, which is responsible for administering the Judicial Facility Security Program.
Note that the Court Security account is for the entire federal judiciary, which includes courts of appeals, district courts and other judicial programs and services, located throughout the United States. The funds are not, as the post claims, solely for Supreme Court justices.
For its part, the Supreme Court is requesting roughly $150 million in 2024. That figure includes $3.1 million for a courtyard restoration project and $6.5 million for physical security upgrades, according to the budget summary.

Additional Lead Stories fact checks of claims about Chief Justice John Roberts can be found here.