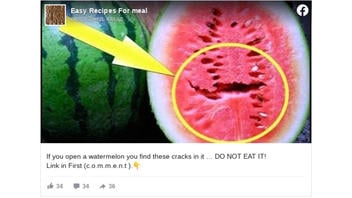 Should cracked watermelon not be eaten because the cracks may be from the plant growth regulator forchlorfenuron, which causes cancer and neurological complications? No, that's not true: The cracks in the flesh of watermelon are caused by poor pollination, a University of Delaware expert told Lead Stories. The Environmental Protection Agency (EPA) says forchlorfenuron is used on grapes and kiwifruits in the United States, not on watermelon.
The claim appeared in a post on Facebook (archived here) on August 21, 2023. It opened:
If you open a watermelon you find these cracks in it ... DO NOT EAT IT!
Link in First (c.o.m.m.e.n.t ).👇
This is what the post looked like on Facebook at the time of the writing of this fact check:
(Source: Facebook screenshot taken on Thu Aug 31 19:09:39 2023 UTC)
The link in the post claims the cracks in watermelon are from pesticides and should not be eaten:
Those cracks might indicate the presence of a growth-boosting chemical called Forchlorfenuron. This substance speeds up fruit growth when sprayed onto them. While it might sound like a harmless way to get bigger fruits faster, there's a dark side. If ingested, Forchlorfenuron can lead to severe health issues like cancer and neurological complications. These conditions are challenging to treat.
Next time, if you come across a watermelon with such peculiar cracks, it's better to play it safe. Prioritize your health and avoid eating it.
Gordon Johnson, assistant professor and extension specialist in fruits and vegetables in the Department of Plant and Soil Sciences at the University of Delaware, told Lead Stories via email on September 1, 2023, that the "cracks" in watermelon, known as "hollow heart," are not due to forchlorfenuron:
We have confirmed multiple times and with other researchers that hollow heart is caused by poor pollination in watermelon and it has no effect on the safety of eating the fruit. It is a natural condition or defect. It does not cause cracks on the outside of the fruit, only voids on the inside.
Johnson said he researched forchlorfenuron, also known as CPPU, and "it is not in use on watermelons in the US."
Wenjing Guan, a horticultural specialist at Purdue University, wrote in the article "Hallowheart of Watermelons," on September 13, 2021, that:
Poor pollination is the primary reason causing hollowheart. Scientists were able to approve that seedless watermelons are more likely to develop hollowheart when the pollenizer plants (diploid watermelons) are located further away from the seedless plants.
The National Watermelon Promotion Board explained on their website the reasons for "cracked watermelon":
Sometimes growing conditions, including cold snaps and heat waves, will cause an internal cracking of the flesh, a condition known as Hollow Heart. Not to worry - these watermelons are perfectly safe to eat, and they often taste sweeter as sugars are more concentrated along the cracks.
The EPA Pesticide Fact Sheet states that forchlorfenuron is not used on watermelon but is "a new plant growth regulator registered for use on grapes raisins, and kiwifruit."
The linked article in the post claims:
If ingested, Forchlorfenuron can lead to severe health issues like cancer and neurological complications.
According to the EPA, this is false. Page six of the fact sheet section titled "Carcinogenicity" states:
Carcinogenicity studies indicated no evidence of an increase in the incidence of tumors in either the rat or the mouse, and forchlorfenuron has been classified as not likely to be a human carcinogen.
It concluded:
A review of a 2-year rat feeding study and an 18-month mouse feeding study did not reveal any concern for cancer. Forchlorfenuron was classified as not likely to be a human carcinogen.
Other Lead Stories fact checks about watermelons can be found here.