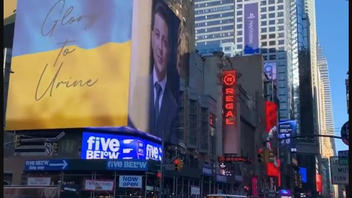 Did an LED billboard at the corner of 42nd Street and 8th Avenue in Manhattan feature the words "Glory to Urine" against a waving blue-and-yellow Ukrainian flag to welcome Ukrainian President Volodymyr Zelenskyy to New York City for the United Nations General Assembly meeting on September 19, 2023? No, that's not true: This video is not current or authentic. Shots of the same corner, taken on the day this claim went live, do not match the video -- evidence that this is not a recent scene but old footage used to create a fake video.
The post on X (formerly Twitter) was published by Sprinter @Sprinter99800 on September 21, 2023 (archived here). The post was captioned:
Glory to the urine !

There was a greeting message for Zelenski's arrival in New York. But instead of Glory to Ukraine, the flag read Glory to urine .

The company that owns the screen explained that the error was caused by an intelligent system that compared the yellow color with the word Ukraine and automatically corrected it to a similar consonant word - Urine .
This is what the post looked like on Twitter at the time of writing: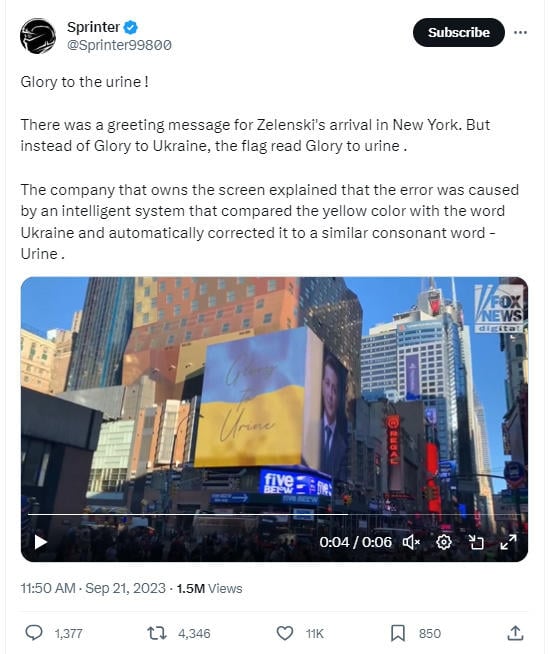 (Source: X screenshot taken on Fri Sep 22 14:10:51 2023 UTC)
More than one New Yorker went to the intersection in this video to document how it appeared the day of this post.
Ben Collins, who is an NBC News reporter, visited the intersection to produce his own debunk of the fake "Glory to Urine" video. He posted it for his followers on X on September 21, 2023 (embedded below). Collins pointed out that the sidewalk-level scaffolding that appears in the altered video is not at this location. A pizza restaurant (Villa Italian Kitchen) and a McDonald's are there, but the altered video does not show them.
OOPS: You fell for some stupid bullshit. https://t.co/W9oKYg25ze pic.twitter.com/317HYOZ5vQ

-- Ben Collins (@oneunderscore__) September 21, 2023
A digital threat analyst at Microsoft, Markian Kuzmowycz, also visited the intersection on September 21, 2023, and posted on X his own photo for comparison (embedded below) that same day. In subsequent posts, Kuzmowycz drew attention to the changes to the building on the corner, which appears in the left foreground of the altered video. The corner facade of this building now sports the McDonald's golden arches and yellow accent paint.
RU info ops doing the fake ad in Times Sq. thing, yet again, claiming a pro-UKR ad today reads 'Glory to Urine', shared by top RU war correspondent WarGonzo. I snapped a photo of that intersection of 42nd/8th, where there's no scaffolding. Video manipulated, not remotely recent. pic.twitter.com/US6qIwGv3A

-- Markian Kuzmowycz 🌻 (@markiank) September 21, 2023
Kuzmowycz also pointed out that a secondary piece of supporting disinformation had been produced that gave the appearance of an apology (pictured below) from the outdoor sign company:
but I'll just point out that RU info ops have evolved, there's often a spin-off element added. In this case, a fake apology from ClearChannel made to look like it came from Instagram. Again, none of this happened. But some children got a chuckle out of a urine joke.
On September 21, 2023, the altered video and manufactured apology (archived here) were posted on a Russian-language Telegram account (@denazi-UA), whose name translates as "Denazification UA." (The "UA" refers to Ukraine.) This apology was made to look like a reel posted on Instagram by the Texas-based advertising company Clear Channel Outdoor ( @clearchanneloutdoor), but no such reel appears on that company's account.

The fake apology, which includes British English spellings ("apologises" and "colour") not used by U.S. firms, reads:
THE CLEAR CHANNEL OUTDOOR COMPANY
DEEPLY APOLOGISES FOR A TECHNICAL ERROR DURING A VIDEO DEMONSTRATION ON ONE OF THE COMPANY'S SCREENS IN NEW YORK.
THE ERROR OCCURRED DUE TO A SOFTWARE UPDATE THAT INCLUDES AN INTELLIGENT SYSTEM FOR DISTINGUISHING BETWEEN GRAPHIC MATERIAL (COLOUR) AND TEXT.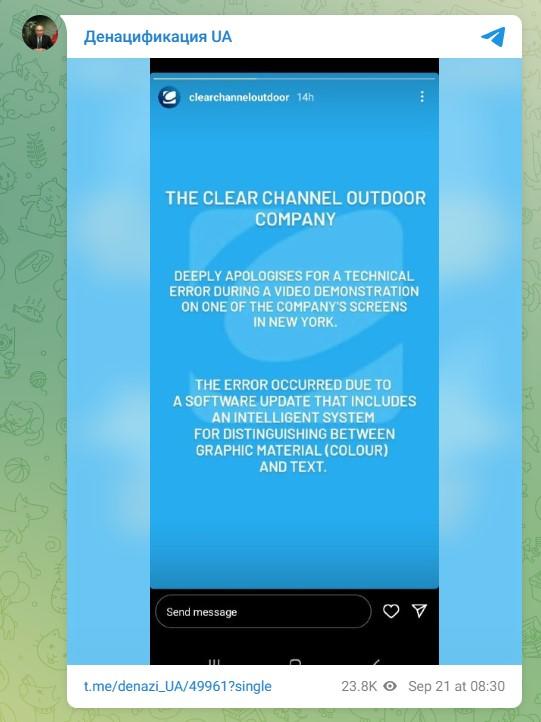 (Source: Telegram screenshot taken on Fri Sep 22 16:31:36 2023 UTC)
Lead Stories has contacted Clear Channel Outdoor for comment and will update this article, as appropriate, if a response is received.

Additional Lead Stories fact checks of claims related to Ukraine can be read here. Lead Stories fact checks of claims related to the Russian war against Ukraine can be found here.