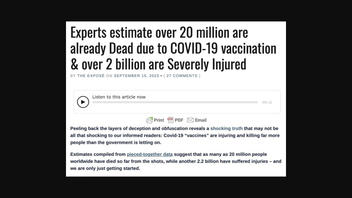 Have COVID-19 vaccines "killed 20 million people" since their rollout? No, that's not true: The article making this claim cited a 2022 study that estimated COVID vaccines had saved -- not killed -- nearly 20 million lives in the first year of the pandemic, the study's lead author told Lead Stories. Also, the calculations used to produce the 20 million dead figure were not done by an expert, nor were they part of a legitimate study and peer-reviewed.
Instead, the author of the original claim source erroneously used Centers for Disease Control and Prevention (CDC) Vaccine Adverse Event Reporting System (VAERS) data and European Medicines Agency (EMA) EudraVigilance data. These are self-reported databases that serve as a reporting mechanism to detect "new, unusual, or rare vaccine adverse events." They are not designed to determine if a vaccine causes a health problem.
A version of the claim came from a September 15, 2023, article published by The Exposé titled "Experts estimate over 20 million are already Dead due to COVID-19 vaccination & over 2 billion are Severely Injured" (archived here). It opened:
Peeling back the layers of deception and obfuscation reveals a shocking truth that may not be all that shocking to our informed readers: Covid-19 'vaccines' are injuring and killing far more people than the government is letting on.

Estimates compiled from pieced-together data suggest that as many as 20 million people worldwide have died so far from the shots, while another 2.2 billion have suffered injuries - and we are only just getting started.
Below is how the article appeared at the time of writing: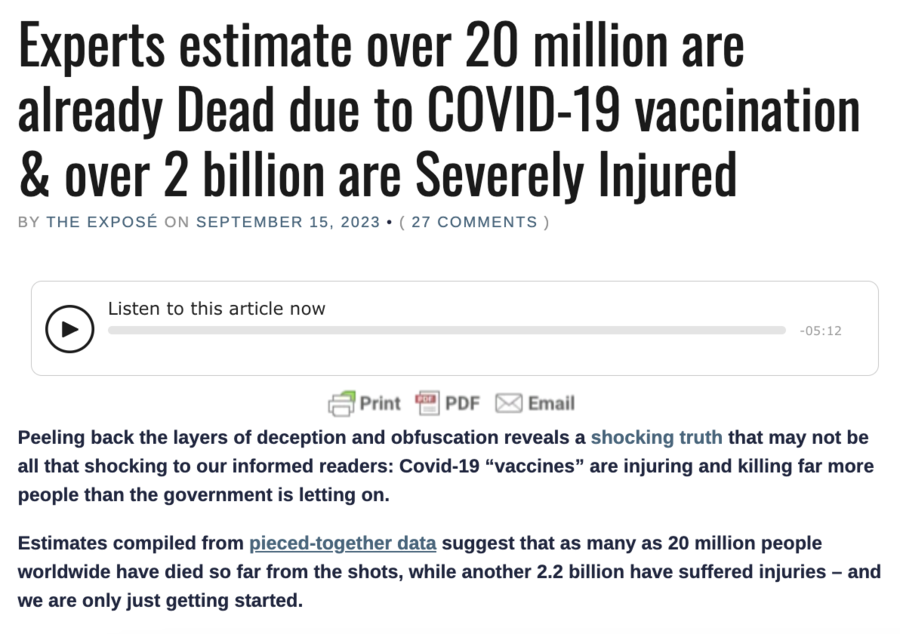 (Source: The Exposé screenshot taken Thu Sept 21 22:08:07 UTC 2023)
The article cited a post shared to the self-publishing platform Substack on August 19, 2022, by Peter Halligan, titled, "20 million saved or 20 million killed" (archived here).
Halligan's post began:
An article in the Lancet claims that 20 million lives were saved with the use of injections. (Note, the injections are not 'vaccines', they are gene therapies, that is therapeutics like Ivermectin, that should have been regulated as therapeutics.
Both articles cited two sources: The first, a study published in the peer-reviewed publication The Lancet, and second, an independent analysis of CDC and EMA vaccine adverse reaction data.
The Lancet study's author, Oliver Watson, a researcher at the Imperial College London's Department of Infectious Disease Epidemiology, told Lead Stories that this was not an accurate representation of his research.
"Our study actually estimated that vaccines saved 20 million lives. It is a study that uses estimates of vaccine efficacy to work out, given the epidemics in each country, how much worse they would have been without vaccines. We do not mention gene therapies or Ivermectin," Watson wrote Lead Stories in an email received September 20, 2023.
A word search of the study confirmed that there was no mention of "gene therapies," "Ivermectin" or "therapeutics."
Both the CDC and EMA wrote to Lead Stories that Halligan's characterization of VAERS and EudraVigilance data was incorrect, that he did not use the data for its intended purposes and that his conclusions were not corroborated by any evidence.
Dr. Stanley Perlman, a professor of microbiology and immunology at the University of Iowa Carver College of Medicine, who was not affiliated with the study, told Lead Stories that there is "no evidence that suggests vaccines killed 20 million people."
Watson study showed vaccines saved lives
Halligan's post cited a study published in the September 2022 issue of The Lancet, titled "Global impact of the first year of COVID-19 vaccination: a mathematical modelling study."
Halligan falsely claimed that the study was evaluating "gene therapies" and "therapeutics like Ivermectin."
In contrast, the study evaluated vaccine efficacy and safety by quantifying the global impact of COVID vaccine programs. To do this, Watson and colleagues modeled COVID transmission and vaccination in comparison with mortality in 185 countries and territories. They determined additional deaths that could have been averted had vaccine rollout targets been achieved.
Based on officially reported COVID deaths, the research team estimated that vaccines prevented 14.4 million deaths between December 8, 2020, and December 8, 2021. That estimate rose to 19.8 million when including excess deaths -- that is, the difference between the observed numbers of deaths in specific time periods and the expected numbers of deaths in the same time periods.
"COVID-19 vaccination has substantially altered the course of the pandemic, saving tens of millions of lives globally. However, inadequate access to vaccines in low-income countries has limited the impact in these settings, reinforcing the need for global vaccine equity and coverage," concluded the study authors.
Nowhere in the study did the researchers write that COVID vaccines or "gene therapies" were responsible for any deaths, much less 20 million.
"Vaccines are not gene therapy, although this is a claim made by anti-vaxxers," Perlman wrote in an email received September 20, 2023.
Data was used for purposes it's not intended for
To make his argument, Halligan referred to the CDC VAERS and the EMA equivalent, EudraVigilance database, to claim that vaccines had killed 20 million people. However, this is not how this data is intended to be used.
VAERS data is only a tracking tool -- it does not establish a causal relationship. It's a self-reported database, which means that anyone can submit a report describing a possible health problem, also called an "adverse event," after vaccination. Such accounts are not validated by medical experts.
As Lead Stories has previously reported, VAERS' "early warning system" is co-managed by the CDC and the U.S. Food and Drug Administration to monitor the safety of vaccines after they are authorized for use in the U.S. It is not designed to determine if a vaccine caused a health problem, but rather to serve as a mechanism to detect "new, unusual, or rare vaccine adverse events." In addition, adverse vaccine reactions are not a categorical cause of death tracked by U.S. health officials, a CDC spokesperson previously told Lead Stories.
"VAERS is a compilation of self reports," Perlman told Lead Stories. "It is also impossible from VAERS to distinguish vaccine-induced to vaccine-coincident adverse events."
VAERS website warnings include:
When evaluating data from VAERS, it is important to note that for any reported event, no cause-and-effect relationship has been established. Reports of all possible associations between vaccines and adverse events (possible side effects) are filed in VAERS. Therefore, VAERS collects data on any adverse event following vaccination, be it coincidental or truly caused by a vaccine. The report of an adverse event to VAERS is not documentation that a vaccine caused the event.
The CDC Immunization Safety Office confirmed to Lead Stories that vaccines are still considered safe and effective, and a study published in January 2023 contradicts Halligan's claims that vaccines have killed 20 million people.
"Despite continued misinformation on the safety of COVID-19 vaccines, the findings from one of the largest studies ever conducted on the safety of a vaccine have been released and show once again that COVID-19 vaccines are safe and effective. The results of the CDC study clearly illustrate that there is no increased risk of death after COVID vaccination. In fact, rates of death among those who received the vaccines were lower than those who did not receive them," a spokesperson wrote to Lead Stories in an email received September 21, 2023.
"This study's findings should reassure every American that these vaccines are safe. The findings also counter unsubstantiated claims that COVID-19 vaccines have caused widespread deaths."
Lead Stories has debunked several claims about vaccine deaths that misuse VAERS.
EUDRAVigilance identifies suspected side effects, not a direct relationship
Similarly, the EMA EudraVigilance database serves as a "safety signal" for suspected side effects that have been observed following vaccine administration but that are not necessarily related to or caused by the vaccine, an EMA spokesperson told Lead Stories.
"It is essential to understand that the suspected side effect reports submitted by patients and healthcare professionals describe medical events observed following the use of a vaccine. The fact that someone has had a medical issue after vaccination does not necessarily mean that this was caused by the vaccine," wrote the spokesperson in an email received on September 21, 2023.
"For cases with fatal outcomes, it is difficult to state with certainty the real cause of death even if all data, including autopsy results, are available. Please note that it is not EMA's role to adjudicate the cause of death. For most medicines, the vast majority of suspected side effects are not eventually confirmed as side effects."
The EUDRAVigilance website does not provide the total number of cases reported with a fatal outcome. It provides the number of cases reported as fatal for specific reaction groups, such as cardiac disorders, and for specific reactions like myocardial infarction. Since one individual case may contain more than one suspected side effect, the sum of the number of fatal cases per reaction group will always be higher than the total number of fatal cases.
Assessments of a vaccine's safety and efficacy must take into account other factors aside from self-reported events, such as the patient's medical history, the frequency of the suspected adverse reaction in the vaccinated population compared to the frequency in the general population, and whether it is biologically plausible that the vaccine could have caused the event.
"Only a detailed assessment of all available data allows for robust conclusions to be drawn on the benefits and risks of the COVID-19 vaccines. Hence, a case report should be seen as a piece of a jigsaw puzzle. EMA takes into account all available data to complete the picture, including data from clinical trials, epidemiological studies, and toxicological investigations," an EMA spokesperson told Lead Stories.
Lead Stories has debunked other false claims related to vaccine data, including that Pfizer and Moderna mRNA COVID-19 vaccines are associated with an increased risk of serious adverse events of special interest, that a 2023 study proved that the Pfizer mRNA COVID-19 vaccine causes "turbo cancer" and that VAERS data proved that COVID-19 vaccines are "killing an estimated 1 person per 1,000 doses."