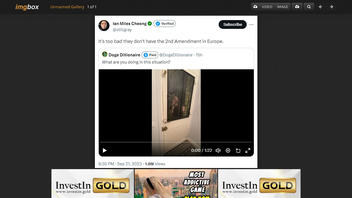 Does a social-media video of a young woman knocking on a door in distress to seek shelter from a male stalker, who claims to be her husband, depict an actual event? No, that's not true: It's a staged skit. The video, which features actors, is part of a three-part horror story shot by a French content creator.
The claim that the video portrayed an actual emergency was implied by a post on X (archived here), the site formerly known as Twitter, on September 21, 2023. The post included the short video and a caption that read:
It's too bad they don't have the 2nd Amendment in Europe.
This is what the post looked like on X at the time of the writing of this fact check: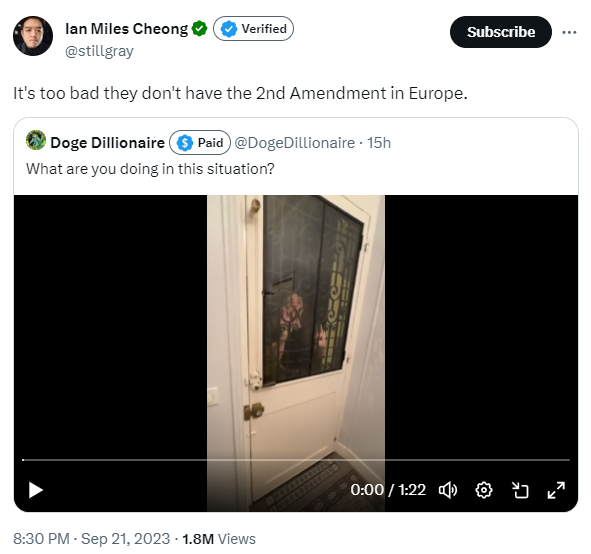 (Source: X screenshot taken on Thu Sep 21 17:30:43 2023 UTC)
The U.S. Constitution's Second Amendment , cited in the post, grants the right to bear arms.

The post did not directly say the video was real, but it implied that it was by failing to explain that the video was staged and by neglecting to credit it properly. Some commenters wondered whether the video depicted a genuine event; others said it did not.
In truth, the video was a staged skit shot by Antton Racca, a French video creator. He posts short horror stories on TikTok, as can be seen here. In an email to Lead Stories, dated September 22, 2023, Racca said that he'd recently decided to start creating English-language content, and that the skit in question was his latest creation. It starred French actors.
Racca wrote:
This video is from a « short horror series » in 3 parts called « the girl at my door » (3rd part not posted yet).
Lead Stories recently debunked two similar claims about video dramas. In
one
, the video showed a flight attendant and a "trans person" arguing over pronouns on a passenger aircraft. In
another
, the video depicted
an irate mother removing a LGBT flag from a classroom. Like the French video in the post, both of those videos were staged skits. Neither captured a real event.